02 Jul. 2022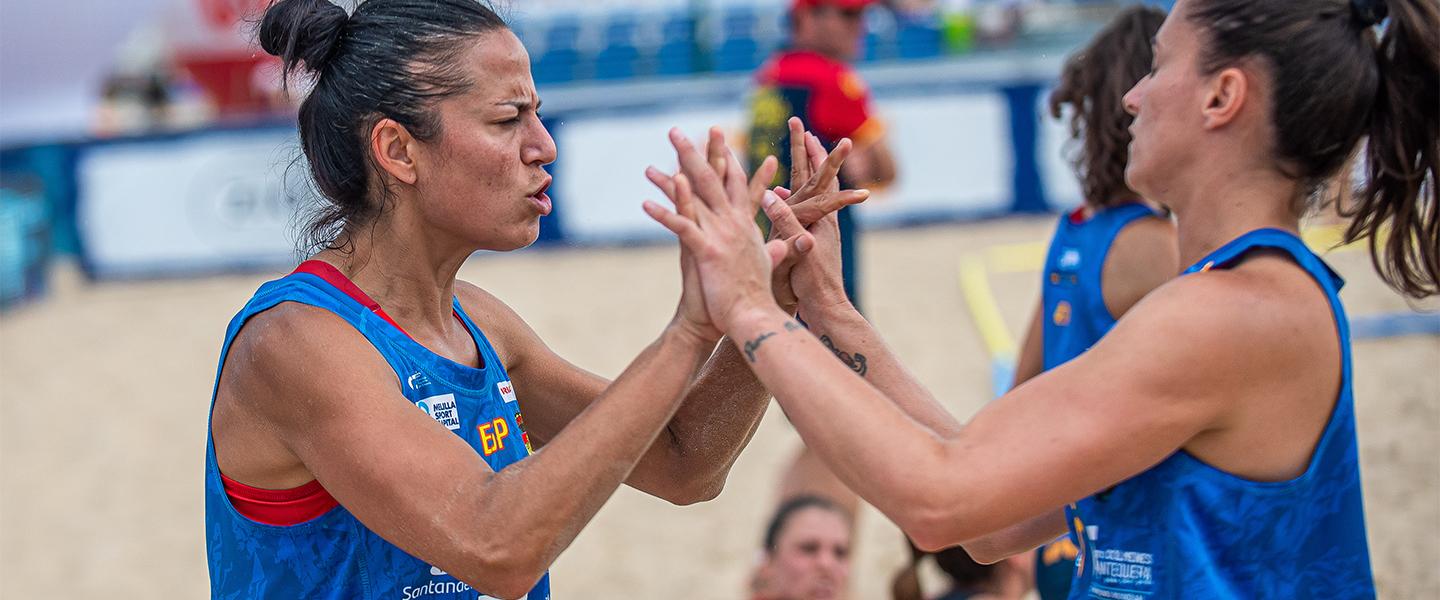 Last Sunday, Spain ended up with a silver medal at the 2022 IHF Women's Beach Handball World Championship in Heraklion, Greece after losing the final against Germany, but today they can call themselves the first-ever winners of an IHF Beach Handball Global Tour stage.
Today saw the final two group games followed by the medal matches of the newly-launched tour from the IHF and it was a dramatic finale, not least following a start to the day which saw games postponed due to severe weather conditions in the northern coastal city.
After the results from yesterday Spain had topped the single group in Gdansk on four points, followed by Croatia and Poland (two points). Germany – fielding a completely-changed squad of 10 from Greece – finished the opening day in last place with two defeats in their two games.
In the opening game this morning, Spain easily overcame Croatia, taking a 2-0 victory in a low-scoring match which saw the Croatians score a total of just 11 points in the match. Spain won 13:7, 14:4. 
That result ensured Spain qualified for the final, so it was a straight shoot-out between Germany and Poland in the final group match of the stage to decide who would join them.
A tight encounter was won by Germany 2-0 (18:16, 17:16) in the end, but it could have been so different. At the end of the first period, Poland were in possession and a point would have secured the opening half, but they missed their chance.
It went to a golden goal and after winning the restart Germany then hit the Polish post thanks to a fingertip save, but, again, with a chance to win, Poland saw their opportunity saved. Janne Lotta Woch was not going to allow the hosts another chance, her strike ensuring an 18:16 victory.
The second period was even tighter with Germany going ahead 17:16 and just 13 seconds left on the clock. Poland again had possession to win it but could not get the ball in the net.
This meant that it would be a repeat of the Greece 2022 final in Gdansk, with Spain taking on Germany, but this time it was a complete reverse, Spain winning 2-0 (14:7, 24:12) clearly. Croatia finished in third thanks to a 2-0 (12:10, 23:22) win over Poland. 
The hosts had been playing catch-up in the second period, but had possession with just under five seconds remaining. They did score, but the ball crossed the line after the final whistle had blown.
Croatia's Anja Vida Luksic ended as the top scorer of stage one with 44 points from her four games. These consisted of 23 goals from 39 attempts. It was no surprise to see that Spain dominated the other stats, with the most points scored – 136 (34 per game), fewest points conceded – 79 (19) and the best goalkeeper – Patricia Encinas Guardado (26 saves from 52 attempts).
Germany will now turn their thoughts to The World Games in Birmingham, USA which gets underway in Alabama in just over a week.
For Croatia and Poland they will do battle again on 9 July at the Beach Handball EURO 2023 qualification tournament in Prague, Czech Republic. 
Following the conclusion of this first stage, the second stage of the IHF Beach Handball Global Tour will take place in Orihuela, Spain from Friday 29 to Sunday 31 July. In total, 2022 will see four stages played on the tour debut.
To find out about the Beach Handball Global Tour competition format and a lot more, click here.  
Photo: ZPRP