23 Feb. 2020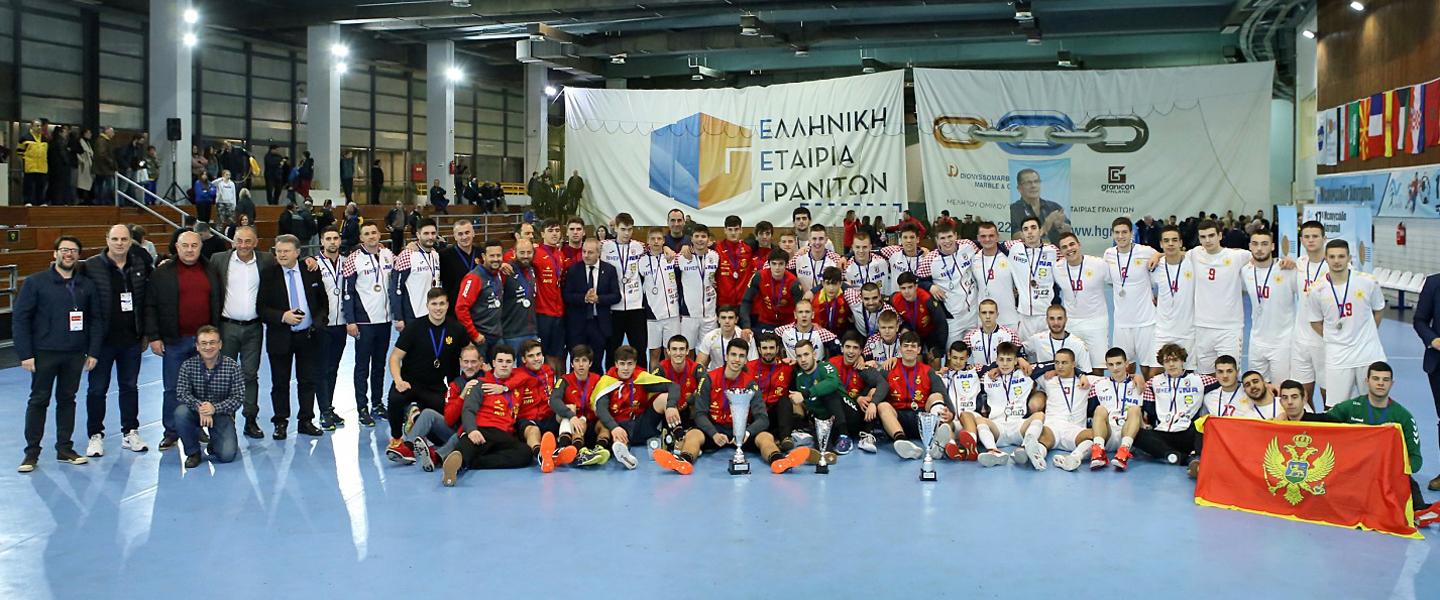 Spain's youth men (born in 2002 or later) have won 17th Mediterranean Handball Confederation (MHC) Men's Championship held in Athens, Greece.
The championship, which took place from 17-22 February, featured 14 teams from three continents around the Mediterranean Sea region, plus guest teams, playing in a competition featuring slightly different rules than the standard IHF Rules of the Game.
Coached by Daniel Sanchez-Nieves, Spain went through the competition undefeated, winning their preliminary group, before defeating Bahrain in the quarter-finals and Serbia (31:21 – 12:7, 9:6, 10:8) in the semi-finals. In the final, Spain overcame Montenegro 32:29, winning all three periods by just one goal each (11:10, 8:7, 13:12).
"I'm very happy because the kids did really good and worked hard," said Sanchez-Nieves after the final. "We had to play our best game to win this game, we suffered to win, and we did it because we played with our hearts and minds."
Montenegro had made the final after beating Croatia 20:16 (7:5, 6:4, 7:7) in their semi-final, which had followed a quarter-final victory against Romania.
Croatia – with one of the youngest teams in Greece after entering a squad with players born in 2004 and later – had made the last four after beating the strong Egyptians in the quarter-finals and managed to make up for that semi-final loss against Montenegro, defeating neighbours Serbia 23:22 (8:5, 8:9, 7:8) in the bronze medal match. Serbia had beaten Tunisia in their quarter-final to make the last four.
"I'm very proud because my players are two years younger than the other teams," said Croatia coach Matej Miskovic. "I'm so happy that I cannot talk about it – I just want to say congratulations to all of my players and to the technical staff for the result. We made history."
Bahrain beat Egypt in a shoot-out 25:24 (6:5, 6:6, 7:6) which went to the second round of five strikes, to claim fifth place, while Tunisia eventually beat Romania after a slow start, 20:19 (10:8, 6:6, 4:5), to end in seventh spot.
Spain had topped their preliminary group (B) with 28.5 points, ahead of Montenegro (21.5), Tunisia (16) and Croatia (15). All four teams then progressed through to the last eight, with Morocco (10), North Macedonia (8) and Turkey (6), going through to the 9-14 placement round. 
The other preliminary group (A) saw Egypt finish top (23.5 points), followed by Serbia, Romania and Bahrain who all joined them in the quarter-finals. Greece, Saudi Arabia and Kuwait then rounded off the table, moving into the ranking round, which Greece eventually won, finishing ninth, ahead of North Macedonia, Morocco, Turkey, Saudi Arabia and Kuwait.
The final day saw the MHC organising committee name the All-star Team, which saw Alvarez Dominguez from Spain named as the Most Valuable Player (MVP).
Final Ranking (all teams)
1. Spain
2. Montenegro
3. Croatia
4. Serbia
5. Bahrain
6. Egypt
7. Tunisia
8. Romania
9. Greece
10. North Macedonia
11. Morocco
12. Turkey
13. Saudi Arabia
14. Kuwait
All-star Team
Goalkeeper: Tin Herzeg (CRO)
Right Wing: Alvarez Dominguez (ESP)
Left Wing: Sanz De Nicolas (ESP)
Line Player: Nikola Ivankovic (CRO)
Left Back: Arsenije Draganovic (MNE)
Right Back: Aleksandar Cenic (SRB)
Centre Back: Radoica Cepic (MNE)
Τop Scorer: Saif Aladwani (KUW) – 51 Goals
Most Valuable Player (MVP): Alvarez Dominguez (ESP)

Photos: MHC