15 Feb. 2020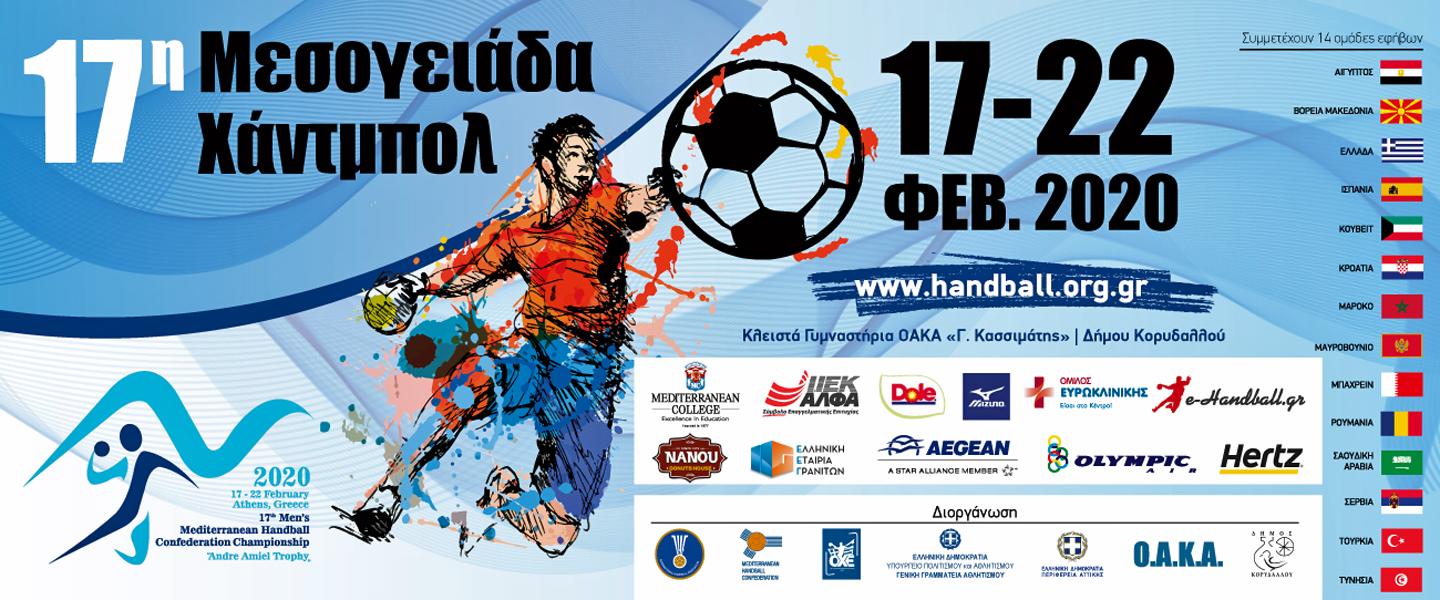 Earlier today (Saturday 15 February) the official draw for the 17th Mediterranean Handball Confederation (MHC) Men's Championship was held at the Palace Hotel in Glyfada, Athens, Greece.
Players born in 2002 or later from three continents across 14 teams from around the Mediterranean Sea region, including guest teams, are in Greece preparing to face each other in the competition won by France last year and featuring slightly different rules than the standard IHF Rules of the Game (see below).
The teams will compete initially in two preliminary groups of seven each at the indoor hall of the Olympic Athletic Centre of Athens, known as the 'OACA Hall', as well as the Korydallos Indoor Hall:
Group A: Romania (ROU), Kuwait (KUW), Bahrain (BRN), Serbia (SRB), Greece (GRE), Egypt (EGY), Saudi Arabia (KSA)
Group B: Spain (ESP), Tunisia (TUN), Turkey (TUR), Croatia (CRO), Montenegro (MNE), Morocco (MAR), North Macedonia (MKD)
Preliminary groups will feature each team playing each once (six games each) and they will take place over three days (Monday 17, Tuesday 18, Wednesday 19 February) with each day seeing teams play twice – once in a morning session and again in afternoon session, with throw-offs at 0900, 1015, 1130, 1430, 1545, 1700 and 1845 (hrs - local time).
The top four in each group will then go through to the quarter-finals, before moving on to the semi-finals and then finals, while the bottom three will compete in the 9-14 Placement Round. The quarter-finals will be played at 1530 and 1700 on Thursday 20 February, semi-finals at 1700 on Friday 21 February and final at 1700 on Saturday 22 February. The closing and awards ceremony will then close the event at 1900.
Speaking at a media conference ahead of the event, a number of VIPs spoke about the championship, including Giorgos Mavrotas, Secretary General of the General Secretariat of Sports (GSGA), Greece Ministry of Culture and Sport.

"We have some very strong competition between the teams that will compete here, and it will also be a strong test of the organisation too," he said. "I believe very much that new generation, not only in handball, but in all sports, must play, and especially so that we can then have success in the great national teams. 
"We see this in individual sports, let alone in group sports where the relationships that children develop between them can last a lifetime and with this event involving the Mediterranean teams, sport can be used as a tool of friendship, solidarity, integration, values and messages."
IHF President Dr Hassan Moustafa is set to attend the championship in Greece, with the women's edition taking place from 12-19 April in Cairo, Egypt. Next year, Greece will host the 2021 IHF Men's Youth World Championship.
Games will be broadcast on the Hellenic Handball Federation YouTube channel HERE, while updates on the championship can be found on the official Facebook page HERE.

Mediterranean Handball Confederation – Rules of the Game
Up until the final, games in the championships consist of three 15-minute thirds – 45 minutes in total. The final is 60 minutes, consisting of three 20-minute thirds. All games allow for three timeouts per team. 
In the preliminary round a total of five points will be awarded for each match. The winner of each match overall wins two points, with the winner of each period winning one point. In case of a drawn period, the point is divided by both teams (0.5 each) – each match should add up to five points in total. 
Therefore if team A wins the first, second and third period, they will have three points and two for the overall win means five in total. If team A wins the first and third period and team B wins the second period, team A takes a total of four points having won the game and team B one point, having won one period – a total of five points. If each period is drawn, both teams get one point for the draw overall and 0.5 per period each, so 2.5 points each – five in total).
In the qualification games, if the match is drawn, five penalty shots will follow immediately without additional time.
Ahead of every game, a draw for which side of the court and possession of the ball takes place, and at the end of the second period.