01 Nov. 2021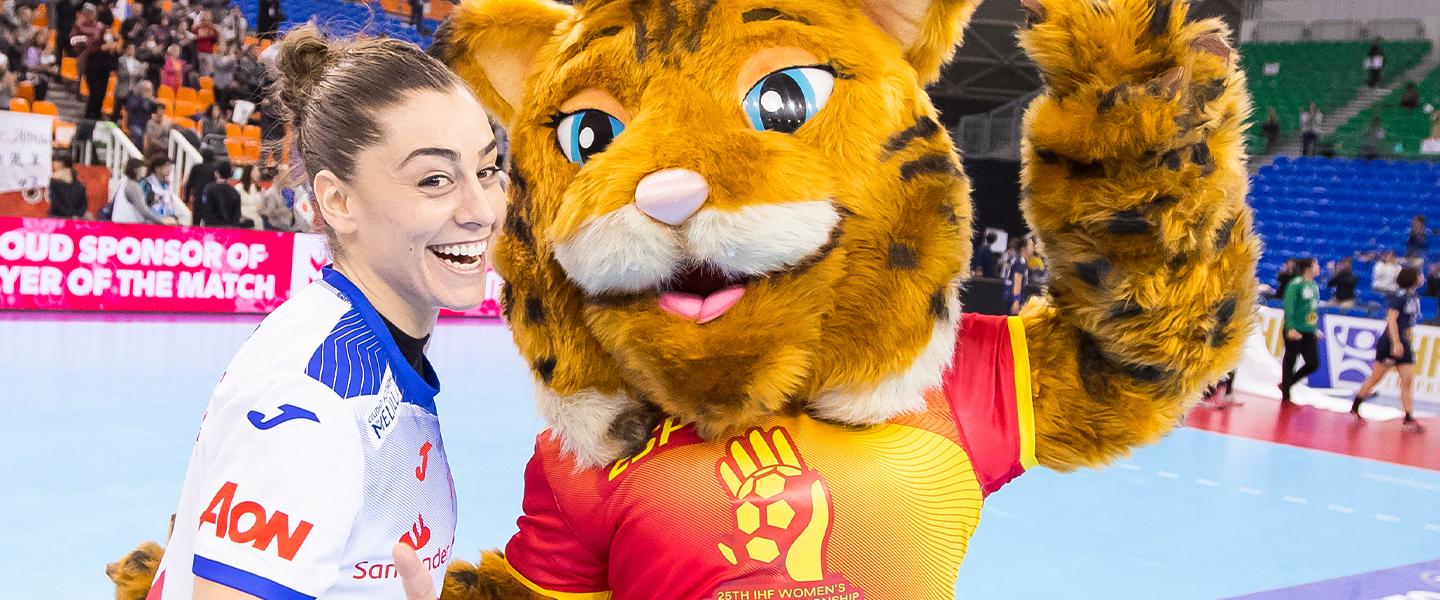 The world's best women's national teams converge on Spain in just 30 days for the 2021 IHF Women's World Championship.
IHF.info brings you the very latest information around the 25th edition of the global event which will be played from 1 to 19 December in the four host cities of Granollers, Torrevieja, Castello and Lliria.
Host cities welcome handball
A number of promotional and cultural events have taken place throughout the host cities of Spain 2021.
Granollers welcomed a giant statue of the Spain 2021 official mascot, Lola amongst other activities including traditional 'castellers' (human tower builders), dance schools and sports clubs. 
"Only two cities have hosted the Olympic Games, and IHF Men's and Women's World Championships," said Josep Mayoral, Mayor of Granollers. "One is Munich and the other is Granollers."
A giant Lola was also installed in Torrevieja as the Alicante town launched its promotional push for Spain 2021. The figure also includes a countdown clock to the start of the championship.
In addition, three generations of local players were present as the Vista Alegre promenade saw a parade of the eight flags of countries that will contest the first phase of the competition in the town: host nation Spain alongside Austria, PR of China, Argentina, Puerto Rico, Netherlands, Sweden and Uzbekistan. The integral role of volunteers in the championship was also highlighted in a variety of speeches from those present.
"In 2013, we were looking for a change, to give a boost to women's handball and thus achieve equality between men and women," explained Francisco Blazquez, President of the Royal Spanish Handball Federation in his speech. 
"For this we set a challenge, a turning point with the organisation of the 2021 IHF Women's World Championship. We want this championship to serve as a tribute for all those players who overcame barriers and for all those of the present and in the future."
Castello also saw the unveiling of a giant Lola. "With this World Championship we contribute to the visibility and recognition of women's sport," said Mayor of Castelló, Amparo Marco. "At the same time, we offer women who are referents of sport worldwide to the boys and girls of the city."
Lliria has also been actively promoting the championship which Andres Campos, Sport Deputy of the Valencian Handball Federation, says the "province of Valencia is totally committed and excited about." 
Get involved
The Organising Committee of Spain 2021 launched the social media challenge 'MundiReto' using the hashtag #YoTambiénSoyGuerrera.
The nickname of the Spanish team is 'Las Guerreras' (The Warriors) and Spain 2021 want to put yourself in the shoes of 'Las Guerreras' by filming a short video which could win you up to 25 tickets for the championship.
For more information and to enter, visit here. 
You can also still volunteer for Spain 2021, apply here (in Spanish). 
Tickets
Tickets are now available to watch all matches at Spain 2021 in a variety of ways. The Spain 2021 Organising Committee also offers discounts for groups of 10% to 20%, as well as for children under 12 years of age and people with reduced mobility.
All information can be found here, alternatively you can email [email protected]
Referees nominated
Last month, 19 referee pairs from 19 countries and four IHF continental members were nominated for the championship 
Media accreditation
The media accreditation process closes on 7 November 2021 (13:00 CET).
For more information, to apply and for further guidelines on COVID-19 measures and restrictions in place, please visit here. 
About Spain 2021
The 25th IHF Women's World Championship, the first IHF Women's World Championship to feature 32 teams, will be staged in Spain from 1 to 19 December 2021. The event will be hosted by Castelló, Granollers, Llíria and Torrevieja, and feature 108 games.