16 Oct. 2019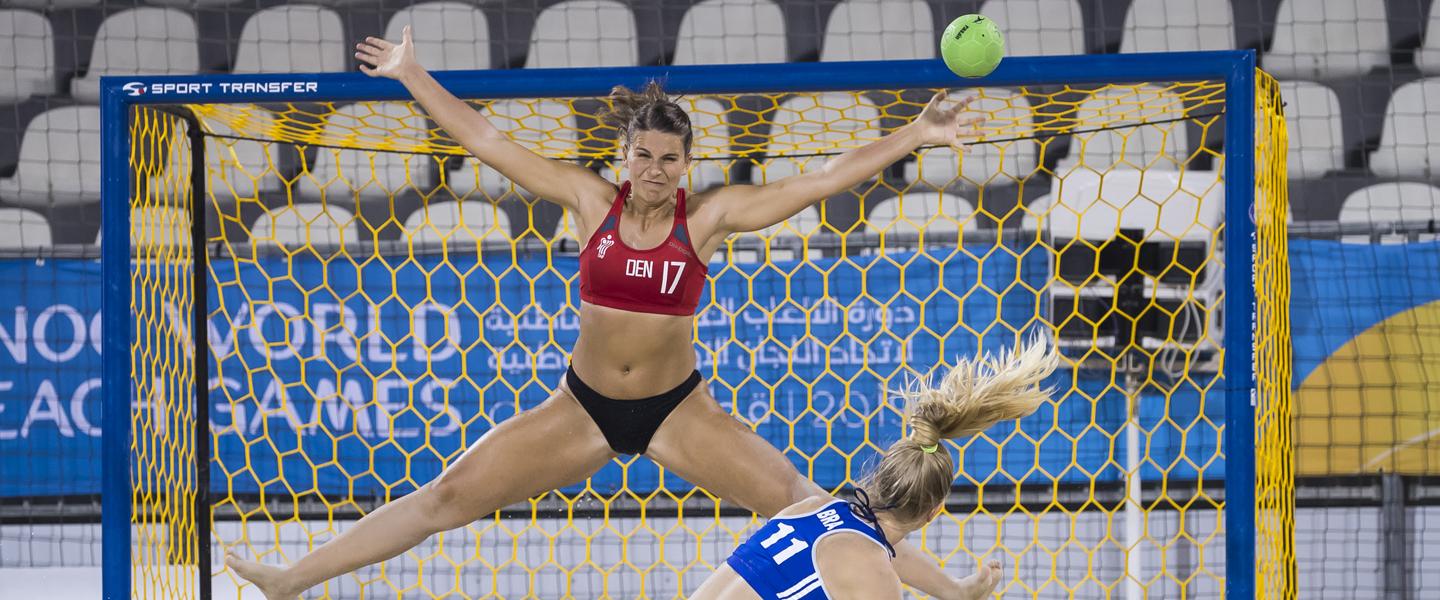 Denmark goalkeeper Maria-Teresa Gronning Faurhoj set the tone for Denmark in their shoot-out semi-final win over Brazil last night, saving Brazil's first effort before defender Camilla Fangel pulled out an attacking foul from the South Americans, allowing the winning solitary-point strike from Ann Cecilie Fruhstuck Moller.

She spoke to IHF.info about the win and their next game, where they play for gold against Hungary.

IHF.info: How are you feeling after that win, you are guaranteed a medal now?

Maria-Teresa Gronning Faurhoj: We have got a medal now, but we want the 'real' kind of medal – the best kind there is, gold. As Camilla said earlier we hope that this can be our year so we are going to fight with everything for that gold medal, it's going to be exciting.

IHF.info: The two periods were very different with Brazil easily winning the second and you easily winning the first, why was that?

Maria-Teresa Gronning Faurhoj:  We talked before the game about how we really had to believe that we could do it and that's what we did. We knew that if we could push them and keep the score tight until the end of each set we would be able to take a win in one and push them to a shoot-out which we did.

I think we kept our speed in the attack, stayed smart in defence. It seemed like we were patient and made them make some mistakes.

IHF.info: Frederikke Laerke was scoring some great goals, but if she was not scoring then left wing Line Christensen would, or another player. Is it tactical or is it just a case of the player having a 'hot hand', in form, at the time?

Maria-Teresa Gronning Faurhoj: Line seemed like she had a good feeling with it. We do feel like players have a hot hand and it has an effect on everybody: if one has a good day it will pass on to everybody. We have talked about it also in our quarter-final against Spain. We needed to have a lot of attitude and it would affect everybody and stay together.

IHF.info: In the shoot-out you shared guarding the net with defender Camilla Fangel, is this something you plan before or just game-by-game?

Maria-Teresa Gronning Faurhoj: We talked it through it before.  Depending on how the match is going and if it's me or Laura (Askvist – Denmark's other nominated goalkeeper. We know we have a really strong hand in Camilla, and she will 'eat the attacker', so she's just always really good. 

It's a good thing because we usually want Camilla to shoot the second one but, of course, she shot the first one. We share sometimes but we look at the game and who is going throw for our opponents.

IHF.info: You made the first save in the shoot-out from Brazil's first shot, did you have any idea how far the ball ricocheted up?

Maria-Teresa Gronning Faurhoj: All I know is that the ball just went right up in the air which it is supposed to do, just not in the goal.

IHF.info: You change venue now from the Al-Gharafa Beach Handball Arena to Katara Beach, do you make any different preparations?

Maria-Teresa Gronning Faurhoj: The venue is new, and we don't really know too much about it, but won't do anything new. We trust in each player and they are committed to knowing what is best for her for the preparations.

IHF.info: How important was it to hear the Danish men's team supporting you during the game?

Maria-Teresa Gronning Faurhoj: We could feel their support on the court; everybody is giving 100% and you can really feel them when you are in a pressure situation where you can maybe lose it a little – it helps.