15 Oct. 2019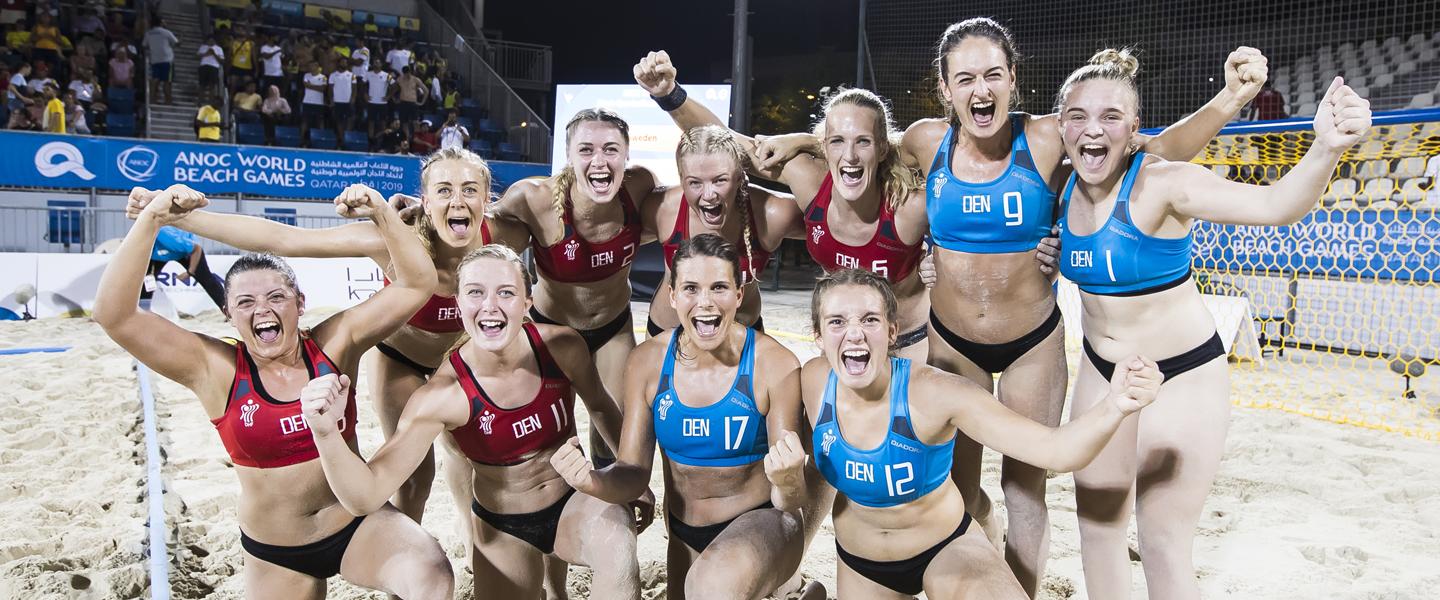 European champions Denmark beat Spain 2-0 yesterday in the quarter-finals, relying on a golden goal strike from specialist Frederikke Laerke to ensure a second period victory and a place in the semi-finals of the ANOC World Beach Games – Qatar 2019 women's beach handball competition.

IHF.info caught up with coach Morten Frandsen Holmen and defender Camilla Fangel.

IHF.info: How confident were you that you would win the game with the golden goal?
Morten Frandsen Holmen: We have a problem with Spain every time we play them, but we played a good match in the quarter-final and, of course, they came back, but that's beach handball.
I think our character to win the ball at the beginning of the golden goal period was fantastic.
Camilla Fangel: We talked about it wanting the ball every time it is in the sand and we did that, and a semi-final spot is the reward; it's great.
It was a big relief because we have worked so hard. We don't have that many resources, but we have a great technical mind and it just works, it's great. 
IHF.info: You have Brazil in the semi-finals, who beat you 2-0 in the preliminary group, what challenge do they pose to you at this stage?
Morten Frandsen Holmen: They are a very, very good team but it's a semi-final and anything can happen. We will play for chances and take them where we can, but Brazil are favourites to win the whole tournament.
IHF.info: How will you prepare for the match?
Morten Frandsen Holmen: I can tell you that it is very hot, and the girls need rest, but we will be ready. We need the rest as coaches too because it's a hard match for us as well, but we are all looking forward to it.
IHF.info What can you achieve at Qatar 2019?
Camilla Fangel: It's just our year this year, we have all the small details on our side and it's just fantastic to be in a semi-final again. 
Morten Frandsen Holmen: I'm just excited that we can still be amongst the four best teams in the world as we have added five new players to this team at this tournament. It's fantastic.
The team has shown this spirit since we won the European championship in Poland, it's just a fantastic team that we have, and it represents what we stand for in Denmark.