02 Mar. 2021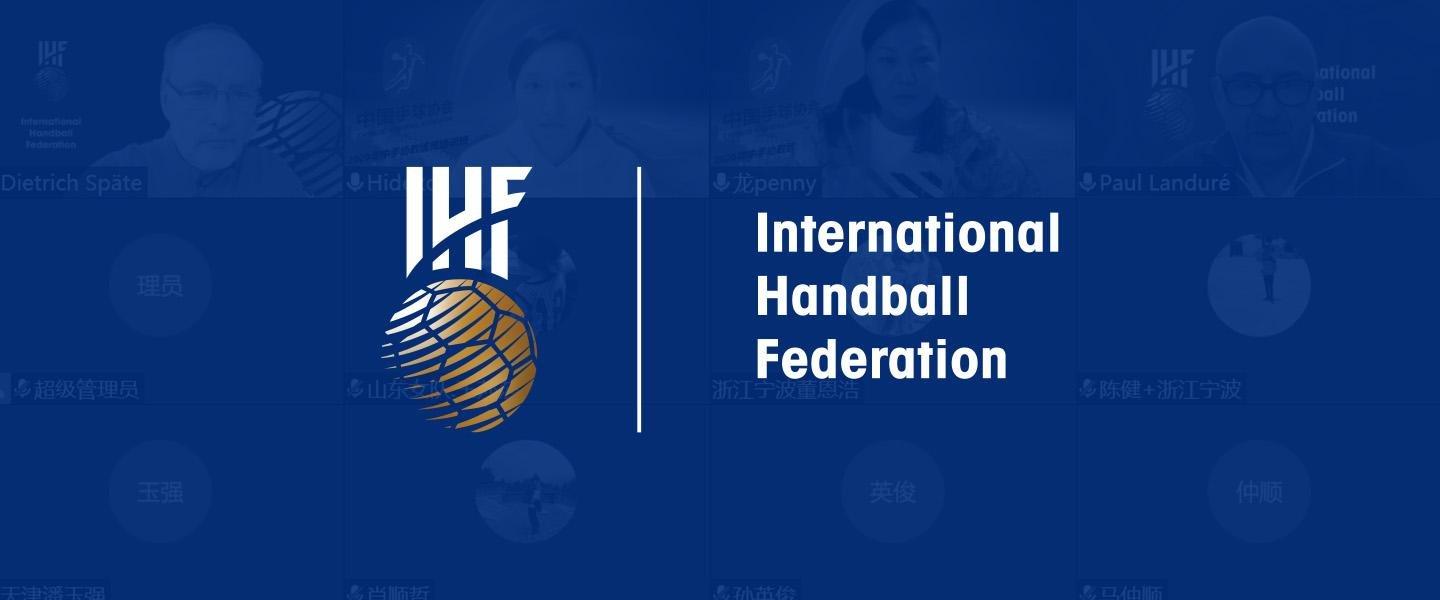 As reported at the end of 2020, the IHF has been working with the Chinese Handball Association (CHA) since November 2020 on the 'IHF Virtual Coaches Course – China'.
Commencing on 25 November and finishing this March, the course aims to further the development of handball in the Asian nation through the education of a new generation of coaches, and forms part of the wider IHF New Markets' Project. 
Consisting of three learning blocks of lectures, discussions, theory, exams, analysis and much more, successful participants have the opportunity to gain their IHF C Coaching Licence by the time the course completes on 14 March 2021.
IHF President Dr Hassan Moustafa and CHA President Wang Tao opened the course, the first learning block of which finished on Thursday 3 December.
The second, longer block commenced on Saturday 5 December and finished on Sunday 13 December, ahead of the third and final block which started on Sunday 24 January with live analysis of the 2021 IHF Men's World Championship in Egypt, before wrapping up on Sunday 14 March 2021 – more than 60 hours' worth of learning time in total across the three blocks.
The course has been made available to all former players, schoolteachers and active coaches in PR of China with up to 200 able to attend and features consecutive Chinese translation.
Dietrich Späte, IHF Commission of Coaching and Methods (CCM) Chairman, is leading the course from the IHF side along with CCM Member Paul Landuré, who delivered a successful IHF coaching course in PR of China in 2019.
Alongside Späte and Landuré, the course has featured lectures from German Handball Federation (DHB) National Athletics Coach David Gröger, and DHB national team head coach and IHF Lecturer Jochen Beppler as well as Brazil women's national team coach Jorge Dueñas, CCM Lecturer Yerime Sylla, French Handball Federation (FFHB) Talent Centre Manager and U19 France men's coach Eric Quintin and FFHB U20 Talent Centre and Nimes goalkeeping coach Gabriel Bourguignon.
ihf.info sat down with Späte to discuss the course and its interesting developments.
ihf.info: Why China?
Dietrich Späte: President Moustafa has a close, personal contact with the Chinese Sports Minister who has been very supportive of handball and in around 2014/2015 we started with a big development project for China which has made some really good progress in coach education ever since.
However, it is clear that in that short number of years it would not be possible to develop a team and players who are able to qualify for an Olympic Games – and that is the target in China as Olympic sports are the focus with a structure built around them.
ihf.info: What has been happening in recent months?
Dietrich Späte: After the long break of activities due to coronavirus, we restarted our work in China with two, similar, targets. 
China want to be more competitive, but to qualify for an Olympic Games, certainly for the women's side, they will have to beat the traditional continental powerhouse of Korea, but they need more time to do this.
CHA President Tao understands the importance of having long-term planning which concentrates more in the youth and junior areas to develop talent, and this work for the future is the first idea we are pushing ahead with – a new coaching generation.
ihf.info: So, the IHF Virtual Coaches Course – China was developed?
Dietrich Späte: Yes. This course was developed for a specially-selected target group of 207 handball coaches who come from the most important group in the country: the teachers or coaches in the China 'sports schools' who are teaching handball every day.
ihf.info: Chinese handball has traditionally been concentrated in the east/south-east of the country. Where are these 207 coaches from and how will this partnership progress?
Dietrich Späte: Up to now, we have nine provinces involved with differing levels, but we are going step-by-step with this idea, adapting and expanding.
We are in constant discussion with the CHA and it's also the goal of President Moustafa to extend the partnership across all provinces and this is happening step-by-step. This is a good idea and this C Licence coaching course the start.
Next, we will find talents from this course to work on a future multiplier course to deliver and develop our B Licence coaching course as we cannot be responsible in each province in China.
ihf.info: You mention there are different levels, and that the partnership has to adapt. China is such a diverse nation; can you give some examples of the adaption?
Dietrich Späte: Yes. What can you find in every sports hall or field in China? In every city? In every park or public sporting place? Basketball courts. The NBA was there for many years, and there are basketball courts everywhere, but not handball courts.
So, the CHA created a new game – especially aimed at the youth level – and adapted the existing basketball courts, using their lines, but putting in and using handball goals. The idea was to create a new competition using these courts across the nine provinces and more.
The game is simple. They play 4vs4 on the court, plus goalkeeper, and it is a really good idea to promote the sport. They have already held their first competition and I received many videos from the final days of this and I can tell you, it's not so bad at all. We are now in the process of analysing these and giving them some advice about how best to further adapt. 
ihf.info: What other advice have you given?
Dietrich Späte: At the youth level, around two or three years ago I proposed to the CHA that their style of play must act more offensively. For example, in defence it should be man-to-man – an offensive defence, not on the line.
You can now see a lot of improvement and I'm very happy with this idea. It is clear that you need several actions in different fields to improve and eventually be successful.
ihf.info: It seems that this is a great example of the IHF being flexible with their partnership implementation – adapting it to local strengths. How has the partnership worked in this case?
Dietrich Späte: The office of the CHA and us in the IHF are working really well together. We have some really good contact people there who are organising all translation into English, so language is not a problem.
Of course, with coronavirus, we have had problems not being able to practise inside in halls, but we have been using the IHF Virtual Academy for a lot of basic information, around 40-50%, and it is clear now that we will not go back to how it was before.
In the future, it is clear that we will go into the country for a shorter period, working mainly with practice in the sport hall.
ihf.info: What is next for those on the course?
Dietrich Späte: Especially for the C Licence it is important at the end to have the exam and to see the performance of the coaches – that is to see their 'tools'.
As a coach you have to learn these tools. For example: What is my position in the hall? How do I correct players? How do I correct an exercise? How you explain an exercise. For this you need basic tools, and this can be difficult in an entirely virtual course. 
So, the plan is to do it by video. They will receive homework and then have to record the most important parts of this training session, not all of it.
We received this material in January and are currently analysing it with every coach receiving feedback from Paul [Landuré] and I. 
Also, as a third part of the course, they will receive feedback which is helping them to learn. We will say things like 'Okay, this is good, but here we saw mainly this and this and this was a problem, so you have to think about this and do it like this'.
This is also a question of us adapting as the IHF to the ongoing problem of not being able to work with them directly in person in the sports hall.