23 Jul. 2021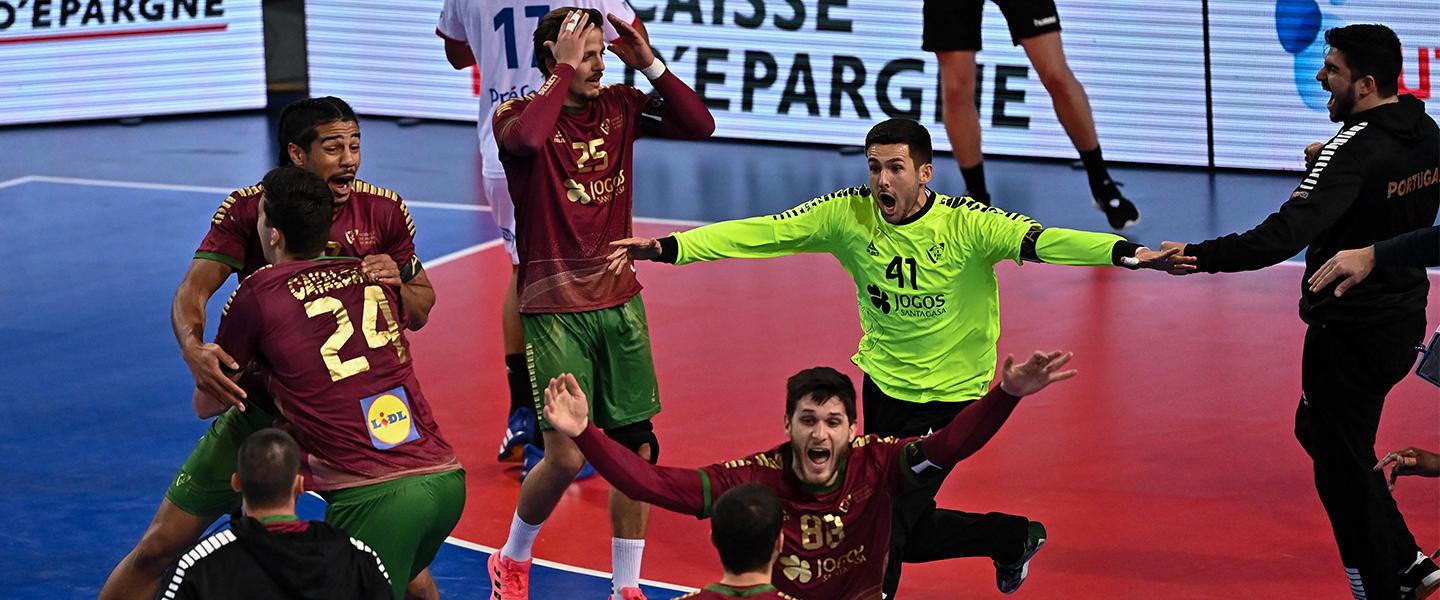 There is no sporting event like the Olympic Games – none that captures the attention of sports fans and non-sports fans alike for a globally unifying period in which the most celebrated stories tend to be those athletes who have overcome the toughest obstacles and bring the most touching human stories. 
In the handball competition at Tokyo 2020, there is perhaps no team other than the Portugal men whose story reflects the most inspiring human characteristics of courage in the face of adversity, overcoming pain to achieve greatness, and friendship. Those characteristics that will inspire all, whether handball fans or not. 
Portugal are one of two debutants at the Tokyo 2020 Olympic Games, alongside Bahrain. 23-year-old centre back Miguel Martins says the experience has already been special: "You can see the spirit here, which is something very different from all other competitions." 
Portugal's successful qualification for the Games could not have been more of a rollercoaster – a sharp rise to sit among the best in global handball in recent years; historic results in the most recent major championships, to which they returned after lengthy absences of almost two decades; the sudden and tragic loss of teammate Alfredo Quintana; and securing their place at Tokyo 2020 in the most dramatic manner possible.  
In January 2020, Portugal were back at the European championship for the first time since 2006, where they defeated powerhouses such as record world champions France and Sweden, who would go on to reach the final at the World Championship one year later. At the EHF EURO 2020, Portugal qualified for the final weekend and eventually placed sixth – their best result ever in the competition. 
In January 2021, Portugal had high hopes but exited the World Championship in Egypt after the main round. However, their performance was enough to secure their best ranking ever at 10th. The team made no secret of their ambition at Egypt 2021, and coach Paulo Pereira, known for his ability to influence the psychology of his players in a highly effective way, has undoubtedly instilled the same hunger ahead of Tokyo 2020. 
In February 2021, tragedy struck, as Quintana suffered cardiac arrest at training with his club FC Porto and passed away within days. In March, the team travelled to the Tokyo Handball Qualification 2020 fresh from that loss but determined to do Quintana's memory justice and fulfil the shared dream of reaching the Games. 
Portugal defeated Tunisia in their opening clash but then lost to Croatia by one goal, putting them in a difficult position with a win against France their only hope of clinching one of the two Olympic places available at the tournament. Inside the last minute, Portugal were one goal behind before line player Victor Iturriza scored and created the chance for the needed win, and then a turnover saw Rui Silva net the winner on a fast break in the dying seconds. 
"You ran with me, you shot with me and you scored the goal with me. Now we are going to Tokyo and together we will continue to make history! Today and always will be for you," Silva wrote on a photo post of his new tattoo of Quintana on Instagram later that night. 
 

Pereira had built a team with character and a collective goal before Quintana's passing, which rocked the handball community far beyond the bounds of Portugal, but the difficult journey since has undoubtedly eventually made the group even stronger. There is every reason to consider Portugal among the main medal hopefuls at the first every Olympic Games held in Japan since the Winter edition in 1998. 
Portugal will play their first ever Olympic handball match – in either gender – on Saturday evening local time, taking on Egypt. Portugal have met Egypt twice before, losing on both occasions, but those encounters were in 1997 and 2001 with vastly different lineups than the teams have now and are thereby irrelevant in 2021. 
"They're a very strong team. We've studied them. They play a lot on the counter attack, they're effective and they have a Spanish coach who understands the game well. But we know their weaknesses and I think we will be able to overcome them and win the game. Our intention is to get into the game well so there are no surprises but we are aware that we have to run a lot to beat Egypt and we have to be at our best level to be able to win," said wing Pedro Portela. 
Playing in group B, Portugal will then meet fellow Olympic debutants Bahrain, vice-world champions Sweden, world champions Denmark and hosts Japan. With four places up for grabs in the quarter-finals, Portugal have high hopes of securing one of the tickets to progress. 
One late change for Portugal was caused by an injury for Alexandre Cavalcanti, who was replaced by Gilberto Duarte, although Duarte will only arrive in Tokyo on Saturday and therefore not be part of the clash against Egypt. "I'm sad for my colleague, Alexandre Cavalcanti, but I'll do everything to do my best and help Portugal as much as possible," said Duarte. "It will definitely be a great milestone in my career alongside the history of Portuguese handball."
Photo: FFHandball / Icon Sport