01 Dec. 2019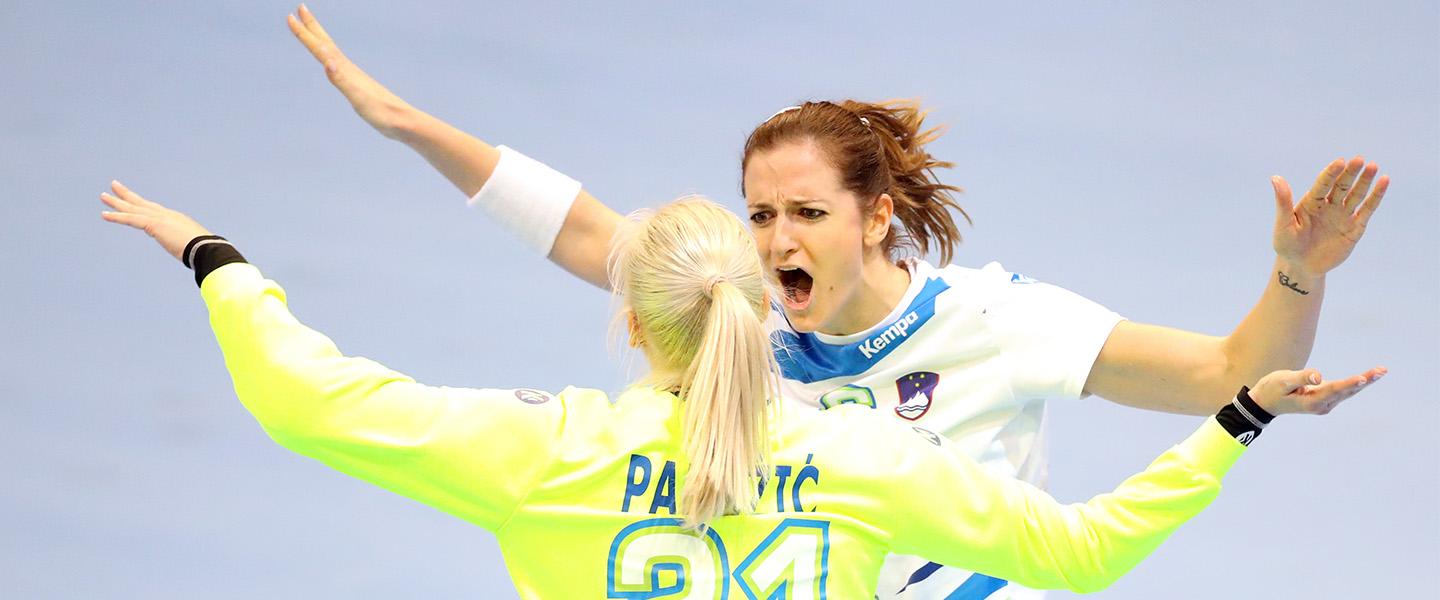 Ahead of the 2019 IHF Women's World Championship in Japan, the preview on IHF.info about Slovenia highlighted a team on the rise, now getting regularly into the world's top tournament rankings and managing some incredible results during their EHF EURO and IHF World Championship campaigns.
Memorable recent results include a win against Olympic champions and eventual runners-up Russia at the EHF EURO 2018 and a victory versus the team that would go on to claim the trophy, France, at the 2017 World Championship with Slovenia's top star, right back Ana Gros, proving her importance not only in offence but also inspiring her teammates to play at their full potential.
And with the recent arrival of young centre back Tjasa Stanko, it stated that two are working in combination to 'form a dangerous back court that results show is capable of challenging any world-class team.'
Well, after just one game at Japan 2019, that story has already been written with Uros Bregar's Slovenians beating Denmark 2015 and EURO 2016 silver medallists, and Germany 2017 and EURO 2018 bronze medallists, Netherlands, 32:26 on the opening day of Japan 2019.
Slovenia were only behind twice in the match for a total of three minutes, with Gros eventually scoring seven and Stanko striking 12 times to go with the script and put a great two points in the bank.
What happens next against a Norway team featuring many players and a coach in Thorir Hergeirsson who has won everything, will be crucial for Slovenia.
Can Slovenia step up and get another positive result or will Japan 2019 be another story of a solitary unexpected clear victory and good performances, but no medals around their necks?
With that right mixture of youth and experience now appears to be the time for Slovenia, especially with Norway suffering a loss of so many key players to injury before the championship and, perhaps, not at their top level of form in Kumamoto. In their first match, they easily dispatched Cuba by 31 goals (47:16), not really tested in the process, scoring nearly 50 times to chalk up the biggest win of Japan 2019 so far.
2 December
Group A
Aqua Dome Kumamoto
In the other two games at the Aqua Dome Kumamoto, Cuba take on Serbia in an early throw-off at 12:30 (local time) to encourage young people and schoolchildren to attend, while Angola and Netherlands (15:00) look to get off the mark after losing both their opening Japan 2019 games.
Serbia did just enough in their 32:25 victory against Angola and are expected to register an even bigger win than seven goals against a Cuban side still reeling from that devastating Norwegian loss.
African side Angola take on Netherlands in what could be an evenly matched game as both teams will have extra motivation to ensure they grab two points and get their Japan 2019 campaigns started in what is set to be a very tight group to get out of.

Group D
Park Dome Kumamoto
Round 2 for Group D opens with Argentina taking on Russia at 15:00 local time, with the European team aiming to collect a second win while the South American side fight for their first. Argentina lost by four goals to Japan in round 1, 20:24.  
According to their current status as Olympic champions and European vice-champions, Russia are likely to be much more of a challenge for Argentina than Japan. 
Hosts Japan will hope to celebrate their second victory when their 18:00 clash versus Democratic Republic of Congo concludes. DR of Congo lost to Sweden 16:26 in round 1 and will therefore target their first. 
The round will wrap up with PR of China meeting Sweden at 20:30 local time. Sweden have their sights set on another victory following the clear result against DR Congo. On the other hand, China hope to recover from a decisive round 1 loss to Russia, 11:26.
Click here for an overview of today's matches as well as live results, streaming, news and galleries.