22 Jan. 2023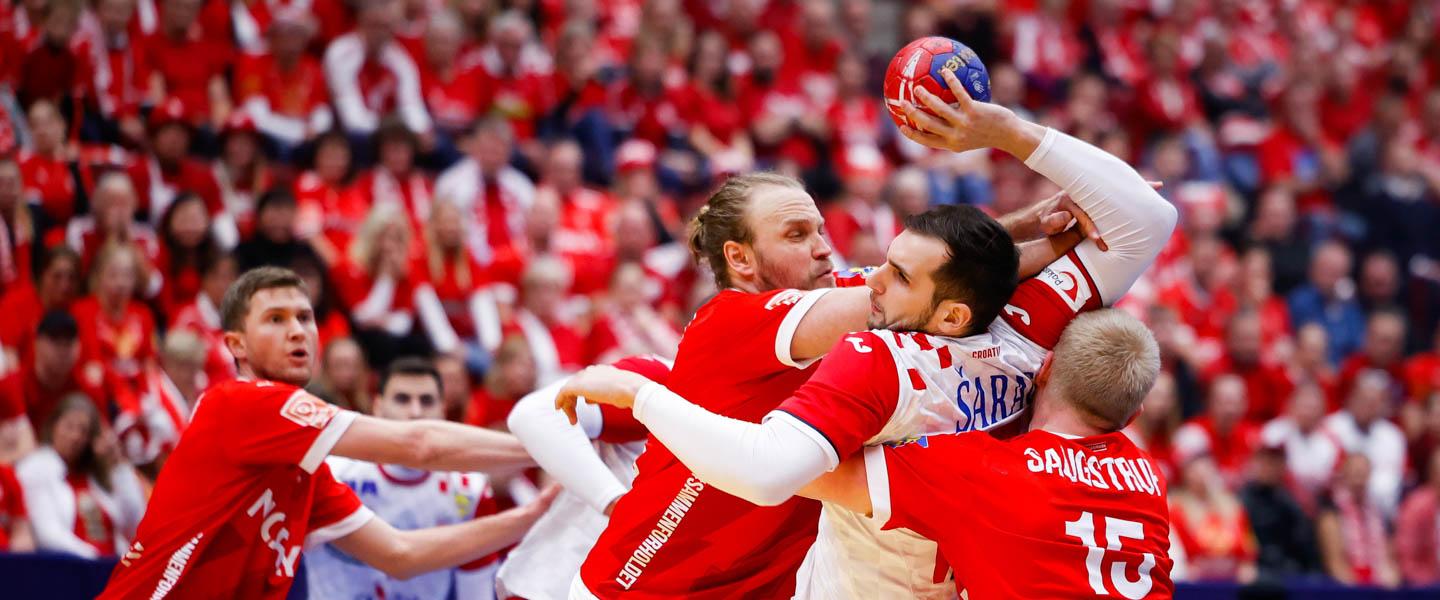 The Malmö Arena says goodbye to the 2023 IHF Men's World Championship in what could be a dramatic end to Group IV of the main round.
The USA and Belgium open the day with a clash to decide who finishes bottom of the group, but the next two matches have the potential to be the handball equivalent of a firework display.
First, Croatia have to beat Bahrain by 22 or more goals. Anything else will see Denmark join the already-qualified Egypt in the quarter-final.
If this first result happens – and in the last two IHF Men's World Championships Croatia have met Bahrain but only beat them 28:18 (2021) and 32:20 (2019) – then a second result needs to happen: Egypt defeating Denmark.
This is the same Danish side who are not only the reigning champions but also going for their third consecutive World Championship title. And they are unbeaten in their last 24 World Championship matches.
15:30 CET United States of America vs Belgium
Both teams will want to end their 2023 IHF Men's World Championship campaign with at least a single main round point as they prepare to face each other before heading back home.
The USA will still be riding high after an impressive performance and result against Denmark. Yes, it was a loss, but it was a huge statement – a 24:33 defeat against the Europeans in which Robert Hedin's North American team had led the scoring in the second half.
Their opening main-round match was also impressive, just a five-goal loss against the Asian championship runners-up.
However, they will face a Belgium side who pleased their coach Yérime Sylla after their last outing, a 26:34 loss against Croatia.
"It was the first time (at Poland/Sweden 2023) that our rhythm started to work for us," he said. "Our players were really motivated to make good things. We have really good players in front of us. We drew the second half (13:13) and I'm proud of them.
"We have a lot of amateurs in Belgium. I want to tell them that they did really well in this championship."
18:00 CET Croatia vs Bahrain
Mission Impossible for Croatia? Maybe to progress at Poland/Sweden 2023, but not so impossible to qualify for the Paris 2024 Olympic Games handball qualification tournaments.
Officially, the winner of Poland/Sweden 2023 qualifies directly, with places 2-7 going into the tournaments. However, with France as hosts and Egypt potentially taking a direct place as continental winners, both into the last eight, qualification places could move down a little.
"Even before the championship, our goal was at least ninth place because that would mean qualification for the Olympic tournaments," said Croatia right wing Filip Glavaš to ihf.info.
"We need to win against Bahrain by a 22-goal difference. We are dreaming. We are ready. We will give it our best. Let it be, as The Beatles said. If you don't dream, what do you have?"
Glavaš and his team are now fully focused on doing their part of the deal.
"They're a very good physical team who play a lot of one-on-ones, but hopefully not on the wing," said the Rijeka native, smiling.
"That's their main focus, their main strength; they play a lot of one-on-one. They are not running that fast, but we still need to be careful. It will be a very tough, energetic game from our side. We need our transitions to be good, because then we can solidify in defence."
Bahrain cannot qualify for the quarter-finals but will certainly fight all the way, as has been the personality of Aron Kristjánsson's side for many years since the Icelandic revolution in the Asian country took hold when Guðmundur Guðmundsson became head coach back in 2017.
They are still in contention to better their highest previous World Championship ranking of 20th (in 2019, in the 24-team format).
20:30 CET Egypt v Denmark
By the time this match throws off, all that could be left to be decided is the group winners if Croatia fail with their part of the deal.
Any handball observer who sees Egypt vs Denmark on a world championship schedule can only be reminded of the pure drama, emotion and skill on display at Egypt 2021 when the host nation were knocked out on penalty shots in their quarter-final clash.
While this match will not go that far in 2021, one person who can affect it in 2023 but did not have the opportunity two years ago is Danish winger Hans Lindberg.
"I was at home watching," said the 41-year-old to ihf.info. "It was a crazy match because there were so many crazy things happening; red cards, Egypt had the chance to go through, it was a match where both sides had a chance to do something."
One person hoping Denmark can do something against Egypt is Denmark coach Nikolaj Jacobsen. After rotating his squad in-depth for the USA test, he was not happy with a lack of concentration from his side, and Lindberg agreed.
"Well, of course, we expect a better performance from our team than we performed against the United States," said the Füchse Berlin player.
"It doesn't matter who was playing on the court; we expect to play better than we did and he was not satisfied with our performance. We should have played better, especially with so many spectators in the arena. Hopefully it was only in this match and not in a match where the stakes are higher."
Egypt will also have to compete against around 11,000 Danish fans, making the 45km journey across the water from Denmark.
Roberto Parrondo's Egypt can relax going into this one, knowing they are through to the last eight.
After finishing seventh two years ago, their highest-ever finish, they will be looking to at least equal that in 2023.