21 Oct. 2020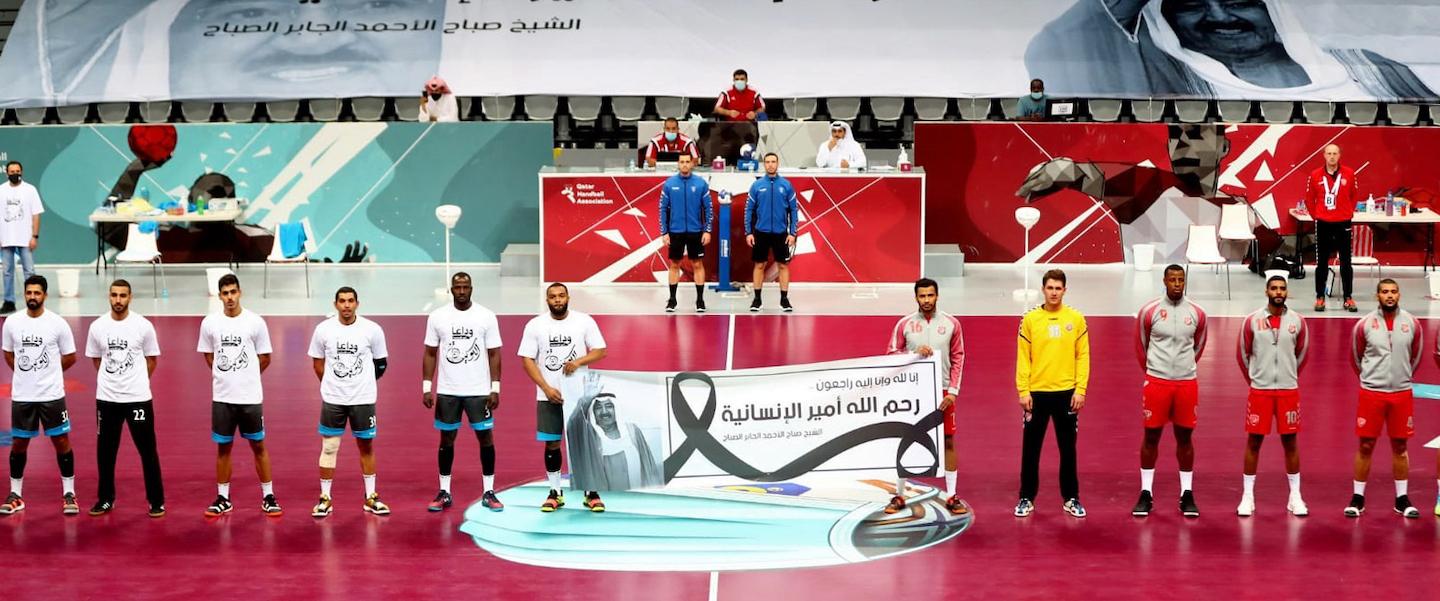 As part of the IHF's commitment to promote and develop handball across the globe, one IHF referee couple – Karim and Raouf Gasmi – are currently in Qatar after the Qatar Handball Association (QHA) requested referees and officials to join them for the end of the 2019/20 Qatar League season, the Qatar Cup, the Emir Cup and the new league season.
The French brothers spoke to ihf.info about how their time has been in Qatar, the global COVID-19 outbreak, and their work at home to promote the next generation of players – and maybe even referees.
ihf.info: When did you know you were going to whistle in Qatar, how many games have you officiated and when do you leave?
Raouf Gasmi: We were nominated in August and have now whistled more than 10 games – in the Qatar League, the Qatar Cup semi-final and final, the Emir Cup. We will finish here at the end of October.
ihf.info: What has it been like whistling in Qatar, any familiar faces?
Karim Gasmi: In the league you have many famous players like goalkeeper Danijel Saric and also left back Rafael Capote. You have also talent for future like the best centre back of the 2020 African Men's Championship, the Algerian Hadj Sadok. Also, of course, you have the Qatar men's national team coach, Valero Rivera.
ihf.info: How have you been working with the local Qatar referees? Do you meet with them?
Raouf Gasmi: Yes, we have many meetings with the local referees as well as the members of the QHA. We exchange information concerning our experience and philosophy and also discuss the game situations to find a common line.
ihf.info: Why is it important for Qatari referees to have IHF referees come to their country and whistle?
Karim Gasmi: The Qatari referees have an opportunity to discuss with us about the new refereeing tendency from the PRC (IHF Playing Rules and Referees Commission). We received a warm welcome from them as well as the local referee commission and we would like to thank them.
For us, the Qatar league has many players coming from many countries. It is important for us as referees to be here because you can find a different philosophy of game and it's important to be prepared for the next international event.
ihf.info: What do you both learn from whistling in a different league in a different country?
Raouf Gasmi: We learnt handball first as players, then referees and now as coaches in France. However, we are not closed to observing the methods of working outside our own country, to see how it works.
This allows us to question ourselves and adapt our method in the search of the best performance.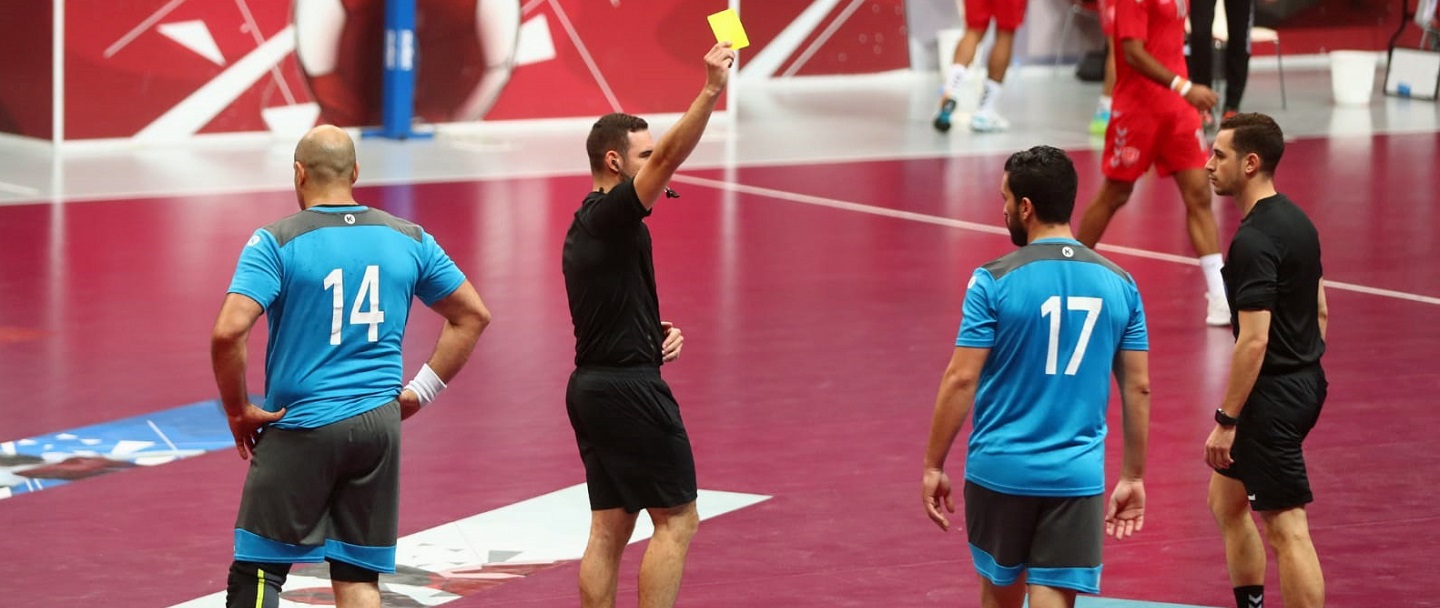 ihf.info: How has COVID-19 affected your whistling in France? Have you whistled much?
Raouf Gasmi: Unfortunately, we whistled just two friendly games since the COVID-19 outbreak, but at the same time we have been working on video analyses concerning refereeing as well as on the technical side regarding coaching.
ihf.info: How have you been training and keeping fit during COVID-19?
Karim Gasmi: During the quarantine times we received a programme from our IHF physical trainers Dani and Sergei, as well as a training plan and we adapted it to keep up to our usual physical level.
We made a daily schedule for ourselves. This allowed time to play – and for schoolwork – at home with our children, time to complete our physical training from Dani and Sergi and time to do physical training in our apartments with all of our family – wife and kids. This was really good fun and really important to do.
We also had authorisation to see our parents and we actually gave them an exercise bike for their home so they could keep fit at home.
During this period we were also preparing for the national handball coaching licence, so we didn't lose much contact with our sport.
It has been difficult though, because all the gyms were closed in France, but I think everyone has done something different around the world as this pandemic has been managed in different ways between all the countries.
ihf.info: Can you tell us more about the exercises you did during quarantine?
Raouf Gasmi: Well, we were allowed one hour outside each day to run or ride a bike, so we both did that.
The advice we received from Sergi and Dani included lots of different exercises relating to mobility and stretching. It included things like push-ups, skipping, burpees, squat jumps, jumping jacks, etc.
They also provided advice on nutrition and about the mental health side as well, so we followed that too. Things like sleeping well and making sure we spent time with our families.
We also used the time to watch various IHF Education Centre seminars and had many Zoom conferences with referees in France. In fact, we had a video and rules test every week. Of course, we also kept in contact with other IHF referees around the world plus Ramon (Gallego – Chairman of the IHF Playing Rules and Referees Commission (PRC)), Sergi and Dani.
ihf.info: What equipment did you use for all of this training?
Karim Gasmi: We used our IHF Polar watches to check and record our heart rates and calories burned. For the exercises, we had dumb-bells/weights, as well as resistance bands and foam rollers. We also weighed ourselves regularly on the scales – in fact, due to the high demand, many sports items were out of stock online or in sports shops.
We adapted our training within the small space of apartment, especially with children. We even used our balcony when the weather was good and when we were out there, we saw a lot more people exercising than normal, which they are continuing now and is great to see.
ihf.info: We understand you have been working at a handball academy in France for a number of years – tell us more…
Raouf Gasmi: Yes, we have been working as assistant coaches to Guillaume Joli – the former French international right wing who won Olympic gold at London 2012 as well as winning a number of IHF Men's World Championships and EHF Men's European Championships.
We have been working at his academy for young talent in our region 'Pole de Lyon', which aims to integrate players aged 15-18 years old into the French youth national team and find a professional club. In a typical week, the young talents have six training sessions adapted around their schooling.
We want to understand the daily function of the academy and gain experience. Our wish in future is to be referee coaches in an academy, maybe in France or even outside our own country as we not only have a strong knowledge of the game but also, we feel the young players can benefit from our experience as international referees.
We give our point of view during training sessions, advising them as coaches and also as referees, concerning rules and the modern tendency of handball. 
As coaches or referees we always have a philosophy of having an attractive game and we have a common target: to protect and develop our sport.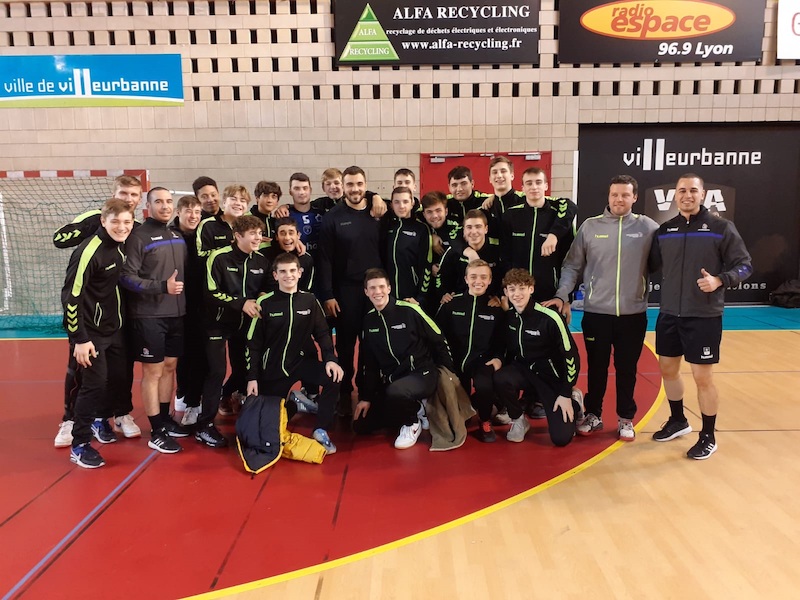 ihf.info: What's your message to the global handball community at this COVID-19 time?
Karim Gasmi: It is necessary to fight and live with this virus for the moment. We have to stay strong together as a family.