09 Mar. 2020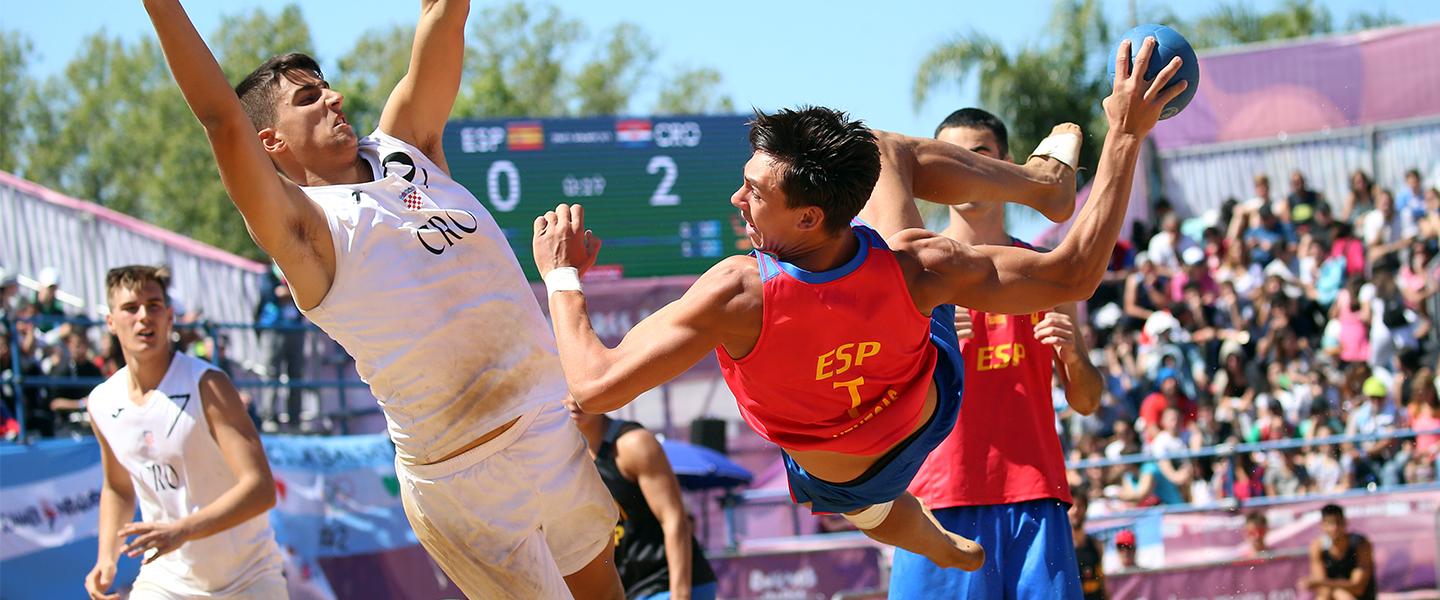 The International Handball Federation (IHF) has formally submitted a request to the International Olympic Committee (IOC) to include beach handball as a new event at the Paris 2024 Summer Olympic Games.
The request, submitted on 11 February, is for a total of eight men's and eight women's teams to participate, consisting of 128 athletes – 64 in each gender, with eight on each squad.
The competition format sent is for a preliminary round of two groups of four teams each in each gender. Played in a round-robin format, 12 matches would be played in each gender in the preliminary round stage followed by a day for quarter-finals, semi-finals and finals. A 5-8 ranking round would also be played. The competition would take place over six playing days and feature a total of 48 matches (24 in each gender).
In fact, the sport has already made its Olympic bow, appearing at the 2018 Youth Olympic Games, held in Buenos Aires, Argentina. The debut was an overwhelming success with the host nation women winning gold and men taking bronze, as Sarmiento Park became the place to be, with queues of well over three hours to get in.
One interested spectator in Buenos Aires was President of the International Olympic Committee, Dr Thomas Bach, who had also witnessed an IHF Beach Handball showcase event held in Lausanne, Switzerland, back in 2015.
"It's a great journey and it's even more exciting in Buenos Aires than in Lausanne with all these enthusiastic people around, the atmosphere – it's really fantastic to see," he told IHF.info at the time. "It's youthful and it's a great, easy-going atmosphere with a good competition at the same time."
In the same interview, Dr Bach also stated, "One of the major topics to be considered for inclusion in the Olympic programme is that you have a sport which is spread over all the world and has great interest all over the world."
And this is one of the major strengths of the sport, besides being exciting for players and fans – it's global reach.
The IHF has held a Beach Handball World Championship for men and women every two years since the debut edition in 2004 in Egypt, with subsequent champions coming from three different continents.
The last IHF Men's and Women's Beach Handball World Championship was held in Kazan, Russia, in 2018 and saw 448 athletes on 16 men's and 16 women's teams from 24 countries spanning North America, South America, Asia, Oceania, Europe and Africa competing for gold.
Building up to Kazan 2018, 123 national federations organised competitions with approximately 33,000 men and 22,000 women across the world registered as beach handball athletes.
The sport has captured the imagination of athletes of all ages around the globe and grown exponentially in recent years.
From approximately 110 IHF Member Federations being involved in beach handball since that showcase event in Lausanne back in 2015, 139 are now actively involved with the sport, with many more set to become involved over the next few years.
Continental championships are now established across the world with the last editions of the EHF (Europe) seeing 20 men's and 20 women's teams competing, OCHF (Oceania) featuring five women's and six men's teams, NACHC (North American and The Caribbean) with eight women's and nine men's teams, SCAHC (South and Central America) featuring six men's and five women's teams, the CAHB (Africa) event consisting of five women's and nine men's teams and the AHF (Asia) having 18 teams in total (six women's and 12 men's). 
The rise of the sport also included the incorporation of the first CAHB African Men's and Women's Beach Handball Championship held last year as part of the 2019 ANOCA African Beach Games in Cape Verde, the first-ever edition of the IHF Men's and Women's U17 Beach Handball World Championship, held in Mauritius in 2017 as well as appearing at the debut edition of the ANOC World Beach Games in Qatar last year.
Alongside its inclusion in the IWGA World Games, Asian Beach Games, South East Asian Games and Mediterranean Beach Games, the sport is well-represented across the world with 2020 set to be a landmark year.
This year will see the launch of the IHF Beach Handball Global Tour this summer and the 2020 IHF Men's and Women's Beach Handball World Championships, in Pescara, Italy in June and July.
July will also see the European Universities Games welcome beach handball to its programme in Belgrade, Serbia, following the successful European Universities Beach Handball Championship held in Croatia last year.
In 2022, beach handball will feature again at the Youth Olympic Games in Dakar, Senegal.
Gender equality is also a key component for beach handball with all IHF World Championships having men's and women's competitions running in tandem, and male and female referee couples whistling matches in either gender.
Another key element is that beach handball is one of the few, if any, global sports disciplines that has 'Fair Play' included in its rules as a core principle.
The possibility of beach handball appearing at the Paris 2024 Olympic Games has galvanised the beach handball community – and further afield – around the world to show their support through social media using the hashtags #OlympicBeachHandball and #BeachHandballParis2024.
The final decision regarding events, quotas and competition formats for Paris 2024 will be made by the IOC Executive Board by the end of the year.