16 Nov. 2023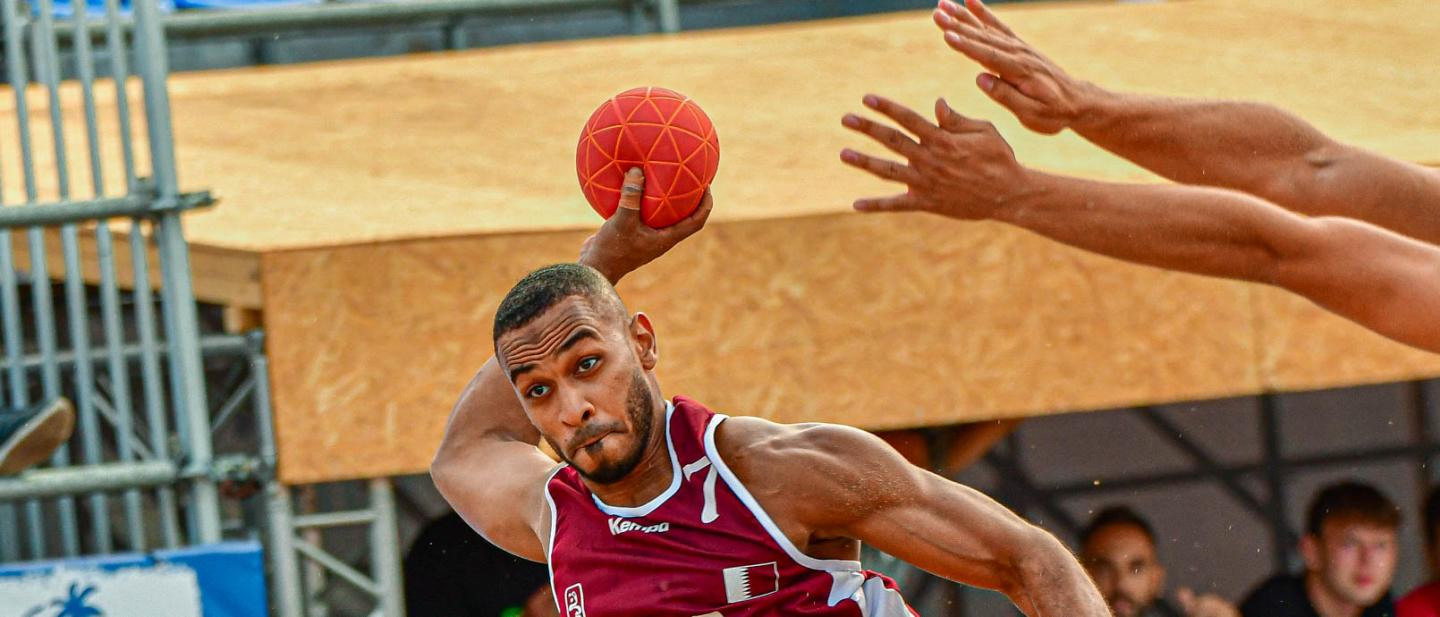 November 2023 will go down in handball history in Qatar.
When their men's beach handball team won the 2023 IHF Beach Handball Global Tour title on home sand in capital city Doha earlier this month, it marked the first time the nation had won a gold medal in any global handball competition in either gender or in any age group.
A short, but tough journey to gold
It took just four games for Qatar to claim their historic gold.
In the preliminary group stage wins against Tunisia and Brazil were followed by a 2-1 shoot-out loss against Denmark, but the results were enough to make it through to the final, where they faced Brazil.
The South American side were on familiar sand – the site of their 2019 ANOC World Beach Games title win – but they were then seen off by the home side, Qatar defeating them 5:4 in a shoot-out win in front of 1,500 passionate fans.
"We started against Tunisia who have a young team and have changed a lot of players but they were really good and are promising - the future is going to be good for them," said Qatar specialist and defender Mahmoud Zaky to ihf.info about the opening game of the stage for his side.
"We lost against Denmark, who we all know are a tough opponent, a very good side and show a lot of skills. We played Brazil twice, who are also really tough. They have a lot of titles and a lot of gold medals, and both games against them weren't so easy, but we were grateful to come out and win both. It was not easy but, of course, we are very happy to do this."
Zaky's teammate, Sid Ali Kenaoui, also praised the competition they faced in Doha.
"I saw that Tunisia are building a new generation for the future, changing most of the team with young players," said the defender, who made his debut for Qatar at the 2010 Asian Beach Games in Oman.
"For us, playing world class teams like Brazil and Denmark the matches between us all are always hard. It's impossible to predict who's going to win, but this time we managed to do it."
And the final result was something that had been on Qatar captain Mohsen Alyafaei's mind for some time.
"The finals stage was a hard competition between us, Brazil and Denmark with Tunisia showing potential to prove themselves even more in the upcoming tournaments," said the goalkeeper, who made his debut at the 2012 IHF Men's Beach Handball World Championship in Oman.
"Winning a global title was a goal our team wanted to achieve since we won bronze at the 2014 IHF Men's Beach Handball World Championship in Brazil. We worked hard on it since then and are so proud of what we achieved. As a goalkeeper and captain, I saw that this win was deserved."
Looking back
Alyafaei has well over a decade of experience on the sand with his nation and is well-placed to see the development of the sandy sport of his country after switching codes from the seven-a-side, indoor version of the sport.
And he has witnessed a successful 12 months for his side.
"It was a good year for our team," said the player, who works as a sport consultant in Lusail City in Qatar. "We re-took the Asian Men's Beach Handball title, after losing it in 2022 to Iran, participated in stage 3 of the IHF Beach Handball Global Tour in Poland and then won the overall title at home."
"Yes, the season for us has been good," added Kenaoui, who also plays indoor handball for Al Shamal in Qatar.
"We managed to win the Asian Championship for the sixth time and now this gold medal in the finals stage of the IHF Beach Handball Global Tour, so I am quite happy for that – next, I want to win the IHF Men's Beach Handball World Championship in China."
China on the mind
That world championship will take place in the Asian nation next year and with two bronzes (2014, 2016) to their name already, Qatar hope to move up the podium on home continent sand.
"For 2024, we hope to keep our success at the same level," said Alyafaei. "Based on this success (winning the IHF Beach Handball Global Tour) we are well-placed to fight to win the biggest title – the IHF World Championship."
With a number of players in the Qatar squad splitting their time between both codes of handball – the indoor and sandy versions – the 2024 IHF Men's Beach Handball World Championship provides a clear, next step – and focal point – for the players and nation to look to after their historic title win in Doha.
"It means a lot to me win the finals stage of the IHF Beach Handball Global Tour, and because it is the first, it means even more," said Zaky, who made his Qatar Beach Handball national team debut at The World Games 2013 in Colombia and Qatar indoor national team debut at the 2014 Asian Games.
"I didn't play much Beach Handball this season because I had commitments with my indoor club, so I wasn't really free for most of the Beach Handball tournaments this season, but, hopefully, next year I will be able to participate in more tournaments and we are hopeful to win more titles with the team and keep bringing home the gold medals.
"We need more and we are hungry for more," added the Al Gharafa player.
"That's our target and that's what we're aiming to achieve in 2024."