06 Nov. 2023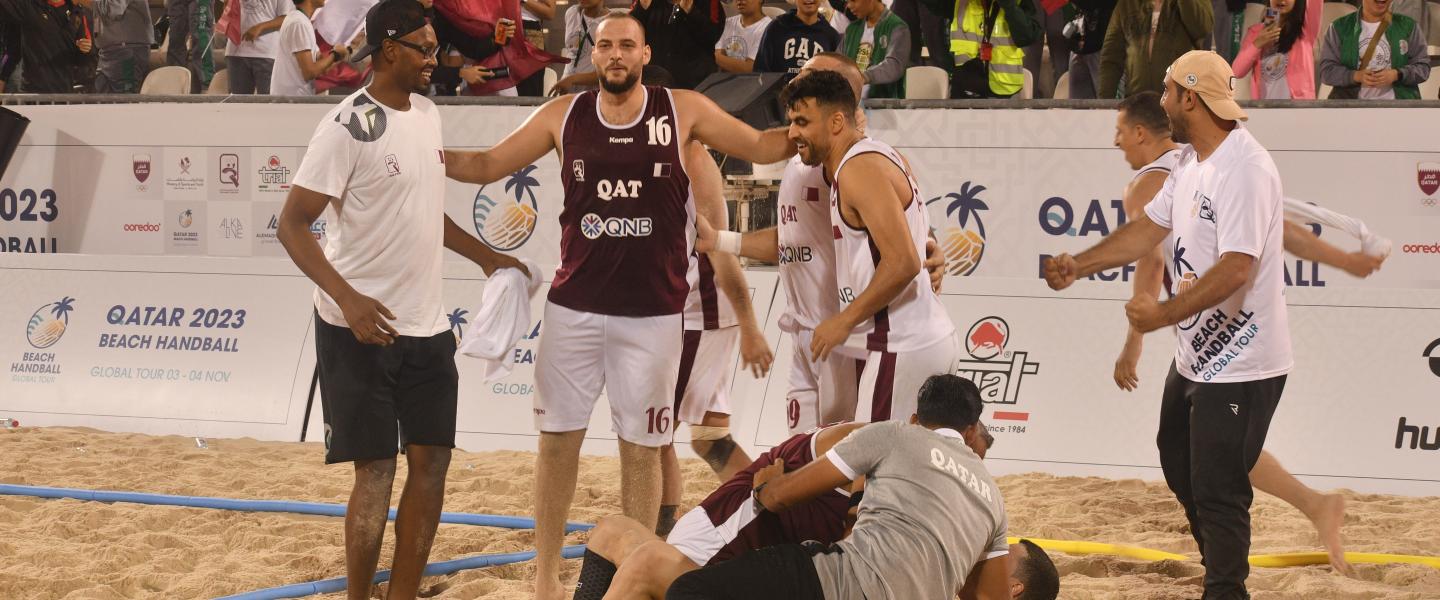 Qatar have won the 2023 IHF Beach Handball Global Tour title in front of 1,500 passionate home fans in Doha, after defeating Brazil via shoot-out in the final on Saturday (4 November).
The Asian side won three of their four games across two days of finals action at the Al-Gharafa Beach Venue in what was an extremely competitive and tight men's competition.
A total of eight games were played, with the first four coming on the opening day across two sessions. Qatar opened up their campaign with a win, easing to a 2-0 (20:8, 24:16) victory over African champions Tunisia.
The World Games 2022 Men's All-star Team left wing Renan Pinheiro Carvalho then scored 21 points to help his Brazil side defeat Denmark 2-0 (21:14, 21:18). The European side then bounced back in the opening game of the evening session, with Simon Møss and Martin Andersen adding 16 points each in their dominant 2-0 (32:14, 25:12) win over the Tunisians.
Qatar then concluded the opening day with a hard fought 2-0 (18:14, 18:16) victory over Brazil, thanks to 14 points from Zarko Markovic. Both sets were tight, with late time outs from both sides adding to the drama.
With all to play for in the opening session of the second day, Andersen top-scored for the Danes again, his 21 points helping his side to an eventual 2-1 (25:24, 22:28, SO 7:4) shoot-out win over Qatar to silence the home support. After scoring the first two of their shots in the dramatic finale, Qatar then failed to score with their next three, allowing Andersen to secure the match with a single point score.
After Carvalho's 10 points led Brazil to a 2-0 (16:12, 20:7) victory over Tunisia in the final preliminary group game it meant that Qatar, Brazil and Denmark were all tied together, on four points each.
With just the top two going straight through to the final, positions were then decided according to their head-to-head records with Qatar having the better set differential (+1) of the three in their mini-league, followed by Brazil (0) and then Denmark (-1), therefore setting up a Qatar vs Brazil final and relegating Denmark into the bronze-medal match. The Danes had finished the preliminary round with the most points scored (143), while the South Americans had conceded the fewest (87).
The Europeans saw off Tunisia with ease to then secure third place, 2-0 (23:18, 21:16) with the stage concluding in the most dramatic of fashion.
After Brazil won the first set clearly (24:12), the Asian side powered back to win the second (26:22) and so it went to a shoot-out. Following four attempts each, the two sides were locked at 4:4, with both missing two each.
Then, pure drama as the usually reliable Bruno Carlos de Oliveira saw his – and Brazil's fifth – shot bounce over the bar. This allowed Markovic to go down the other end to sink home the single and confirm the title.
Oliveira ended the event as the statistical MVP, as determined by IHF scouting partner Toma-soft, while Qatar's Mohsen Mohammed Alyafeai was the statistical MVP goalkeeper. Along with Brazil's Cristiano Seben Rossa, Alyafeai made 24 saves across four games to finish with the most in the event.
Down the other end, Renan top scored on 55 points, scoring 28 of his 39 attempts (72% success) which included 20 in-flights.
Denmark scored the most points in total - 187 points (46.70 on average per game), which included the most goals (96, 24 per game). Brazil conceded the least points, giving up just 130 in total (32 per game).
Results
Preliminary Group
QAT vs TUN 2-0 (20:8, 24:16)
DEN vs BRA 0-2 (14:21, 18:21)
TUN vs DEN 0-2 (14:32, 12:25)
BRA vs QAT 0-2 (14:18, 16:18)
QAT vs DEN 1-2 (24:25, 28:22, SO 4:7)
BRA vs TUN 2-0 (16:12, 20:7)
Placement 3/4
DEN vs TUN 2-0 (23:18, 21:16)
Final
QAT vs BRA 2-1 (12:24, 26:22, SO 5:4)
All games were shown live and free on the IHF YouTube Competitions channel and can be watched again HERE:
For more news and statistics click HERE.
2023 IHF Beach Handball Global Tour
Stage 1
Location: Maricá, Brazil
Dates: 26 to 30 April 
Men's Ranking: 1. Brazil, 2. Argentina, 3. Portugal, 4. Uruguay, 5. USA, 6. Chile
Women's Ranking: 1. Brazil, 2. Argentina, 3. USA, 4. Mexico, 5. Chile
 
Stage 2
Location: Hammamet, Tunisia
Dates: 20 to 22 June 
Men's Ranking: 1. Tunisia, 2. Morocco, 3. Algeria, 4. Togo
Women's Ranking: 1. Tunisia, 2. Kenya, 3. Algeria, 4. Mali
Review (men's and women's)
Stage 3
Location: Plock, Poland
Dates: 22 to 23 July
Men's Ranking: 1. Denmark, 2. Croatia, 3. Qatar. 4. Poland
Women's Ranking: 1. Germany, 2. Denmark, 3. Poland, 4. Croatia

Stage 4 - Finals
Location: Doha, Qatar
Dates: 3 to 4 November
Men's Ranking: 1. Qatar, 2. Brazil, 3. Denmark, 4. Tunisia
Women's Ranking: 1. Brazil, 2. Poland, 3. China, 4. Tunisia
About the IHF Beach Handball Global Tour
The IHF Beach Handball Global Tour was launched at the 2022 IHF Men's and Women's Beach Handball World Championships in Greece.
The Tour debuted in Gdansk, Poland, in July 2022, with Croatia winning the men's tournament and Spain taking the top spot in the women's tournament.
The 2023 Tour visited Brazil, Tunisia, Poland and Qatar.
Photo: Qatar Handball Association