22 Sep. 2022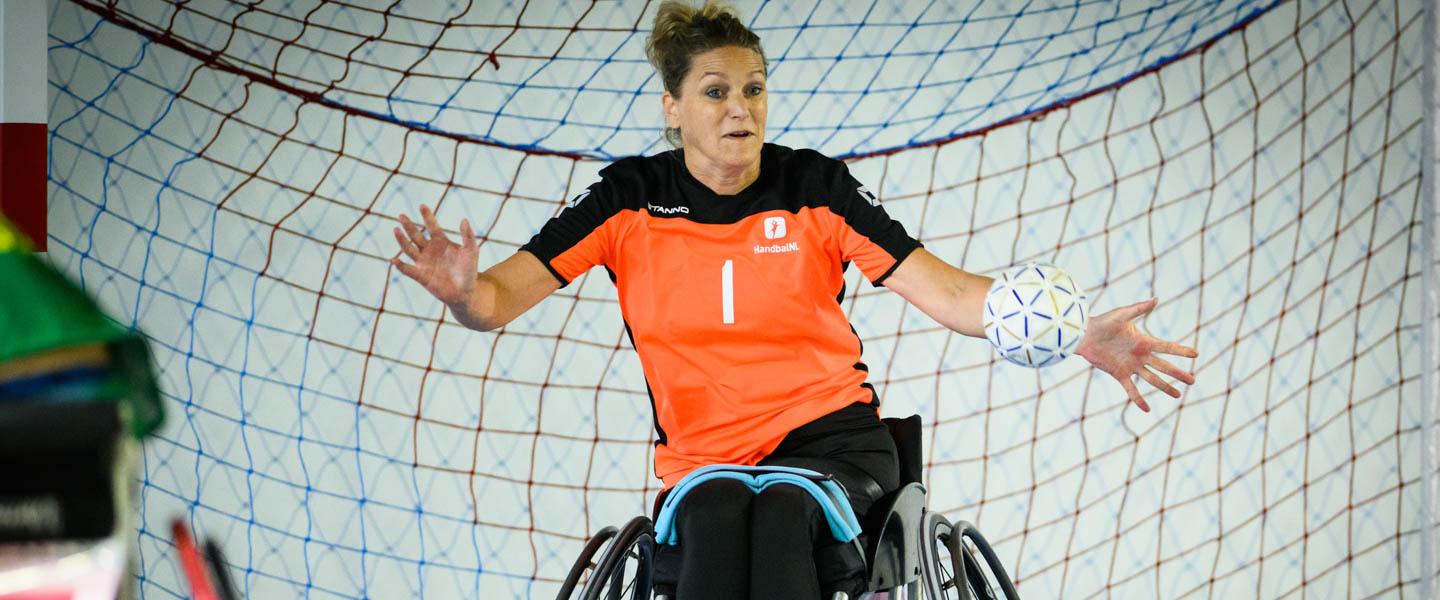 Live blog: Well, the first day of the 1st IHF Four-a-Side Wheelchair Handball World Championship is now behind us and what a great show these players, or heroes, however, you want to call them, put on for us. Two sides – Brazil and Egypt – have four points, winning both their matches, while Chile and the Netherlands follow them with two points. Unfortunately for Slovenia and India, they lost both games, as their chances of fighting for a medal are slimmer and slimmer as each game goes by.
Not surprisingly, Egypt and Brazil have the two best attacks in the competition, scoring 30 points and 29 points, respectively, while Slovenia (13 points) and India (8 points) are at the bottom of the standings. But, who knows, maybe tomorrow we will have other developments during the matches. Let's wait and see!
Today's games:
10:00 EET Brazil vs Slovenia 2-0 (7:3, 7:2) / Chile vs Netherlands 0-2 (3:5, 4:6)
12:00 EET Egypt vs India 2-0 (11:1, 5:1)
16:30 EET India vs Chile 0-2 (2:3, 5:6) / Netherlands vs Brazil 0-2 (3:9, 4:11)
18:30 EET Slovenia vs Egypt 0-2 (5:9, 5:6)
19:10 EET Full-time: Slovenia vs Egypt 0-2 (5:9, 5:6)
Egypt needed a bit of time to cement their lead in the game by having quite a nervous start to the second set, as Slovenia tied the score, 3:3, after seven and a half minutes. There were moments when the European side even hoped to take something out of this game or at least push the match into the third set. But losing defensive stalwart Matej Arh to a red card for a foul looked crucial for Slovenia. Yet nothing was lost. David Škorjanc had a converted spin shot to tie the game, 5:5, with one minute and four seconds to go. However, the turnovers kept piling up for Slovenia, with two in a row in quick succession, and everything was over for the European side. With 16 turnovers in the game, Slovenia paid the price for their lack of experience, and Egypt sealed their second win, 2-0, sealing the sets. 
The African side is now one of the only two to secure two wins in their first two matches of the 1st IHF Four-a-Side Wheelchair Handball World Championship, with Brazil being the other one. The two sides will clash tomorrow in the last game of the day, with a potential decider for who the finalists will be on the cards.
18:44 EET Half-time: Slovenia vs Egypt 0:1 (5:9)
This has definitely been of the most exciting games so far at the 1st IHF Four-a-Side Wheelchair Handball World Championship, and it undoubtedly helped to have nearly 1.000 fans in the stands to cheer for their side. While Slovenia started the game brightly, it was once again Egypt's Magdy Talaat Abdo Abbas who began to dominate, adding four points to his tally, which stood at 11 before the start of the game. Egypt might have had little time to prepare for this competition, but they worked really hard and surely want a medal here to write history in wheelchair handball.
On the other hand, Slovenia really started to suffer after taking a 3:2 lead, with Egypt boosting their chances with a 4:0 unanswered run, as Mohamed Mohamed Hassabelnabi Ahmed also scored three points, with Slovenia's defence standing no chance. Despite converting a spin shot on a fast break that counted double the number of points, Slovenia failed to mount a challenge, with Magdy Abbas still going strong and delivering a steal and a goal after some cunning play. If things stay the same, it will be tough for the European side to avoid its second loss in two games at Egypt 2022.
18:00 EET Egypt 2022 officially declared open!
There are only 30 minutes until the start of the last game of the first day of the 1st IHF Four-a-Side Wheelchair Handball World Championship. We were treated to an opening ceremony, where the President of the International Handball Federation, Dr Hassan Moustafa, and the Egyptian Minister of Youth and Sports, Dr Ashraf Sobhy, held the opening statements for this competition.
Fans started coming to the Dr Hassan Moustafa Arena in 6th of October, as they aimed to help their side, Egypt, clinch the second win in a row at the start of the competition when they face Slovenia. Currently, only Brazil have secured the win in both games. Therefore this game is a must-win for Egypt to try and stay in the hunt for a gold medal.
17:12 EET Full-time: India vs Chile 0-2 (2:3; 5:6)
Chile earned their first win at the tournament in a tight fight. In both parts of the match, they needed a golden goal to win, and Alexis Caballero scored it in the second set.
The South American lead 2:0, then 4:2 after the break, but their Indian rivals fought hard. Goalkeeper Koteshwar Ramavath did a good job, and Ramesh Shanmugam scored all five points of his team in the second set. Notably, his spinshot gave India two points and saw them drawing level at 4:4, and then Shanmugam put his team in front, 5:4.
However, Chile weathered the storm. Jonathan Veas equalized at 5:5 in the 20th minute before Caballero scored the winner in the 22nd. The South Americans ended the day on a high, while India lost both matches.
17:08 EEST Full-time: Netherlands vs Brazil 0-2 (3:9; 4:11)
Brazil have taken a severe option to fight for the gold medal on Sunday, provided they keep this rhythm flowing also in the next two days of the group phase. The South American side, definitely one of the most experienced teams in the competition, have taken their opponents by storm. After disposing of Slovenia in the first match, they now have totally dominated the Netherlands.
The European side showed some signs of a comeback at the start of the second set, but after another converted spin shot from Jordean Rodrigues, everything fell apart. Brazil scored seven unanswered points to punish every Dutch mistake and take the second win in the second game with a thoroughly dominating performance. The second set was won clearly, 11:4, with the South American side proving their mettle.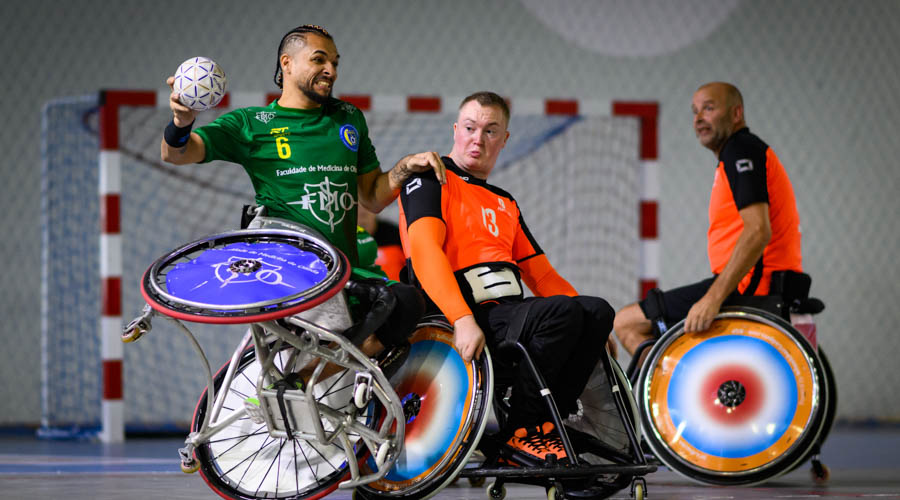 16:48 EET Half-time: India vs Chile 0-1 (2:3)
Both sides lost their opening matches in the morning, so India and Chile are eager to bounce back and claim their first victory. And after the first set, Chile seems to be closer to that goal.
The South American side pulled ahead twice, 1:0 and 2:1, but the Indians did not give up and drew level each time. As the rivals were still tied after 10 minutes, they continued to play for the golden goal, and 39 seconds later, Chile's Angel Hernandez scored it after a counterattack.
However, India definitely does not look hopeless in this match, so they will try to hit back after the restart.
16:44 EEST Half-time: Netherlands vs Brazil 0:1 (3:9)
Brazil were on fire at the start of the match, outplaying a strong Netherlands team, preventing them from scoring in the first two minutes and 42 seconds of the game. By that time, Brazil were already 3:0 up, and it looked increasingly clear they were going to steal this set spectacularly. The South American side looked properly motivated and was very efficient at the start of the game, with Claudinei Dias scoring twice while also acting as a goalkeeper.
But with the help of goalkeeper Joyce van Haaster, the Netherlands side weathered the storm and even managed to cut the gap to two points, 5:3, with three minutes to go. However, their disappointing start proved to be their undoing, as Brazil kept the lead and never looked back, sealing a 9:3 win in the first set with a 360-spin goal by Jordean Rodrigues.
16:10 EEST Break is almost over
We had a four-hour break at the first-ever IHF Four-a-Side Wheelchair Handball World Championship, as teams needed a bit of rest before their second match of the day. The highlight will be in Hall 2, where Brazil face the Netherlands, with two teams that comfortably secured wins in the first matches colliding in what could prove to be a pivotal match for the future of the competition. In the other arena, India face Chile before Egypt meet Slovenia.
Egypt have the best attack in the competition so far, scoring 15 points, followed by Brazil with 13 points and the Netherlands with 9 points.
12:32 EET Full-time: Egypt vs India 2-0 (11:1; 5:1)
Magdy Talaat Abdo Abbas became the event's top scorer after his first set's performance, with seven points. He added more to his tally, improving to 11 points at the end of the game, which Egypt thoroughly dominated. Is it because they are a class above others or because India lacks the needed skills to apply pressure on opponents? Well, we will see that, but until then, Egypt must celebrate this win, which was lopsided in both sets.
It was the turnovers that definitely hampered India, who lost the ball 17 times throughout the game, leaving open goal shots for Egypt, who duly took advantage, including scoring two 360-spin shots, which could double, both converted by Magdy Talaat Abdo Abbas, who is certainly looking like a very interesting player. Egypt can celebrate until their match against Slovenia later today, at 18:30 EET, when they will be favoured.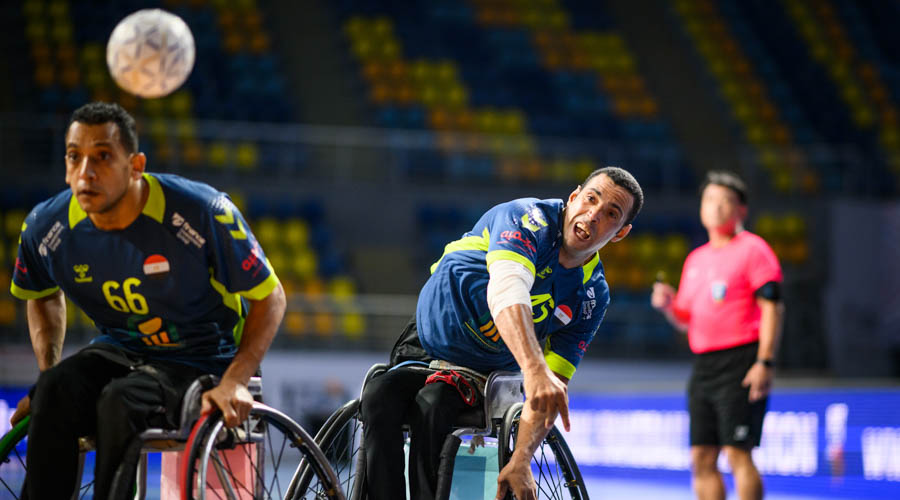 12:12 EET Half-time: Egypt vs India 1-0 (11:1)
It is all Egypt at the start of the game, with the hosts scoring four times in the first three minutes and prompting a time-out from India, who have only scored once in this period. Magdy Talaat Abdo Abbas was the driving force for Egypt in this run, scoring two times, while India turned the ball over four times, much to the disappointment of their coach, who could not stop the problems. At the end of the first half, India's turnovers cost them the most, raking up 10 of them.
Every mistake from India was swiftly punished by Egypt, as the Asian side tried to mount a comeback, only for Egypt's goalkeeper, Mohamed Anwar Ahmed Hassanein, to add to his save tally. It was a dominating performance from a side founded a month ago. Egypt definitely looks like they mean business after taking the first set by a huge margin, 11:1, the biggest in the competition so far, with three matches elapsed. Oh, and Magdy Talaat Abdo Abbas also had a 360-spin shot in the open goal, underlining his prowess in attack.
11:00 EET Six goals for Lourenco and van der Ende
13 players scored a least a point in today's first games when Brazil beat Slovenia, 2:0. At the same time, the Netherlands secured a clear win against Chile, 2:0. 
The top scorers in the tournament are Brazil's Guilherme Lourenco and Netherlands' William van der Ende, who scored six points, with Lourenco impressing with a 360-degree spin that counts double the points on the scoreboard.
Brazil and Netherlands also have the top two goalkeepers so far in the competition, with Marcelo Amiral and Joyce van Haaster each saving five shots for a 71.4% saving efficiency, as they have been immense in their team's wins.
They have truly been impressive, and it will be interesting to see how Brazil cope against the Netherlands when they face at 16:30 EET. Until then, we have another game at 12:00 EET, when hosts Egypt face India in another headliner of the day.
10:41 EET Full-time: Chile vs Netherlands 0-2 (3:5; 4:6)
Chile tried to fight hard in both sets, producing more shots than their rivals, 21 against 20. But the more experience Netherlands team was more efficient, converting 45% of their attempts compared to Chile's 29%.
William Van Den Ende was the best scorer of the game with eight points, while Angel Hernandez stood out in the South American team with four points.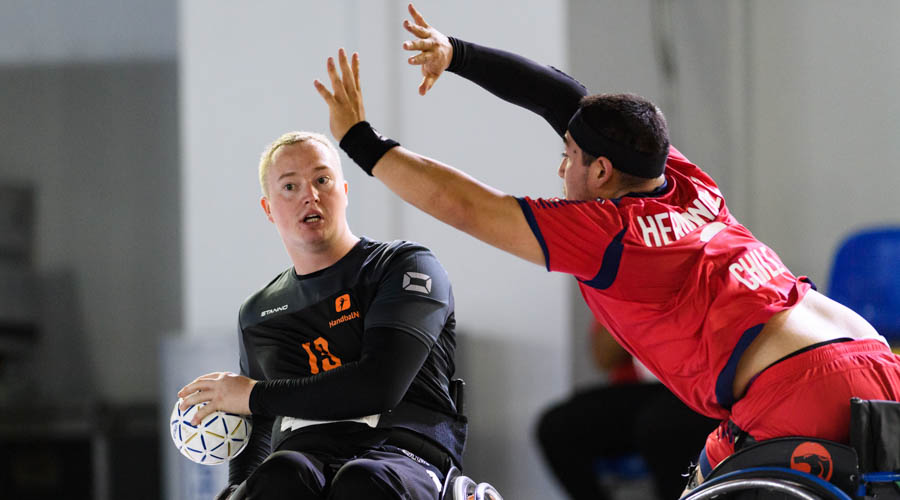 10:34 EET Netherlands have the upper hand
It looks like Netherlands will win their opening game of the tournament against Chile. The European side had the upper hand in the opening set, winning it 5:3, and they are even more dominant in the second set, leading 6:4. William Van Der Ende has been an outstanding player so far, scoring eight points for the Netherlands team.
10:31 EET Full-time: Brazil vs Slovenia 2-0 (7:3; 7:2)
It has been a dominating performance by Brazil, who become the second team to win a match at the first-ever IHF Four-a-Side Wheelchair Handball World Championship. They went down 2:1 after four minutes in the second half but bounced back admirably and even scored a 360-degree shot, which counts double the amount of points near the end of the half. All in all, Brazil finished the game with a 6:0 run, totally dominating their opponents.
Guilherme Lourenco was the top scorer of the match, with six points, as Brazil sealed a superb 2:0 win on sets, 7:3 and 7:2.
10:15 EET Advantage Brazil
It has been a flying start from Brazil, especially thanks to a superb contribution from Claudinei Marques Dias, who made four saves and scored a goal in the first set. Guilherme Lourenco added three goals, while Slovenia only relied on Davi Skorjanc, who scored two of his side's three goals in this first set. It has definitely been one-way traffic so far in this match, and Brazil look like the prime candidates to secure the first win of the competition.
The second set will start after a short break, but Brazil's dominating 7:3 performance in the first set, especially via their fast breaks, leaves little question about who the winner might be in this match. And it was thanks to their good efficiency, 58%, while Slovenia had only a 22% efficiency.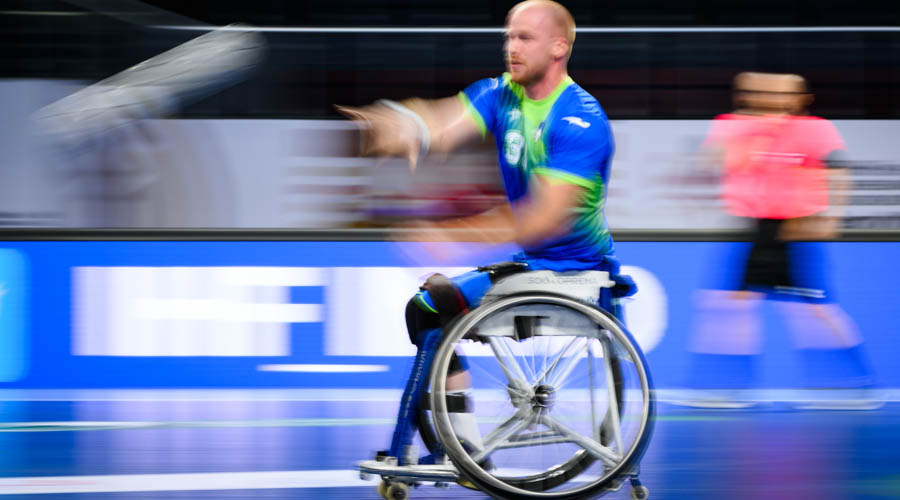 10:00 EET Let's get started
And just like that, we have a historic moment for handball. With two games, Brazil vs Slovenia and Chile vs Netherlands, taking place in the two halls of the Dr Hassan Moustafa Sports Hall, in 6th of October, Egypt, the first-ever IHF Four-a-Side Wheelchair Handball World Championship has thrown off. We will keep you posted with everything that's happening in both games!
09:45 EET What is happening on the first day?
Read more about the teams in our preview for the first of four days of competition by clicking here. 
Do you want to follow the action live? You can do that on the IHF Youtube channel. 
If you want to be up to date, you can find more interesting content on Facebook, Twitter and Instagram. 
09:30 EET Pioneers of the sport
The evolution of wheelchair handball has been one to watch, and it basically started 17 years ago, in 2005, when several demonstration matches were played in Brazil. Learn more about how Brazil pioneered the sport and how wheelchair handball developed. 
09:15 EET What is the classification?
The teams have already been in Egypt for some days and played some practice matches. The classification also took place, with players undergoing a series of tests to assess their motoric capacity. This is commonly known as "classification", which consists of three parts. The first one was done before the teams arrived in Egypt, a pre-event eligibility check via a Medical Diagnostic Form, signed by a certified medical doctor. The second part was done on-site by a panel of three recognised classifiers, who assessed each player during a 15-minute session to determine if the player met the Minimum Impairment Criteria (MIC). Learn more about classification here.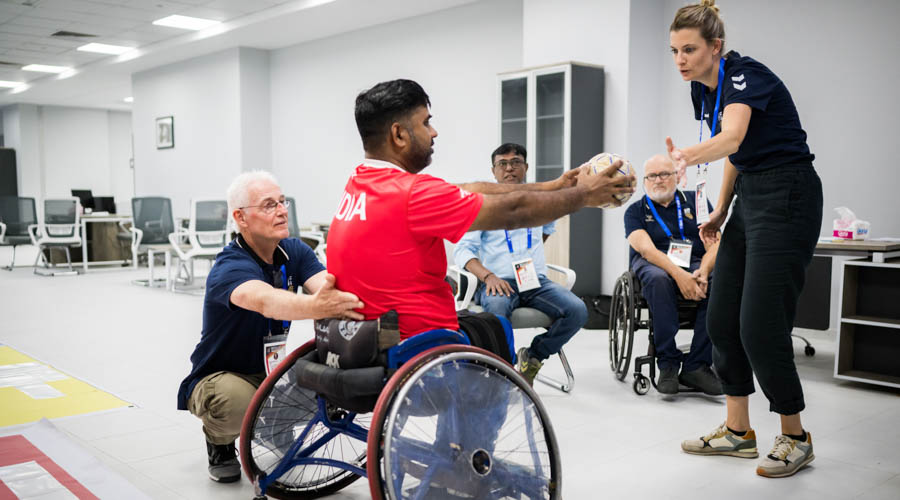 08:45 EET Let the World Championship begin!
We are ready to start a new page of history in the handball world, with the first IHF Four-a-Side Wheelchair Handball Championship ready to start. Sure, it is a new sport, a new discipline of the game, but we got you covered, with every aspect of the sport explained in a series of articles, which can be found on our competition mini-site alongside everything you need to know about the event. Let's get started!