21 Sep. 2022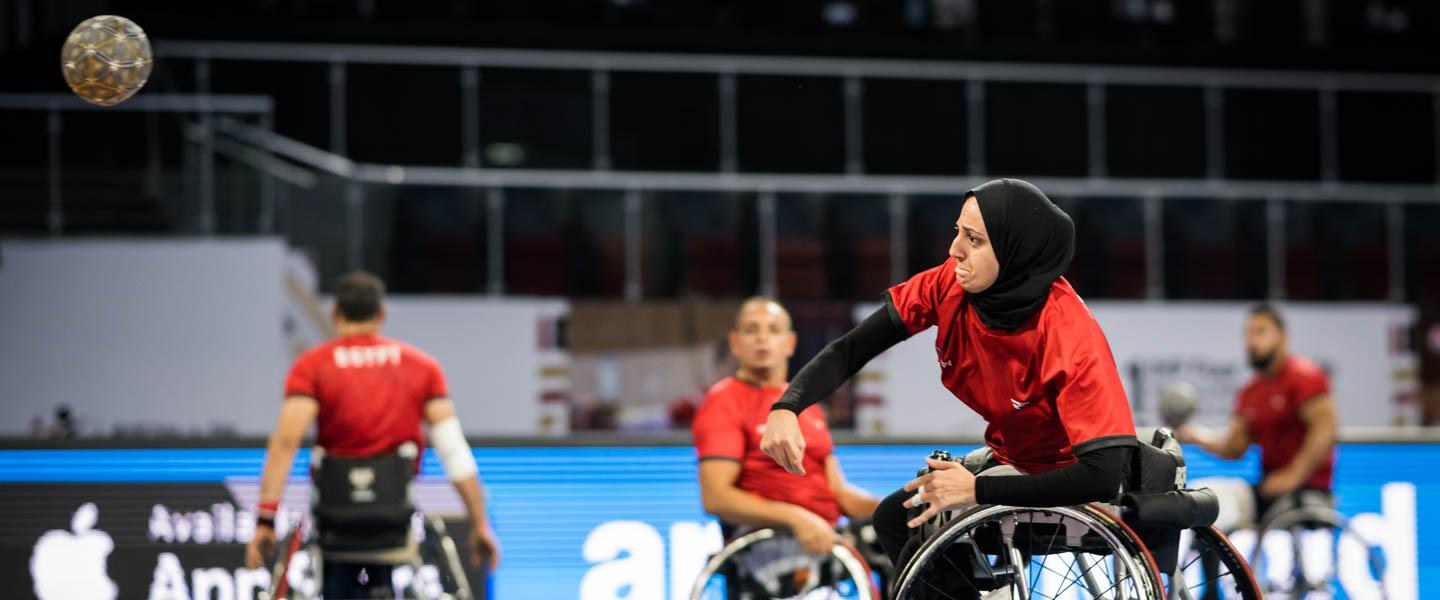 The first IHF Four-a-Side Wheelchair Handball World Championship will throw off with six teams in 6th of October, Egypt, on Thursday, 22 September 2022, with history ready to be made by the participants.
The card will be full, with each side playing twice on the first day, facing different opponents, with the same schedule format being played on Friday, as the group phase will be in full fledge.
The six sides, representing four different continents, have already been getting accustomed to the two halls hosted by the same complex – the Dr Hassan Moustafa Sports Hall in 6th of October – having been already training and playing friendly games over the past days.
The competition will be played in a round-robin format, with every team playing against each other once in the group phase on Thursday, Friday and Saturday. The first two sides will then advance to the finals, with the third- and fourth-ranked teams playing for the bronze medal, while the fifth and sixth teams at the end of the group phase will play against each other in the 5/6 placement match.
Therefore, all the matches are crucial to the teams involved, as any mishap could prove costly in their challenge for a medal.
It does not seem unlikely that hosts Egypt start off the competition with two wins against India and Slovenia. Yet, their lack of experience, particularly with the team being formed only a matter of weeks before the throw-off of the event, could become problematic.
On the other hand, Brazil and the Netherlands, who will be facing off at 16:30 EET, are the most experienced teams, with plenty of international games under their belt. Their match promises to be a derby on the first day of the competition.
India, another team who has shown promise in the test matches played in Egypt before the start of the competition, will throw off their tournament against the hosts and then face Chile, while they hope that their experience in wheelchair basketball in international tournaments hoping to pay dividends in the first matches here.
Matches 22 September 2022
10:00 EET
Brazil vs Slovenia (Dr Hassan Moustafa Sports Hall, Hall 1)
Chile vs Netherlands (Dr Hassan Moustafa Sports Hall, Hall 2)
12:00 EET
Egypt vs India (12:00 CEST, Dr Hassan Moustafa Sports Hall, Hall 1)
16:30 EET
India vs Chile (16:30 CEST, Dr Hassan Moustafa Sports Hall, Hall 1)
Netherlands vs Brazil (16:30 CEST, Dr Hassan Moustafa Sports Hall, Hall 2)
18:30 EET
Slovenia vs Egypt (18:30 CEST, Dr Hassan Moustafa Sports Hall, Hall 1)