22 May. 2023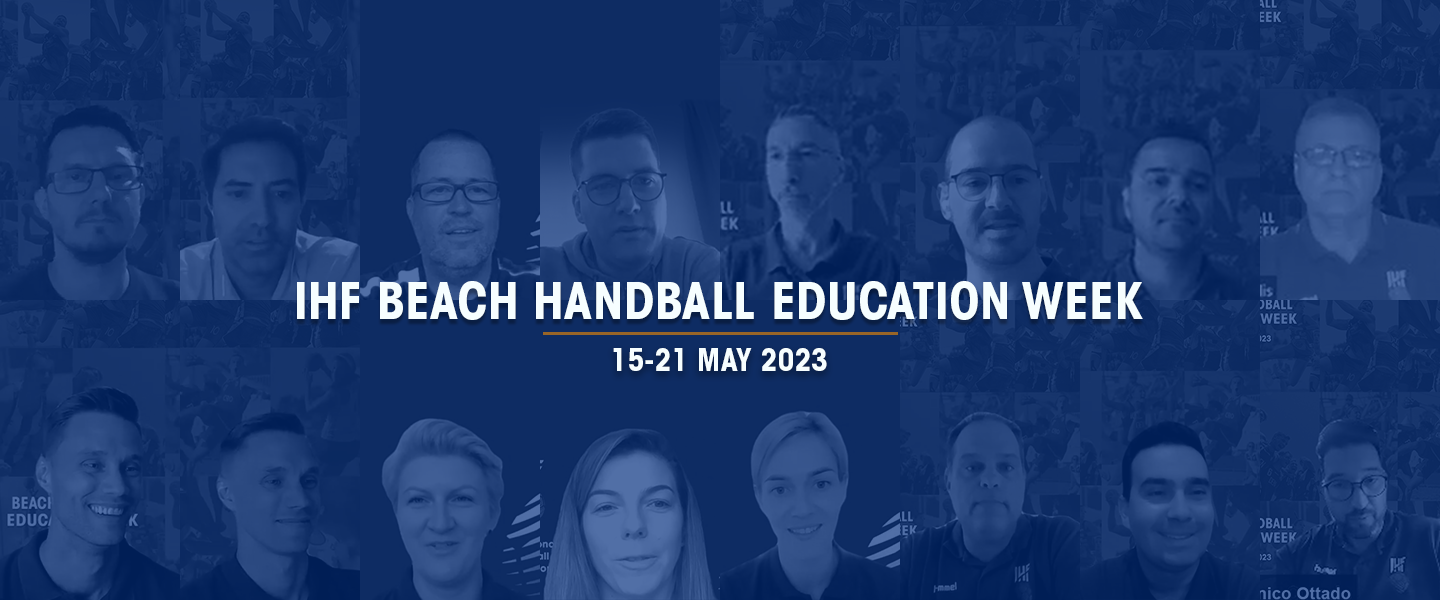 International coaches – including both 2022 IHF Beach Handball World Championship winning ones – IHF referees, delegates, lecturers and an audience from across the world all contributed to a successful debut edition of the IHF Beach Handball Education Week, which wrapped up on Sunday (21 May).
The week featured seven-and-a-half hours of lectures, presentations and debates, split over seven days of virtual sessions run by the IHF Virtual Academy, an initiative of the IHF Education Centre.
Experts delivering their knowledge and exchanging ideas came from Germany, Croatia, Poland, Brazil, Uruguay, France, Sweden, Greece and the United States of America.
The week opened last Monday (15 May) with 2022 IHF Men's World Championship and 2022 The World Games-winning coach of Croatia men, Mladen Paradžik.
His lecture about the 'Latest Trends in Attack', was broken down into bitesize chunks about the history of beach handball in Croatia and the reasons for its success on the sand, despite it being a relatively small nation.
"In 2002, I was lucky enough to be part of the first selection," said Paradžik about when the sport started in Croatia. "We didn't know anything about beach handball. About a month before the first European Championships in Spain, we learned the rules from the book while travelling there. Since then, we have never missed (not qualified) a big competition."
Paradžik, who is also an IHF Lecturer and was a beach handball referee, then revealed that up to 2017 Croatia only had two dedicated beach handball courts in Zagreb, but argued it could have been an advantage as well as a disadvantage in the development of the sport.
"In 2007/2008, [beach handball] became more serious and teams became more beach handball orientated with the centralised courts…[before then] previous teams had viewed it as a 'sun and fun' game and not a serious sport." Paradžik then concluded with a section entitled 'The small things that matter' where he went over the secrets to the success of his team in Greece last year.
Day two (Tuesday 16 May) saw USA's men's coach Michael Hinson deliver a lecture on the 'Preparation of a national team on the way to a top event' – and it is something he knows only too well, with the side attending six global events in the past seven years.
The tactically-led session was full of tips for coaching staff, with sections including 'scouting your own team', 'scouting your opponent', 'develop your game plan', 'practice' and 'have fun'.
"What we do now is a lot different than what we did a couple of years ago," said Hinson. "There's always an evolving process; a continual learning for this. There's a lot that goes on off the court. Work on creating smiles and camaraderie that hopefully will last a lifetime. Beach Handball is the greatest sport in the world."
Denmark's men's national team coach Gorm Andersen then delivered session three on Wednesday (17 May), which was entitled 'Latest trends in defence'.
"Beach Handball is such a new sport," he said in his introduction. "There are so many unexplored corners – especially in defence – that, in my mind, there is no wrong way of doing defence. In my opinion, the best defence has not been found yet."
Andersen went on to describe how he picks his team ("We reserve three spots only for defence players, which involves one tall, one fast, one leader – the same three players doing defence the whole tournament.") and what he expects from them ("Normally an attack will be 10-15 seconds, so one of them needs to be in charge. Those three are all out of the court in attack and they need to make a plan.")
After going through the difference styles of defence and options and rules in defence, he ended his presentation with a small plea to all coaches watching. "Every time we go to a championship, I will pick up something new from the other coaches," he said. "I think we all need to be able to at least make it possible to our players to explore all corners of our sport."
Thursday (18 May) featured another 2022 IHF Beach Handball World Championship-winning coach, with Germany's women's head coach Alexander Novakovic delivering a talk on 'Injury prevention & importance of long-term athletic plans with transfer periods between beach/indoor'.
He discussed a number of topics, including giving an overview of injuries in the sport, the long-term athletic cycle (1 year term) and transfer periods between beach and indoor and regeneration.
"We have to be aware of overuse injuries in beach handball," explained the coach, who also led his side to European and The World Games gold in the past two years. "Landing techniques in beach handball are not that important as we have a soft, dynamic surface. As a coach, though, I am aware that during training, where there are repetitions, after 5-7 repetitions I stop the exercise, go to the region where the spot is the player is landing and put the sand back to how it was before. 
"You can train for both disciplines, but do it on the right surface at the right time and if you do, you will have an advantage in both."
Session five (Friday 19 May) saw six experts deliver a discussion around 'Goalkeeper behaviour inside and outside the goal area / special situations'.
The French trio of Jerome Rolland (IHF Beach Handball Delegate) and IHF Beach Handball Referees Cedric Dare and Mathieu Fanack discussed the rules, issues relating to inside and outside the goal areas and shoot-out situations, while Swedish IHF Beach Handball referee couple Martin and Johan Gomér, along with Ioannis Meimaridis (IHF Lecturer and IHF Delegate) – who was named last year as one of the 'Legends of Beach Handball' – discussed 'Special situations'. 
"Referees need to address at an early stage when they appear," said the Gomér brothers about issues relating to provocation. "This is an important piece of the referees' work and tasks; to prevent some of these situations, otherwise these kind of situations can quickly escalate to something worse. We try to create a better harmony and reduce the conflict in the match."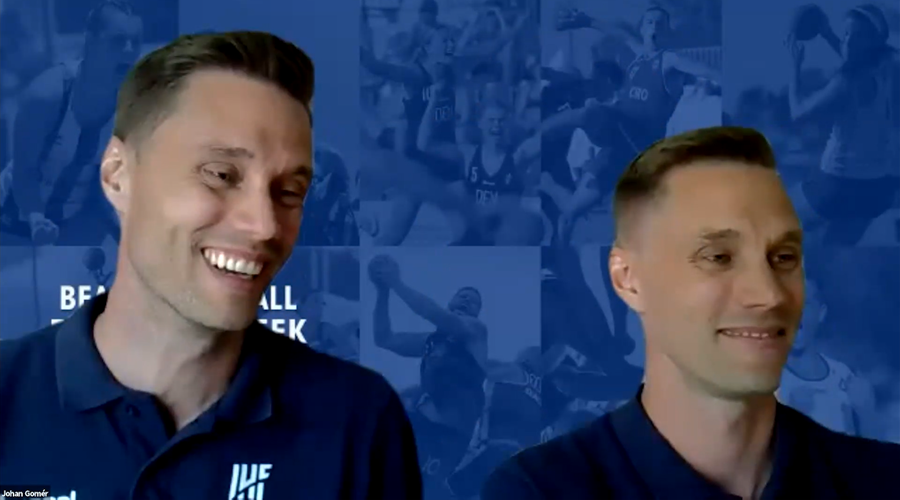 The penultimate lecture (Saturday 20 May), saw the Polish trio of Agnieszka Skowronek, Sylwia Bartkowiak and Weronika Lakomy share their insights on two-point goals. 
Skowronek, who has whistled in the IHF Beach Handball World Championships as well as taking charge of high-profile indoor games, including the Women's EHF FINAL4, discussed the changes of the sport since she qualified as an IHF Beach Handball referee in 2005 before handing over to her colleagues, who whistled at the world championships last year.
"It's really difficult, but when you are refereeing a lot, you have more and more experience and then you catch it easily," replied Bartkowiak to a question asking how difficult it was for referees to see everything when analysing whether a shot was a spin shot or not.
"We have a small court; three defenders, four attackers and it is not easy to observe everything, but it's important to have good contact with your partner," she added. "We have some areas of interest
in which we try and concentrate and help each other during difficult situations."
The 2023 IHF Beach Handball Education Week then went to South America to conclude with its seventh session on Sunday (21 May) entitled '6-metre throw + punishments'. Former IHF Beach Handball Referee and now IHF Beach Handball Delegate Luiz Filipe Caldas was joined by the Uruguayan IHF Beach Handball referee couple of Pablo Martinez and Luis Monico, both of whom were celebrating their 20th anniversary of picking up the whistle.
All lectures were in English and streamed live on the official IHF Facebook page and through Zoom, where attendees were provided with automatic translation into three additional languages (French, Spanish and Arabic). The series of lectures are also available to watch on demand on the IHF Education Centre YouTube channel or via Facebook.
About the 2023 IHF Education Weeks
The 2023 IHF Education Weeks continue with another five courses to come:
10-16 June        Coaches and Referees Education Week
4-10 September        Children's Handball Education Week
18-24 September    Youth Coaches Education Week
2-5 October        Management Education Course
6-8 October        Wheelchair Handball Education Courses
All courses are presented by the IHF Virtual Academy, which was launched in 2020 with the goal of improving handball education globally. 
Courses are provided for free and are designed for all levels, with more educational materials available on the IHF Education Centre website.