02 May. 2023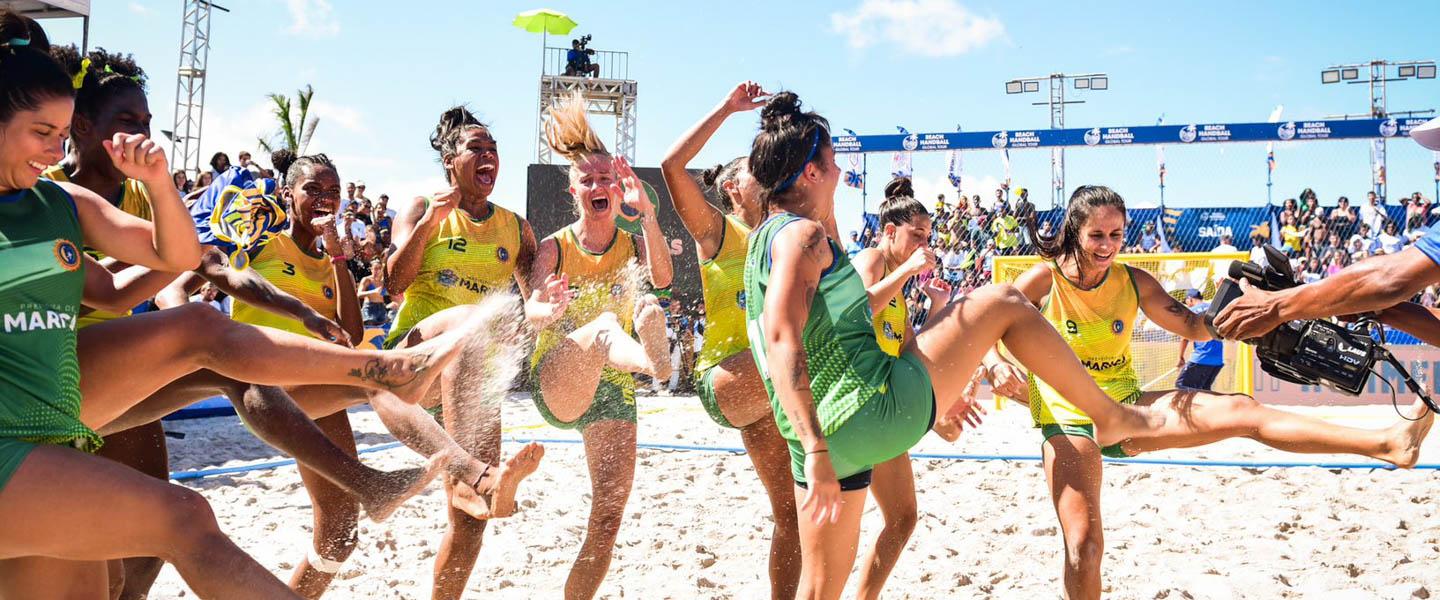 Brazil's women have won Stage 1 of the 2023 IHF Women's Beach Handball Global Tour on home sand in Maricá after beating Argentina in the final.
The host city, in Rio de Janeiro state, welcomed national teams from around the world for the event, which started last Wednesday (26 April) and concluded on Sunday (30 April).
After leading at the halfway stage Brazil ended the preliminary group stage with four wins from four, without dropping a set. A 2-0 win over Chile (30:16, 29:11) on Saturday morning ensured a top-spot finish following previous victories over Argentina, Mexico and the USA in the five-team tournament.
Behind them in second place were Argentina, who won three of their four games. They ended their preliminary campaign with a 2-0 (12:6, 17:16) victory over the USA on Saturday. Mexico finished third (4 points), USA fourth (2) and Chile fifth (0).
The host nation also had the best attack and defence after the preliminary group, scoring 184 points and conceding just 83 (goal difference +101). In total, 10 games were played in the preliminary group stage, with just one (Argentina vs Mexico) going to shoot-out.
With Chile out of contention for the final four, the semi-finals were set for Saturday afternoon and both were clear victories in a bad afternoon session for the North American teams. Argentina saw off Mexico 2-0 (24:18, 30:14) and the home team easily defeated the USA by the same score, taking their two sets 22:10 and 21:16.
These results set up the medal matches on Sunday and Mexico were involved in their second shoot-out of the tournament, this time against the USA. After a dominant first set (26:14), the Mexicans were well-placed to take bronze going into the second, but the US came back to take it to a shoot-out after an 18:15 victory.
Christine Mansour opened the scoring for the USA, but Mexico's Itzel Esmeralda Vargas Cortes then saw her two-pointer hit the post and come back out onto court. Cedar Bellows then saw her shot saved by Adela Del Socorro Valenzuela Bonilla in the Mexican goal.
Staci Self in the US goal then decided she would copy her Mexican counterpart and make her own save – denying Claudia Macias Hermosillo.
With the Americans then 6:2 up, the Mexicans needed to score their remaining two shots and hope the US missed both of theirs. But Self stood up again, saving Andrea Jetzary De Leon Daran's shot – Mexico's fourth – to ensure a podium place and break Mexican hearts.
The final went the way of the home side, who saw off Argentina 2-0 (15:12, 19:16) to complete their perfect tournament – six 2-0 victories. They had led their South American neighbours by as much as eight in the first period (14:6, 7th minute) and 10 in the second (16:6, 8th minute). Brazil's Beatriz Cruz top-scored in the gold medal game with 17 points.
"It's a feeling of accomplishment," said Brazil women's coach Vinicius Carlos de Oliveira to local media after the final. "It's been 13 days in intense training, away from home, family and children.
"We started training in March and ended now with this first mission. The girls showed in the competition a very high volume of play, we managed to win all the matches 2-0 and ended with the final in a perfect way."
Also speaking to local media, Brazil's experienced player Patricia Scheppa said the week in Maricá meant more than just the games.
"This championship is very special for us, because it is, in fact, an Olympic movement," she said. "It's a dream for all of us who fight for beach handball to become Olympic. Here in Maricá it has been a very beautiful party. The crowd is showing up and we saw the kids cheering too. All of this is very special."
Mansour finished as top scorer of the championship with 81 points from six games, which included 41 goals from 53 attempts. She squeezed out the second-placed Cruz, who registered 80 points from six (41/45).
Left wing Cruz took the overall MVP statistical title, a ranking system developed by live score providers Toma-soft, with 103.38 points.
All games were streamed live on the IHF Competitions YouTube channel and can be watched again on demand.
For match schedules, live score, statistics and much more, visit the IHF.info mini-site here.
Final Ranking
1. Brazil
2. Argentina
3. United States of America
4. Mexico, 5. Chile
Photo: Santi Russo / @Play_handball