28 Apr. 2023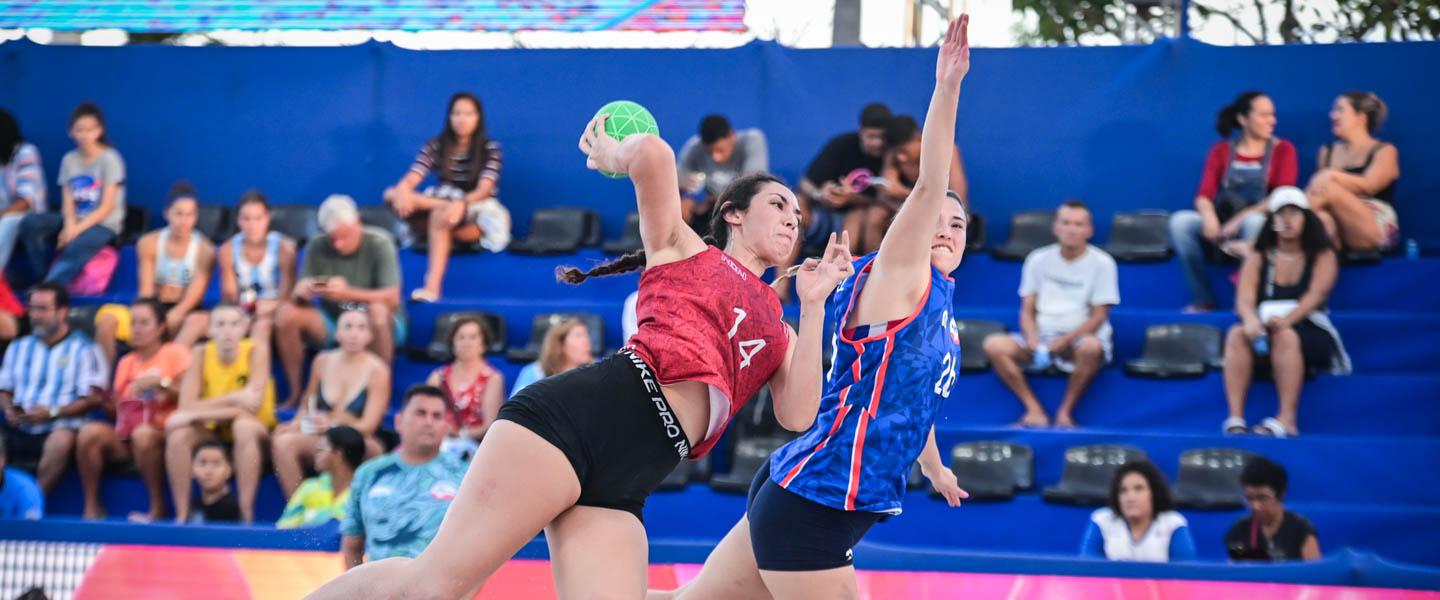 Brazil's women are giving the home fans something to shout about as they lead Stage 1 of the 2023 IHF Women's Beach Handball Global Tour at the halfway stage.
Host city, Maricá in Rio de Janeiro state, has welcomed national teams from around the world for the event, which started last Wednesday (26 April) and will conclude on Sunday (30 April).
Along with the host nation, Mexico, Argentina, Chile and the United States of America are enjoying a well-earned rest day today (Friday 28 April) after a blistering preliminary group start which saw four games played on Wednesday and Thursday respectively.
Two games remain in the round-robin group of four which will be played on Saturday (29 April) with the semi-finals, bronze-medal match and final on Sunday (30 April).
Coached by Vinicius Carlos de Oliveira, Brazil have won all three of their games 2-0 so far, inflicting a heavy loss on the USA (29:8, 24:4) in their opener on Wednesday before defeating Argentina easily (17:8, 17:10) on Thursday morning.
But Mexico proved a harder task on Thursday night. Despite a double-digit first-set win (23:12) for Brazil, their North American rivals powered back in the second set to tie it up 14:14 in the final minute of regulation time.
And they could have won it in normal time after missing three opportunities in the last 30 seconds to go ahead, including a penalty shot missed by Itzel Esmeralda Vargas Cortes after Brazilian goalkeeper Ingrid Emmanuelly De Souza Frazao narrowed her angles.
So it went to a golden goal and after Brazil's Renata Santiago had initially won the restart, the ball was turned over to the Mexicans after a foul. Again they could not capitalise, though, as Frazao snuffed out an effort from 2018 IHF Women's Beach Handball World Championship top-scorer Edna Viridiana Uresty Valencia. Brazil then went down the other end and got the ball to Patricia Scheppa, who sunk home the single point to ensure a 15:14 set win and 2-0 match victory. 
Maricá also saw the competitive debut of 2018 Youth Olympic Games gold medal-winning coach Leticia Brunati this week. Her Argentina side opened their campaign against Mexico on Wednesday and it was a nervy affair.
Eventually, she guided her side to a 2-1 (12:17, 30:15, SO 9:8) victory over the North Americans as her 2018 Youth Olympic Games captain Gisella Bonomi gave life to the South Americans with a crucial save from Mexico's final shot of the first five, blocking an effort from Ana Teocalli Hernandez Gutierrez.
It went to the second round of five shots, and after Mexico's Itzel Esmeralda Vargas Cortes overthrew her effort at 8:8, Agustina Mirotta had the opportunity for a single-point winning score and she duly accepted to shoot home for a debut win for Brunati.
Despite their losses, Mexico have impressed in Brazil so far after completing their preliminary group campaign which included a pair of wins over the USA and Chile. The USA have a solitary victory so far, against Chile, who have lost all three of their games.
Brazil top the preliminary group on six points with three wins from three and a +6 set and +69 points difference, having conceded just 56. Mexico, on four points, have impressed offensively, scoring the most points so far (153), but they also have the worst defence, having conceded 146 points. Argentina also have four points, with the USA in fourth (2 points) and Chile fifth (0).
The preliminary group concludes on Saturday (29 April) morning with Argentina facing the USA and Chile taking on Brazil. The results will decide the top four placings and semi-final line-up for later in the evening. Chile are already confirmed in fifth place in the group after their head-to-head loss against the USA.
Cortes leads the scoring charts with 54 points in four games, coming from 28 goals in 41 shots. She is well clear of teammate Claudia Macias Hermosillo (41 points) in second place.
USA's Christine Mansour leads the MVP statistical leaderboard, a ranking system developed by live score providers Toma-soft, with 43.30 points.
All games are being streamed live on the IHF Competitions YouTube channel.
For match schedules, live score, statistics and much more, visit the IHF.info mini-site.
Photo: Santi Russo / @Play_handball