11 Aug. 2019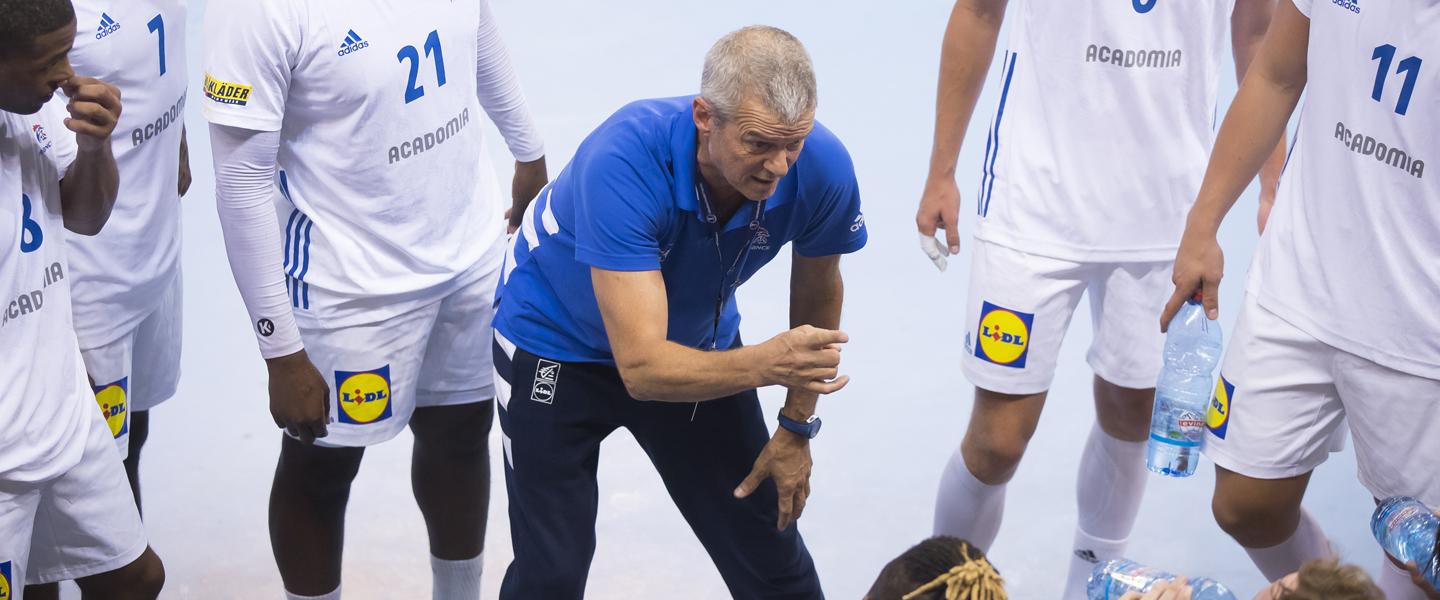 Two years ago, France head coach Eric Quintin guided the nation's U19 team to a gold medal in Tbilisi, Georgia, at the 2017 IHF Men's Youth World Championship and IHF.info spoke to him about his coaching philosophy.
Now, in 2019, his team lie on six points in preliminary group B of the 2019 IHF Men's Youth World Championship, equal with Egypt, Hungary and Sweden going into the final day of the preliminary group matches on Monday (12 August).
IHF.info spoke to him after his side defeated Chinese Taipei 32:23 on Saturday afternoon in Skopje.
IHF.info: During one of the time outs in the second half we could hear part of your team talk with you saying the French word 'collectif' on numerous occasions. What were you trying to adjust or what problems were your opponents causing you?
Eric Quintin: Our team is fragile mentally - not very tough - and at that point the game was not in our hands. We weren't playing how we wanted, so everyone took the ball and thought that he could make the difference alone. That's what we said during the preparation for the game, so I was a little bit disappointed about that.
The players were having difficulties getting the idea and then keeping this idea on court, and doing his duty, so at this point we were not very good and had lost power just before the time out. I was a little bit disappointed - I wasn't very happy.
Chinese Taipei were playing quite differently than what we see usually, so against Sweden (on Monday) it will be a more classical, let's say, they have a 6:0 usually and don't change often. So I think for my players it will be easier to have a circulation, but we have to be strong in the one-to-ones: we have to be strong and work as a 'collective', and that's the objective for any professional player.
IHF.info: You beat Chinese Taipei, debutants at this level and the third-placed Asia continent youth side, by nine goals. How does that make you feel to see these new nations performing so well on the global stage?
Eric Quintin: Of course I am very happy to see that development because we need to have handball everywhere in the world. For my boys and for us (as coaching staff) to see different cultures is so great because we can see that the world is bigger than what we think of only in Europe.
Chinese Taipei have players that play with the ball, they play alone and as a team; yes, sometimes they lose the ball and they have to work, to improve physically maybe, I don't know, but we see that they are real handball players; it's a real team with real players.
IHF.info: Sweden coach Dennis Sandberg explained to IHF.info the reasons behind the Swedish Handball Federation developing two teams from their 2000/01 generation, meaning 15 players who won the M18 EHF EURO last year are not playing here in Skopje, and that his definition of success is producing five or six players who can make the senior national team. What are your thoughts on this philosophy?

Eric Quintin: It's an interesting philosophy, but it depends on your generation; if the generation is very strong, you have a luxury, so you can change a little, if the generation is not so strong maybe you can change a lot, but I think you don't need to have two collectives to find the final collective.
The Swedish culture is to work, and I am sure that match after match here they will keep improving. We see that they have many good players here, but I don't know how many players they have [overall].
IHF.info: You play Sweden next; does it matter that there are M18 EHF EURO champions or not, seeing as 15 of their 16 players did not play in that team and does that help with motivating your players for that game?
Eric Quintin: We don't care about that. We care, essentially, about us and about the kind of game our opponents are playing here. We don't care if it is Sweden or Chinese Taipei. We look at their culture, the way they play, and we see if we can play our game against them, with this kind of game in front of us. We don't care if they are champions or not.