Developing the future with Sweden's coach Sandberg
09 Aug. 2019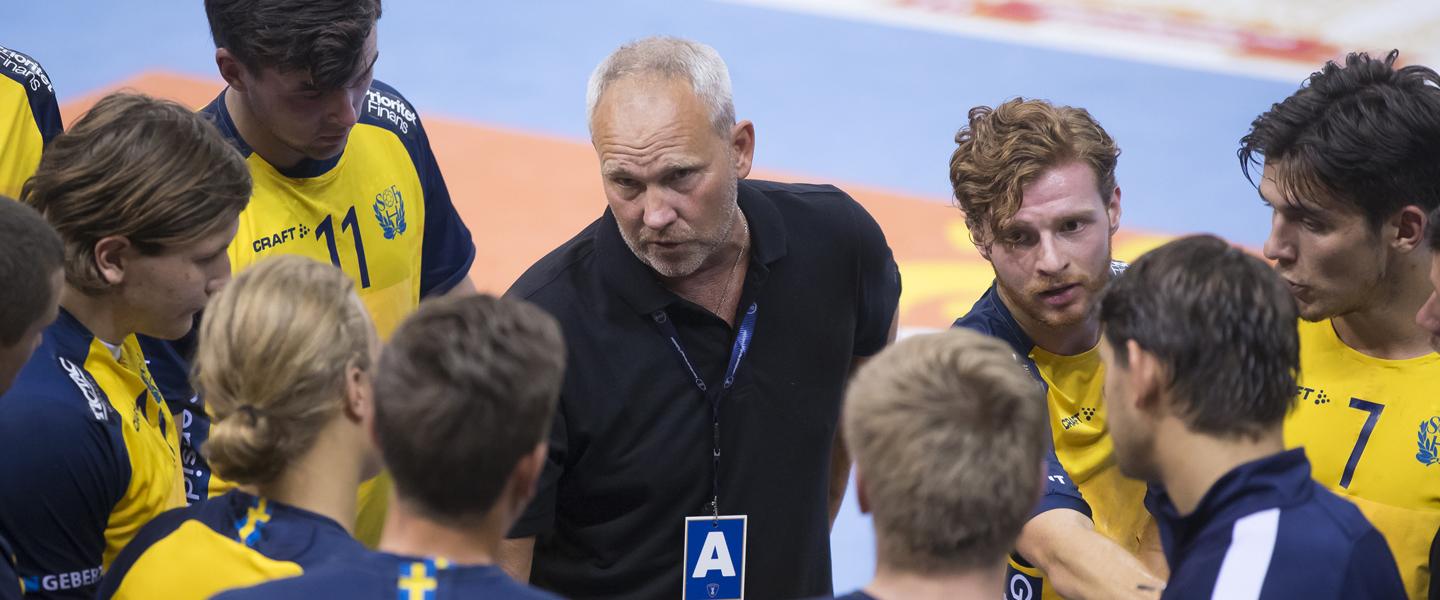 To call Sweden the European championship title-holders of the 2000/01 generation is correct – their victory in Croatia last year in the final of the M18 EHF EURO was impressive as they beat Iceland in Varazdin 32:27.
And, going into the 2019 IHF Men's Youth World Championship in North Macedonia, the team that won gold in the strongest handball continent in their age group would be at least one of the clear favourites for the global title.
But the team in Skopje is nearly 100% different – just goalkeeper Kristian Zetterlund remains from that squad in Croatia. This forms part of coach Dennis Sandberg's philosophy of developing players fully for the step up to the senior team – a near-unique outlook, completely at odds for many of the other nations who keep their successful squads together through the various continental and global championships. 
"If they play every championship you have five years in a row where you don't have any preparation periods before seasons and you don't have time to build up," said Sandberg to IHF.info in Skopje about the near-full rotation of his squad.
"When the players have a free (of championships) pre-season they can build up their physics and their conditioning – they are in a developmental age, so every second year they can have a pre-season [this way].
"When I got asked to take this job, the first question I asked was if I could travel and work with two teams," he continued. "So this team wasn't playing in the European championship, there are no players except our third goalie who is with us now. He didn't start last year, and we now have 15 new players who didn't play in the EURO, so we have changed the whole team.
"So we have a very strong age group in the 2000/01 generation, we can still be very good in this championship and we won the EURO with the other team, so it's no problem for me.

"I think it's a good way, but it's easy for me to say, however, the clubs love it because they can keep their players every second year and the players have bought into it too - I think it's perfect."
One key part of the development of players using this method for Sandberg – and the Swedish Handball Federation – is tactical, which also comes with physical benefits.
"We never change in defence; we play both ways," he said. "So, yes, here we could coach it better and we could play with a better defence, but as coaching staff want to teach our players how to play defence and how to play it both ways.
"Playing both ways provides more conditioning and physics," continued Sandberg. "When they play in the highest league in Sweden they don't play defence, but obviously it takes time to get the defence working.
"The defence we have with this team here has more players who have played defence in Sweden [for their clubs] so we should be a little bit better defensively but a little bit worse in offence."
After an opening day loss against Egypt (32:29), Sweden bounced back with an expected victory over Chinese Taipei (48:18) and will face Canada later today, so how does Sandberg assess his North Macedonia 2019 experience so far?
"Because we lost against Egypt we thought we had some difficulties with our approach on both the playing and coaching side," he said. "We had a couple of meetings about how we should behave and approach the game and the guys then did well against Chinese Taipei.
"I don't want to take anything away from Egypt as they played a very good match and did very well, but I think we could have done a lot better. We had 4-5 really good films of Egypt matches so we knew how they played, but in the end, Egypt did it good, and we did it bad.
"We didn't have any films of Chinese Taipei and it was very difficult to play against them because they played so high with their defence and we can't practice things in games like that, so the game was just for confidence. But when we meet Hungary and when we played Egypt they played a little different defence, so we can practice [some things].
"We hope to try some things against Canada too but we haven't seen them yet so I don't know how they play defensively but I hope they play a little bit lower so we can practice some things."

So with the preliminary round already at the halfway stage effectively, Sweden will look to get their second victory against their North American rivals today and put one foot in the eighth-finals. But, despite the commitment to development, every player and coach wants to be successful, but does that necessarily mean a medal for Sandberg?
"Of course it was wonderful to win the EURO gold medal, but you have to have a lot of luck," said a smiling Sandberg. "We believe in luck of course, but you make your own, it's a combination. Last year we had a lot of luck – you have to have luck in the European championships – if you lose one game it can be over, but here at a world championship maybe you can lose two or three games in the preliminary group, but you can still be in the last 16.
"Our success will be if we can have five or six players from the 2000/01 generation who will go to the senior national team and building up like that must be the goal for everyone."