06 Jan. 2022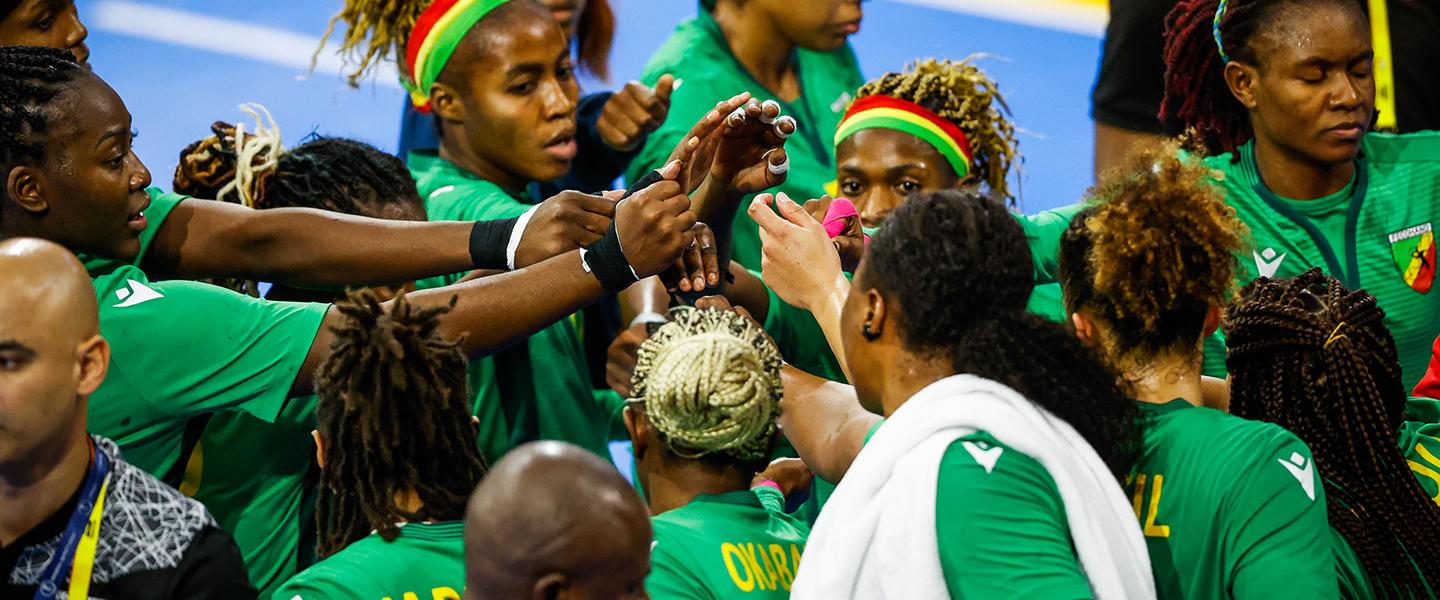 The 2021 edition of the IHF Women's World Championship was the first appearance for Congo at the elite global competition since 2009 and just their sixth time overall.
A strong showing
The expanded 32-team competition, held in Spain, saw Congo finish in 23rd place, the highest-ranked African team ahead of Angola (25th), Tunisia (27th) and Cameroon (28th), who all finished ahead of them at the 2021 CAHB Women's African Championship, where Congo finished fourth after losing to Cameroon in the bronze-medal match.
That fourth-place finish was enough to qualify for Spain 2021, where Congo faced a tough preliminary group challenge. 
After two initial losses, against Asian champions Republic of Korea (23:37) and eventual Spain 2021 bronze medallists Denmark (18:33), a 33:24 victory over Tunisia, who had beaten Congo in the continental competition's third-place match six months earlier, saw them qualify for the main round of a World Championship for the first-ever time. 
 

The subsequent main round was then a step too far, featuring more eventual top 10 finishers, with Congo losing against Germany (7th, 18:29) and Hungary (10th, 22:30), before a tight loss against Czech Republic (21:24) in their final match.
"It was an enriching and rewarding experience," said France-based line player Sharon Dorson to ihf.info looking back at the Spain 2021 experience for her and her side. "We will start work again to improve and put on a good performance next time."
At Spain 2021, Congo featured an exact 50/50 split between home and France-based players guided by coach Younes Tatby, who found a mix that worked and which looks set to ensure his side a regular spot at World Championship level.
"These players excite and motivate me a lot," said Tatby, looking back on the championship. "They're like little sisters for me, but just one of them is professional right now, Josephine (Nkou), eight of the squad are local players, in Congo."
Uncovering hidden talents at home
One of those Congo-based players is 17-year-old Betchaïdelle Ngombele, who, at 1.90m tall, literally towered over her teammates, but in an extraordinary story, has only been playing handball for less than a year.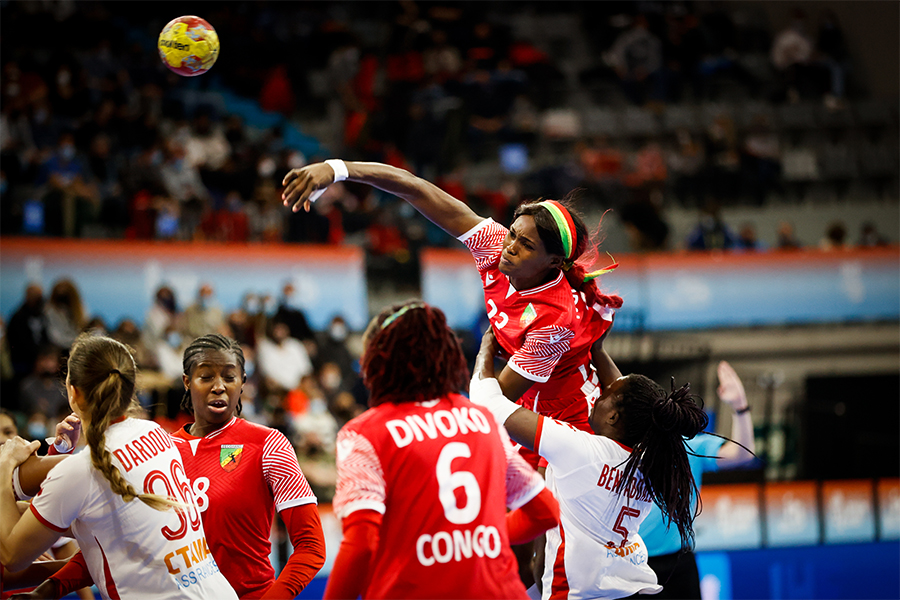 "I met 'Betcha' for the first last March, she was just studying and somebody brought her to see me," explained Tatby about first meeting Ngombele. "She didn't have a playing licence, hadn't even played handball before and couldn't even make a right pass but I couldn't let her go afterwards.
"I saw great potential with her," added the Moroccan-born coach. "So, I invited her to play for a week during the African women's championship. I was very hard on her during that week and she even cried several times, but she can play with lots of clubs at the highest level.
"I was tough and hard on her because we're in Africa and in Africa if you want to get good results, that's how you have to do it. I'm from Morocco and played as a professional in the German league and that's the way it works – if you want to play at the highest level, that's the way you have to be. 
"She's learning, just getting trained on everything and even getting used to playing with the glue (resin), our relationship is very good and she told me I was like an older brother or a father to her."
Officially listed as a right wing in the squad lists, Ngombele played on both wings, across the back and even on the line in both attack and defence in Granollers. 
Scoring 19 times in six games, with 14 of the strikes coming from nine metres, the shooting potential is there, but the 36% success rate shows the work to be done.
"I am really, really happy, because it was my first time at a World Championship and I felt I gave the best of myself," said Ngombele to ihf.info after her match against the Czech Republic where she scored three times.
"I'm normally a left back, but coach did tell me I'd try other positions at Spain. I didn't feel any pressure, obviously we don't like losing, but I feel that the more I play, the more relaxed I feel. You need to be brave, as we were playing against teams who are playing at a very high level, so I learned a lot."
In just over two hours on court in Spain, Ngombele made an impression to anyone who saw her, not least her teammates.
"Betcha is a young girl that lives in Congo and the players there are good students; they work really hard, want to improve and listen carefully to the advice they are given," said Dorson, who won the hummel Player of the Match award against Czech Republic. 
"We do our best to counsel and guide them, but Betcha is still very young and knows only about shooting from a distance. We'll help teach her about other facets, defending and help her have more experience. We hope that she will be even better in two years, taking players on one-on-one and scoring even more goals."
The future
Following their final clash at Spain 2021, opposing Czech Republic coach Jan Basny told ihf.info that he saw "…a big potential both individually for the Congo players and collectively as a team," but warned that it "…depends where the players play on club level."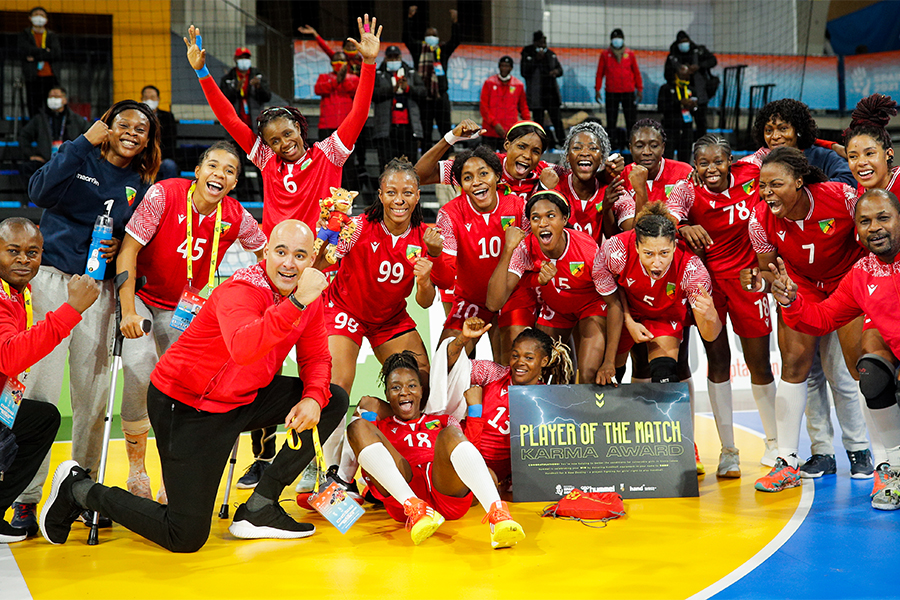 And that is something on which Congo coach Tatby was working immediately after the conclusion of the championship, at a variety of levels.
"The telephone is ringing in order to start getting them contracts," said the coach, whose uncle worked with the Royal Moroccan Handball Federation for 25 years. "We have been only working together since March, so we were the 'youngest' team in Spain but I can only encourage the state (Congo Government) to accompany us in this process because we can really do a lot of work together.
"I'm very tough on the players when it comes to work, but I also take very good care of them, there is a lot of potential and I am really very proud of my players."
With Dorson saying the squad are "…just beginning our journey together", teammate and fellow line player Rita Saraiva was also confident of future development.
"We fulfilled our objective (at Spain 2021) which was to beat Tunisia," said the 29-year-old US de Cagnes HB player. "After that, everything was just a bonus. I am very proud – our team is really young and I see a great potential. We have just started to work in a structured manner so I can only see a path of growth for us."
That path will continue in 2022, a year which ends with the 25th edition of the CAHB Women's African Championship, set to take place in Senegal from 7 to 17 December, with qualification places for the 2023 IHF Women's World Championship at stake – a competition which Ngombele is already targeting.
"I really feel our performances will inspire young people," explains Ngombele about the effect the success of Congo at Spain 2021 could have on young people taking up the game in the African country.
"We are a young team and will continue to improve. I really think we will be back for the next World Championship, in fact, I am sure we will be back."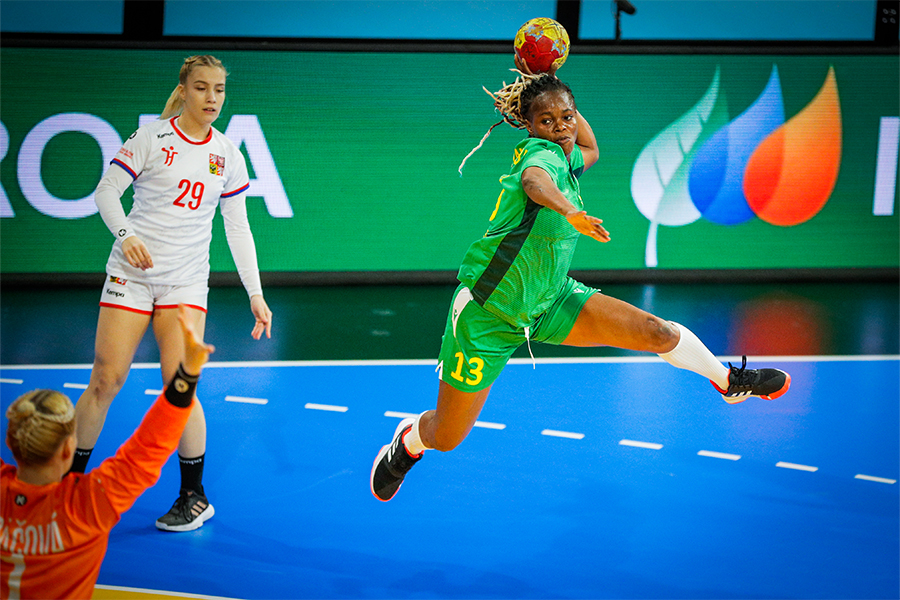 With thanks to Paul Bray for translation of Betchaïdelle Ngombele quotes