07 Dec. 2021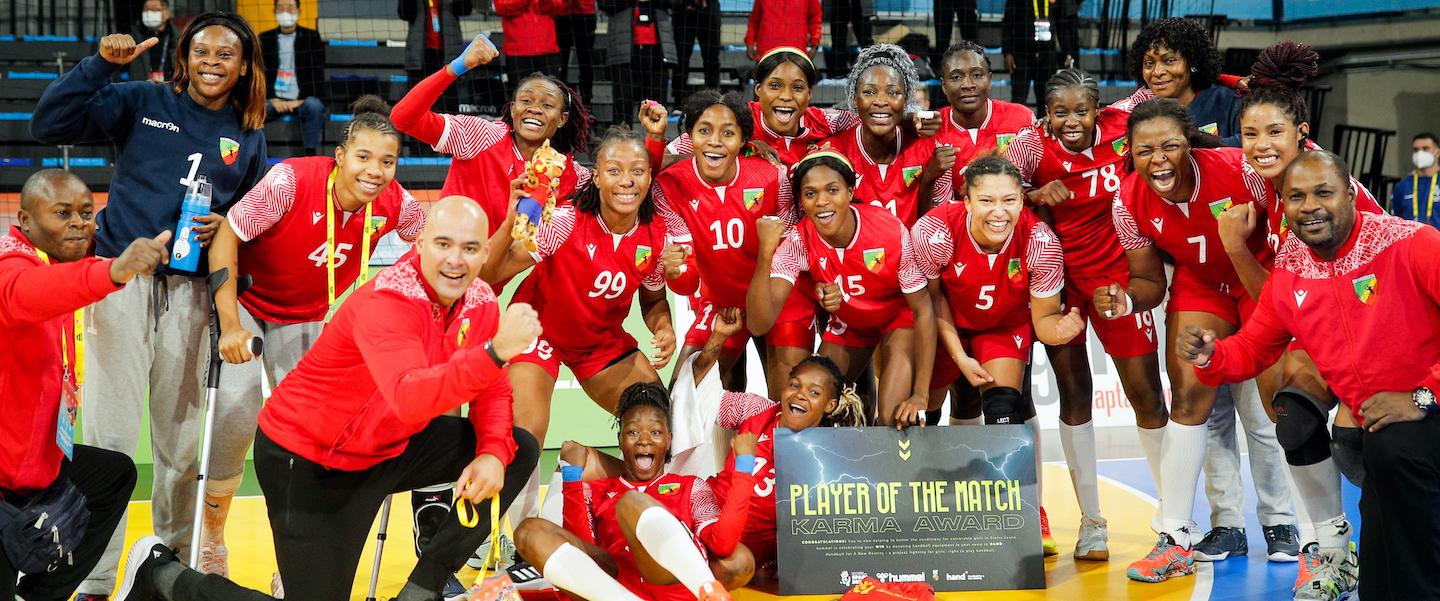 On Monday night, Congo made history by qualifying for the main round of an IHF Women's World Championship for the first time.
ihf.info spoke to key individuals after their 33:24 victory over Tunisia, which sealed the pathway through.
Left wing Josephine Nkou suffered a severe injury in Congo's previous match against Denmark on Saturday but was with the team on Monday, named in the match squad list and sitting on the bench in playing kit, complete with crutches and joining team time-outs.
On the importance of being in the squad:
"It was very important for me to be with the girls. Even though I am injured I am part of the team and I wanted to encourage them and give them the maximum energy I could. In the end I think I encouraged them a lot, I don't have a voice anymore."
On her injury:
"It's a complete tear of the lateral internal ligament, cross anterior (ACL). The meniscus internal and external ligament also broke plus a contusion on the femur and tendonitis in the patella tendon."
On the Congo players dedicating the win to her:
"Of course, I am touched (by this). From the beginning of the competition we haven't produced a good game, but tonight we proved we could do great things, beautiful things. I am touched that the girls could win, if the victory is for me too then I am really happy."
On the effect the win could have for handball in Congo:
"I am very happy because I hope that this will change things for future generations. Since the beginning, you guys don't know, we went through tough things in our preparation. I am hoping that we have developed things for future generations and they will get inspired by us and we can be a good example – or even stars – for them."
Goalkeeper Magalie Bazekene plays her club handball for Cara in Congo and is one of the most experienced players with the national team.
On the key to victory:
"We were really focused because we lost against Tunisia at the African championship. The coach told us to be really focussed and this (result) would be our revenge."
On Josephine Nkou:
"We really, really played for her because of everything that happened in the previous match. She was really down. We told each other that we are going to play for Josephine, to give her courage, because she cried all night and we were standing by her. We were playing for her."
Captain and right wing Diane Gaelle Yimga scored 11 goals against Tunisia to finish as the hummel Player of the Match.
On if she expected to win:
"I would say no, I wasn't expecting that we win. After the two first defeats we had to bounce back and we had to organise differently. Tunisia made a really great match against Korea previously which pushed us to concentrate even more (on this match) and to establish a different strategy. We are really happy that we qualified for the main round, this is the most important thing and we will see what happens next."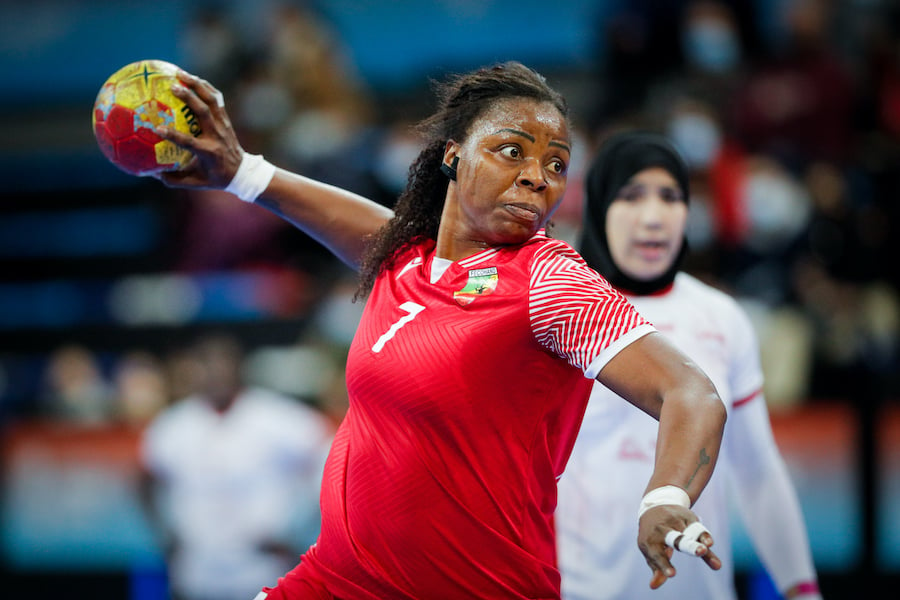 On her feelings:
"I am really proud because playing here I also represent my club so they must be really proud of me too and for Congo that's all what we wanted – a victory to go to the second round."
Congo coach Younes Tatby spoke to ihf.info immediately after walking off court.
On winning and making history:
"We really attained our goal, winning against Tunisia. It was a revenge. We really wanted to win this game.
"I feel a really strong satisfaction because the two first games were very difficult. Everybody was saying that we would lose against Tunisia because they beat us to finish third in the African championships but we really analysed their weaknesses and their game.
"Today we were superior and made history because it's the first time that the Congolese team go to the second round and with an ambitious team, I hope we have a bright future."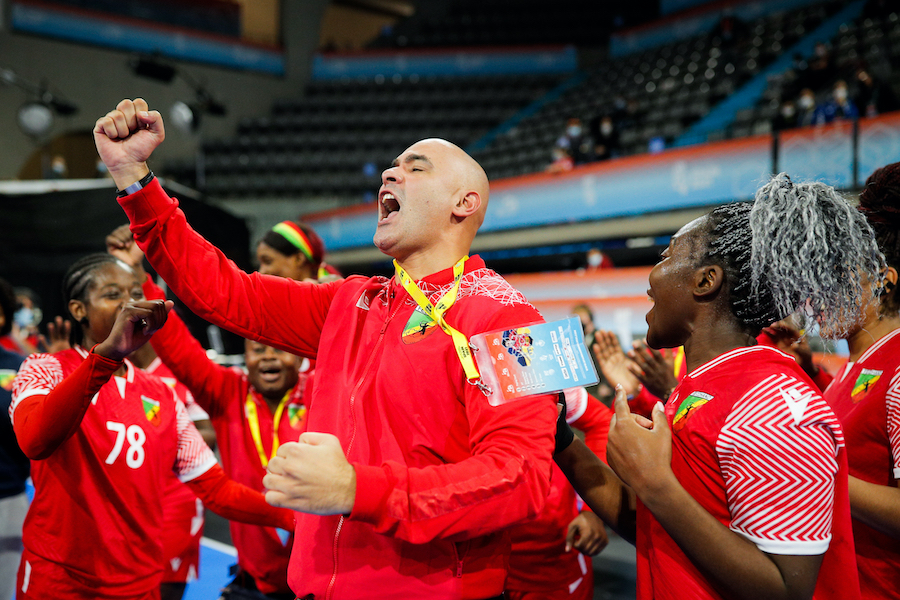 Following the match, both the coach and captain spoke in the media conference.
Captain Diane Gaelle Yimga
On her feelings:
"I'm really proud because we worked a lot since March. We had ups and downs during preparation, it was never easy. We really held back. The Korea vs Tunisia match was a big warning for us to see that Tunisia were really 'into' the competition and it wouldn't be easier for the future. 
"Today we followed the instructions and the technical advice of the technical team who I want to thank. We are really proud of the result, as the coach said, we made history for African, Congolese and international handball."
Coach Younes Tatby
On his feelings:
"I want to congratulate my players for staying motivated for the whole competition. For the two first games we did a lot of translation. Tunisia knows us really well. We really analysed and dissected them, their weakness and strengths.
"I am thankful for my players who really listened to my instructions. We are really satisfied with their work because we only started in March. They've written a new page of history in African and Congolese handball. Now we are in the second round and will play against great nations. We are going to learn and prepare the team for this.
On if his defence was key for the victory:
"We had a good regulation with the line player. We tried to close in the centre and bring the players to the periphery, but the most important thing was the team followed our instructions. We tried to make a really united defence and it really isn't easy to hold a defence 0-6 soldered at four for 60 minutes. The will of revenge really gave us the strength and energy."
On being invited to a Granollers city reception by the Mayor on the day before the match:
"I really want to thank the Mayor (of Granollers) for the invitation to the reception yesterday. It really made us feel good and really benefited us psychologically. When we left (the reception) I said: 'we're going to win tomorrow'."
Translation by Chloe Bougeard