Examining Women's Tokyo 2020 Group B: Five European teams and Brazil vie for four quarter-finals berths
22 Jul. 2021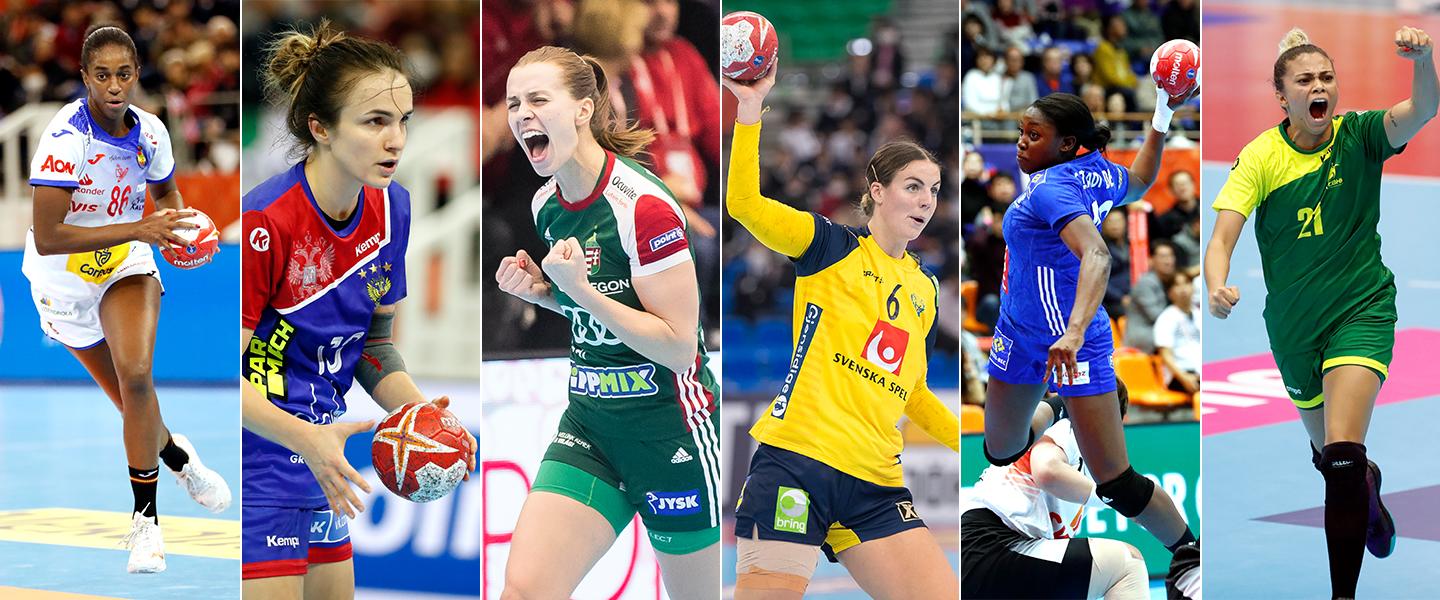 There will be at least one European side who will not make the cut after the final whistle is blown in Group B of the women's tournament at the Olympic Games Tokyo 2020, with only four teams progressing to the next stage of the competition.
But the competition will be fierce, as Spain, France, Sweden, Hungary, the ROC and Brazil will play for four quarter-finals berths.
The ROC are the reigning Olympic champions, yet they still had to fight for their Tokyo 2020 berth at their Olympic Qualification Tournament in March, where they met Hungary, Kazakhstan and Serbia.
The reigning Olympic champions will rekindle their rivalry with Hungary, a team they have met 11 times, taking seven wins, conceding three losses and drawing one game. Hungary have never won against the ROC in their two matches at the Olympic Games, conceding two losses at Beijing 2008, while Alexey Alekseev's side also won the mutual game in March (29:23).
In fact, the ROC have a positive balance against Spain, winning seven of 14 games, Sweden, where they have conceded only two losses in 12 games and France. The rivalry with France will surely pique the interest of many fans as the game will be a rematch of the Rio 2016 Olympic Games final, where the ROC took a 22:19 win to secure Olympic gold.
Alekseev's side have also never lost against Brazil, a team against whom they have won four games, including two wins at the Olympic Games (28:19 at Beijing 2008 and 31:27 at London 2012).
The silver medallists at the 2019 IHF Women's World Championship, Spain, are gearing up for some crucial months in their history. After the Olympic Games conclude, 'Las Guerreras' will focus on the IHF Women's World Championship they are hosting in December, with their dreams of silverware growing bigger and bigger. Their hopes will be boosted by Alexandrina Cabral Barbosa's comeback, as the centre back is now in shape after suffering a devastating knee injury in November.
However, if the head-to-head records are to be trusted, Spain will have a mountain to climb at Tokyo 2020, boasting a positive balance only against Brazil, against whom they have won all three games, including a 29:24 win at Rio 2016.
Spain have never beaten France at the Olympic Games, with two losses and one draw, as Olivier Krumbholz's side has taken 12 wins in 16 games. Hungary have also won their only mutual game at the Olympic Games (38:29 at Athens 2004), while securing seven wins in 14 games against 'Las Guerreras'.
There is also Sweden, whom Spain have beaten only once in 12 tries, with the last three competitive matches between the two sides ending in stalemates. The two teams also met in Lliria, Spain, in March in the Olympic Qualifying Tournament where Spain mounted an outstanding comeback to seal a 28:28 draw after being down two goals with only 40 seconds to spare.
Rio 2016 silver medallists France will eye to come back at their best after a disappointing outing at Japan 2019 when they finished 13th.
The markers have been laid down, as Olivier Krumbholz's side took the silver medal at the Women's EHF EURO 2020 last December, while they also have positive head-to-head records against Hungary and Sweden.
France have won 11 of the 18 games played against Sweden, including two wins at London 2012 (29:17) and at Rio 2016 (27:15), with the Scandinavian's side last competitive success against France coming seven years ago at the Women's EHF EURO 2014.
The French side, who boast an almost fully fit roster, aside from the injury of left back Orlane Kanor, have also won six of the mutual nine games against Hungary, with a winning streak dating back to 2010.
Yet, France will surely look to improve their head-to-head record against Brazil. The South American side, who might look like the outsider in the group, have a strong ace in their sleeve in their historical record against Olivier Krumbholz's side, dropping a single game in six meetings.
While the two sides might only meet in the last round, Brazil could make their way through to the quarter-finals, provided they retain the same fighting spirit against the French side they have shown in the past.
In fact, France have never beaten Brazil in a competitive game since taking a compelling 33:15 win at the 2003 IHF Women's World Championship, with the South American side earning a superb 19:19 draw in December 2019 at the World Championship.
Group B throws off on Sunday 25 July with Brazil against the ROC, Spain against Sweden and Hungary versus France.
Visit the competition mini-site for more information. You can read about Group A of the men's Olympic tournament here, Group B of the men's Olympic tournament here and Group A of the women's Olympic tournament here.