03 Dec. 2020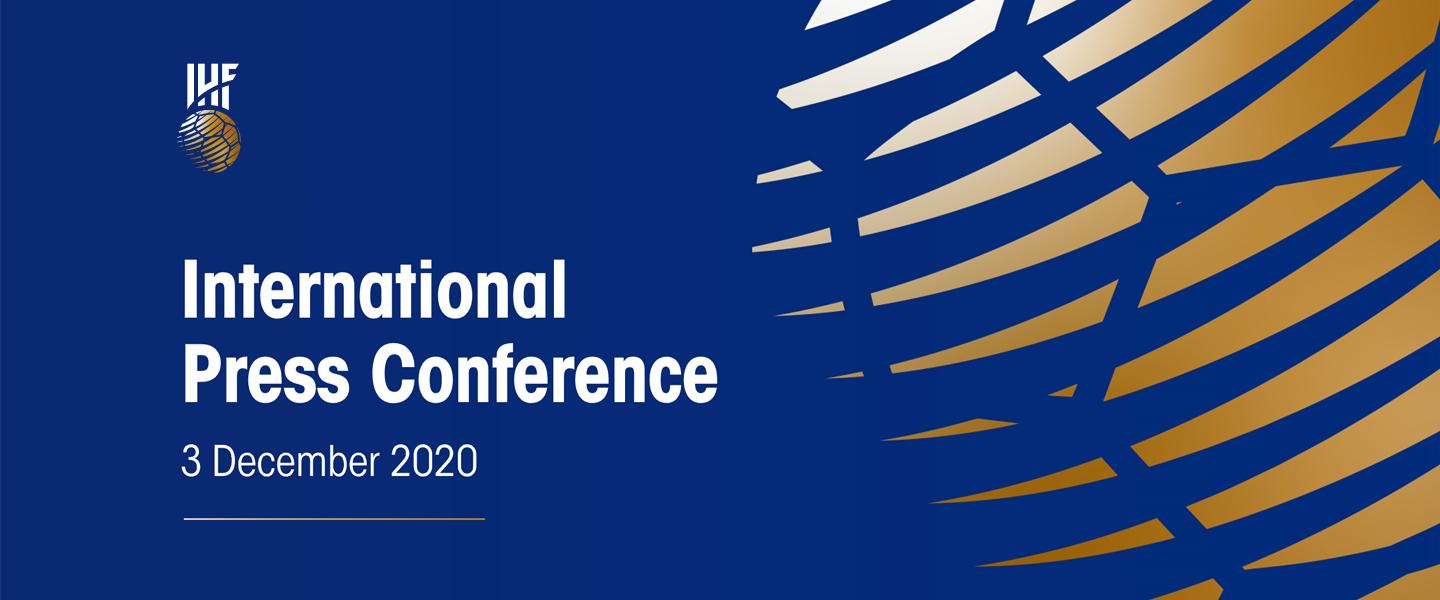 International Handball Federation (IHF) President Dr Hassan Moustafa was joined earlier today by Egyptian Minister of Youth and Sports Dr Ashraf Sobhy and Egypt 2021 Medical Commission Chairman Dr Hazem Khamis as they held an International Press Conference at the Egyptian Ministry of Sports in Cairo.
Open to all stakeholders participating at Egypt 2021 and the world's media, the conference lasted just under one-and-a-half hours and provided an overall update on Egypt 2021 in general, as well as the Egypt 2021 COVID-19 Medical Precaution Plan and its subsequent updates in particular.
It also provided an opportunity to clarify any outstanding questions.
After an opening welcome and statement from Dr Moustafa, Dr Sobhy then made his own statement, reiterating the group effort needed by all for a successful championship in the current COVID-19 climate. "We need to stay strong and united," he said. "The world has learned to live alongside the virus and sport is starting again."
Everyone in attendance was then able to see inside the variety of venues being used for Egypt 2021, including the new playing halls and training halls.
Dr Khamis then made an in-depth presentation of the work going on behind-the-scenes to ensure the strict protocols which guide stakeholder safety are strictly followed. Topics included the 'Bubble Concept', 'Precautions before arrival in Egypt', 'Event precautions for all persons included in the bubble', 'Media Concept' and 'Spectator Concept'.
"We have followed the situation [of COVID-19] around the world and in the countries of the 32 participating teams," he said, before going further into depth about what those attending can expect. "All frontline stakeholders will have a closed, clear circuit from their arrival until they leave Egypt – in total, there will be 20,000 PCR tests for all stakeholders during the event."
Following the conclusion of the statements, the floor was opened for the speakers to receive questions from the world's media, with questions coming in from Qatar, Sweden, France and many others.
A number of topics were discussed including players who had previously been detected with COVID-19 and their possible participation, media attendance, moving between venues if in the 'bubble', protocols in place of players becoming ill, friendly matches, ideal arrival time in Egypt for teams (Dr Sobhy confirmed that more than 10 teams will arrive in Egypt more than two weeks before the championship starts on 13 January) and the amount of teams in each hotel.
Other questions also related to the newly-updated Egypt 2021 COVID-19 Medical Precaution Plan which was released today.
A key question for many would be if any spectators would be allowed in the arenas, with Dr Moustafa confirming he is set to have a meeting with the Egyptian Prime Minister and other ministers about this very issue, and also stating that they are working on a "30% capacity", at the moment.
In addition to this, and in response to a later question, President Moustafa also confirmed he had had a meeting with Egyptian Tourism Minister on Tuesday where he was told that "he will make a lot of special facilities available for those who are coming from outside of Egypt and all of them are welcome."
Dr Moustafa also addressed media questions relating to players who have publicly-spoken about not wanting to play at Egypt 2021 and if the championship itself could be cancelled or postponed.

"I hope that all stakeholders which include players, trainers, officials etc, who are going to, take part," he said. "We have to adapt ourselves to new situations. If someone does not like to play in the competition it is up to them to tell their national federation. The cost of this championship is 10 or 15 times the cost of normal championships and this is why we take the risk for stakeholders, not for the IHF.
"I hope not," he said in relation to the championship being postponed or cancelled. "All 32 teams have confirmed their participation, but we don't know exactly what will happen tomorrow.
"We have to adapt to new situations, and we don't know if/when we will stop our activities. It's important for all stakeholders, but I hope all teams come here to Egypt and everything goes well in the future."
The IHF also confirmed they will be following and watching closely the 2020 EHF Women's European Championship which throws-off today and that they are in close contact with both the European Handball Federation (EHF) and Danish Handball Federation (DHF) to see what happens, the problems faced and how best to avoid them for Egypt 2021.
Following the media section, questions were then opened to those in attendance at the Ministry of Sports, which included a question from the Ambassador of Slovenia, among other attendees.