06 May. 2020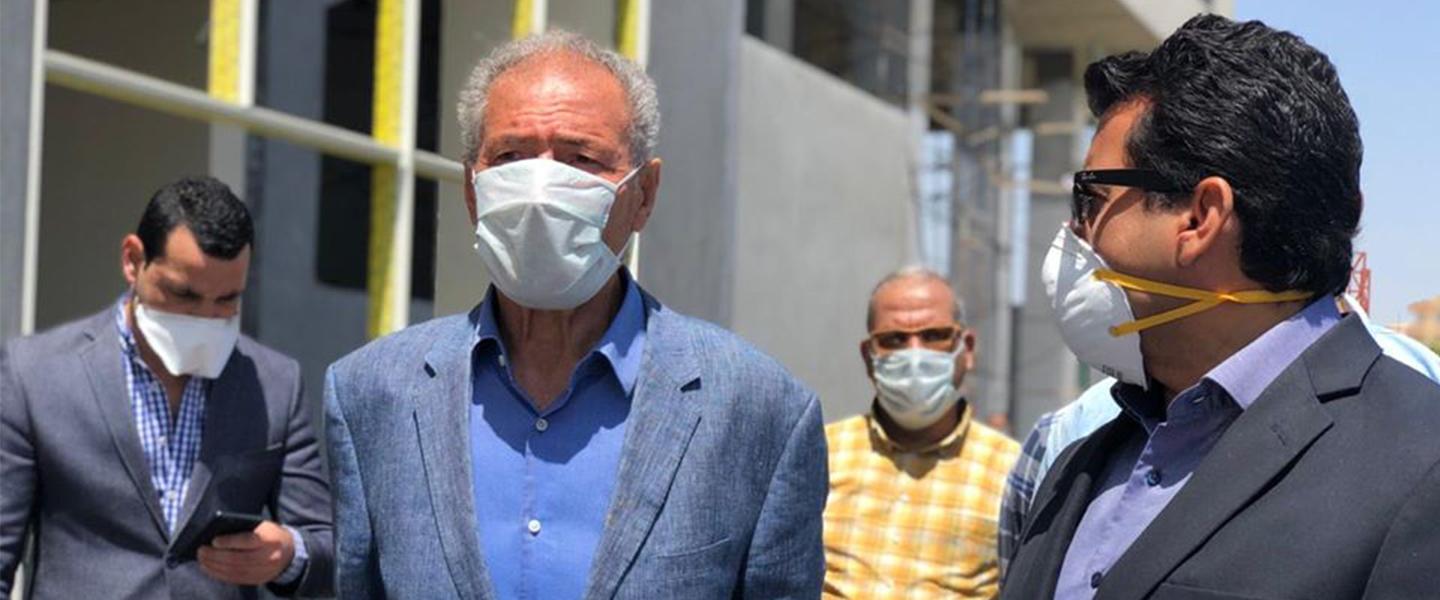 Last weekend, IHF President Dr Hassan Moustafa met with the Egyptian Minister of Youth and Sports, Dr Ashraf Sobhy as well as members of the Egyptian Handball Federation (EHF) and Organising Committee of the 2021 IHF Men's World Championship, which is set to take place from 13-31 January in the north African country.
Along with Dr Sobhy, Dr Moustafa also visited the construction site of one of the venues in the 6th of October City in the Giza area of Cairo as well as the EHF headquarters, African Handball Academy and players hotel, which includes just under 40 rooms.
The 6th of October hall will eventually accommodate up to 4,500 spectators and Dr Sobhy stated to local media it was 80% complete, with 100% to be reached in October.
Egypt 2021 will be the first time an IHF World Championship will be played under the new 32-team system with the goal of providing an opportunity for more nations to gain experience on the biggest international stage. Currently, 28 teams have already qualified.
"We organised the youth championships before and in 1999 we arranged the senior world championship so in 2021 we dream to do something amazing," Dr Sobhy told IHF.info last year.
Earlier this week, Egypt men's coach Roberto Garcia Parrondo discussed the upcoming championship and his potential team, which could feature players who won bronze at the 2019 IHF Men's Junior World Championship and those who took gold at the 2019 IHF Men's Youth World Championship.
Garcia Parrondo was hired by the EHF at the end of last season for what he called a "two-year project" – and he started well, with a gold medal at the 2020 CAHB Men's African Championship in Tunisia in January, which also saw a Tokyo 2020 Olympic Games spot booked. 
Next was meant to be the Olympic Games Tokyo 2020 and then Egypt 2021, but that has now changed with the rescheduling of the Olympic Games to after the home World Championship.
"Before it was rescheduled for 2021, Egypt had a great opportunity this summer to grow in an international competition," said Garcia Parrondo about Tokyo 2020 from his home in Egypt in a Royal Spanish Handball Federation (RFEBM) webcast.
"I have a relatively young team that does not have much international experience and we need time, so I was hoping to be at the Olympics with this team.
"It would have been very good for us to gain competitiveness ahead of the World Championship at home," he said. "However, we are in the process of growth, so we must take advantage of the break we have now (without the Olympic Games) to continue improving.
"The country is very focused."
For further information about Egypt 2021, visit the official Facebook page.
PHOTO: Egyptian Handball Federation