Dr Ilona Hapkova: "There are five million children playing handball. Our aim is to reach 50 million in the next decade"
15 Jul. 2021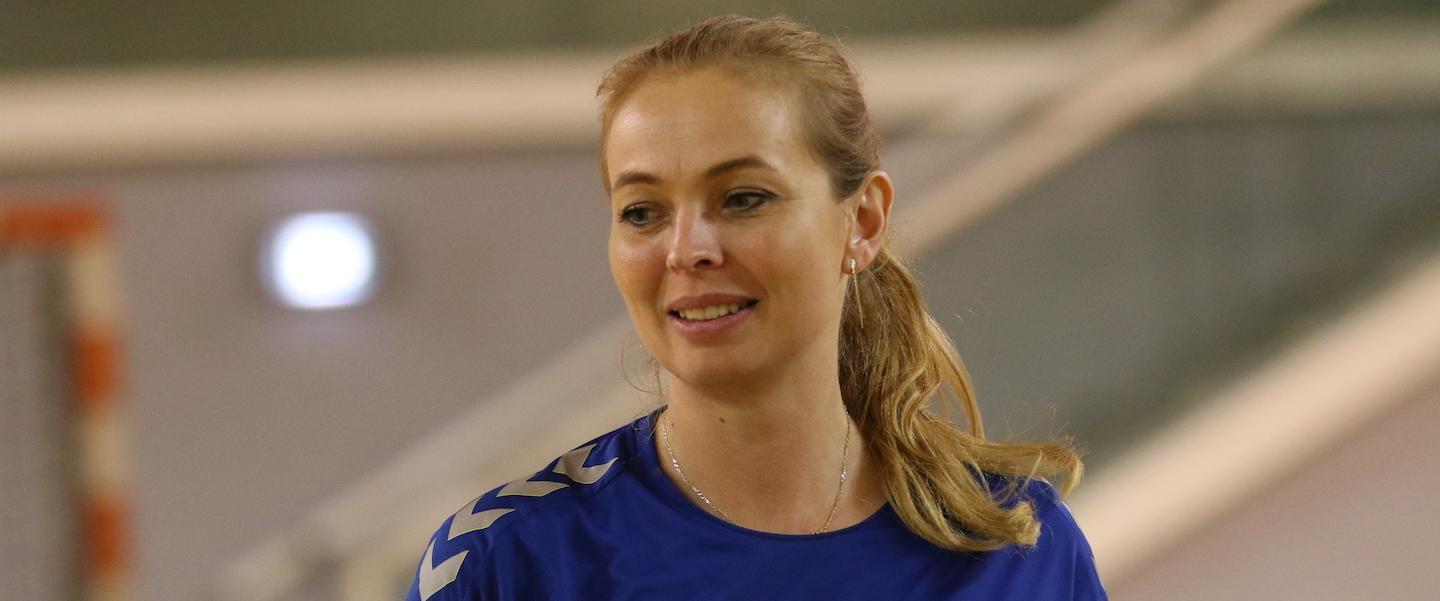 A bit of fun, a bit of competition and being around friends. What can a child want more? In a world that is turning more sedentary, handball offers a nice, refreshing alternative. Ultimately, this is where champions are born as the brightest stars started to impress even as little children.
To see how children's handball has improved in the past two decades, we talked with Dr Ilona Hapkova, Chairwoman of the IHF Handball at School Working Group and IHF Commission of Coaching and Methods Expert, who has led the issues surrounding children's handball and made a bold prediction regarding the future.
ihf.info: We always hear that children are the future. Is it also true in handball?
Dr Ilona Hapkova: Children are the future of everything, there is nothing without children. If you want to have handball stars, you have to start with the children. And this is beautiful, because when you are young, the main motivation is not necessarily about winning, it is also about health and a healthy lifestyle. Handball is one of the easier sports to take on, because you do not need plenty of equipment. Moreover, the basic coordination of this sport is not too complicated. I can give you an example. In the Czech Republic, we are renowned for ice hockey, but you need both a stick and a pair of skates to play it. The activation of the muscles is also more complicated than handball. Here, you hold the ball and you work with the ball, immediately. 
ihf.info: What are the main myths circulating in children's handball? And what are the truths behind the work?
Dr Ilona Hapkova: There is a bit of a dogma, because people who do not specialise in handball see this game as a high-level one, with lot of intensity. You need a lot of physical power because there is plenty of contact in the senior game. But for the children, the game is different. True, it is the real game, but the contact is avoided, yet you have all the other ingredients that make this sport a beautiful one. The children feel free and they are immediately successful and this is what plenty of people forget sometimes: that when children start to play, they do not need to learn how to deal with contact. They just need to learn about the game, the space created in front of them and enjoy it.
ihf.info: How did children's handball improve in the past years? Was it a difficult challenge?
Dr Ilona Hapkova: There are two factors: the sedentary lifestyle, but this is something that we are facing, a big challenge, because we have to convince children to take up handball. Moreover, there was another problem, as when children played seven-versus-seven, they did not receive the ball so often on the big court. About 15 years ago, we started to adjust handball to make it more pleasant to children, more interesting, developing smaller courts and the traditional five-versus-five children's handball. We also introduced a four-versus-four or three-versus-three version, where children get to play actively more often and be successful. They really feel part of the game and they can play, not being only spectators, as the wings, who were just running aimlessly, as they did not get the ball too often.
ihf.info: How many children are currently playing handball?
Dr Ilona Hapkova: We made a survey recently in the Handball at School programme and we received feedback from around 40% of the National Federations and we made an estimation that, around the world, there are more than five million children playing handball and this number is still increasing. The IHF was one of the first International Federations to create a programme not only for professionals, but for physical education teachers focused on handball. We also focused on how handball can be taught in school, not only the sport, per se, but also about the principles of the sport. We have 16 Handball at School teachers that are travelling around the world sharing knowledge. Therefore, with all our stride, people are starting to understand that handball is suitable for children and the interest is growing more and more in the past years.
"I asked for 20 children as volunteers during a lecture. In the end, 120 were already enjoying handball" 
ihf.info: Why is that? Why do children like handball, why is their interest piqued?
Dr Ilona Hapkova: Because they are immediately successful. After 40 minutes, they can play the real game, they can pass the ball, score a goal and can be a real part of the game. This is what is good about handball. You can score a goal easily and the target is big enough, not small like in basketball, while the coordination of the movements is not so difficult as in football. Once you learn handball, it is nearly impossible to forget it. I can remember a Handball at School lecture, where I asked for 20 children to volunteer to play. At the end of the first lesson, there were 120 children already enjoying handball. There were another 300 children around who started asking about availability and when can they start playing. 
ihf.info: When can you start playing handball? Is it age-restricted?
Dr Ilona Hapkova: There is no baseline for when to start playing handball. As a child, you must be as active as you can possibly can. I cannot say that you should start handball when you are five years old. No. Moreover, you can start with handball, try other sports and maybe you will come back to handball, whichever is the best for yourself. 
ihf.info: How has the IHF and the Handball at School programme helped improve children's handball?
Dr Ilona Hapkova: It is not easy with the GDPR (General Data Protection Regulation) and, of course, children's rights to upload videos of children playing handball. Therefore, there are many people who are thinking about senior handball when talking about this sport and are not able to imagine what children's handball really stands for. But we really tried to explain with different brochures and materials and people started to understand that this is another sport, which is totally suitable for children. When people do see what happens in children's handball, how much fun it is, they really open up and want their children to try it and play.
 
ihf.info: How important is the current setting of the children's handball and how do the children enjoy it?
Dr Ilona Hapkova: In this small courts, children have more opportunities to repeat and perfect their actions on the court. If you repeat the action time and time again, you will see that you have the space to practice handball, even if the courts are smaller. Let's also say you have an Under-15 or Under-16 player who is only starting handball. They will find this type of handball very interesting, because playing three-versus-three or four-versus-four, they really feel good. Avoiding contact is also a very important topic and it was put in place for two reasons. First, obviously, the security, if you do not know how to do it, it is better not to do it, as you must grow your muscles.  Secondly, if you do not try and provoke a contact, you have more time to assimilate the information and try to create something with the ball. You can see the space, which will be very important later on, when you make the step onto the big court.
"If you divide children in smaller groups, everything is better"
ihf.info: What were the main issues in children's handball and what has the IHF done to improve it?
Dr Ilona Hapkova: We have to improve the materials, to grow a sustainable base for the physical education teachers and coaches, how they can see more suitable games and provide better exercises for children to improve. In the past, the focus was on contact and stopping the attacks. But the key of the games is now to be better individually and create better skills for the players. We can have bigger groups during the lecture, like 40 to 60 children, but if you divide them into smaller groups, they will get better and better. In the past, there were many moments when children waited to play, but now, everything is better, we are doing more activities in smaller groups.
ihf.info: How many children do you expect to play handball in the next years?
Dr Ilona Hapkova: We have one programme, because Handball at School has different programmes, one that focuses especially on the growth of children's handball, because, as IHF President Dr Hassan Moustafa said, we want to increase the number of children playing handball to 50 million in the next six to eight years. This programme will be focused on the activity of the whole family, who can play handball together. 
ihf.info: Is there still room for improvement?
Dr Ilona Hapkova: If we can improve? Surely. There are models to be followed. We can all see how beach handball improved in the past years and beach handball is exactly a version of handball on a smaller court, which avoids contact. If we promote handball as suitable for schools and education, I think the growth will be big, organically. In the past, handball was the sport that focused on strength. And it will also be the case in the future. But the basis starts somewhere in the early days, with no contact. 
Visit the Handball At School page for more information about the programme.
Photo: PatriciaSports