23 Jan. 2023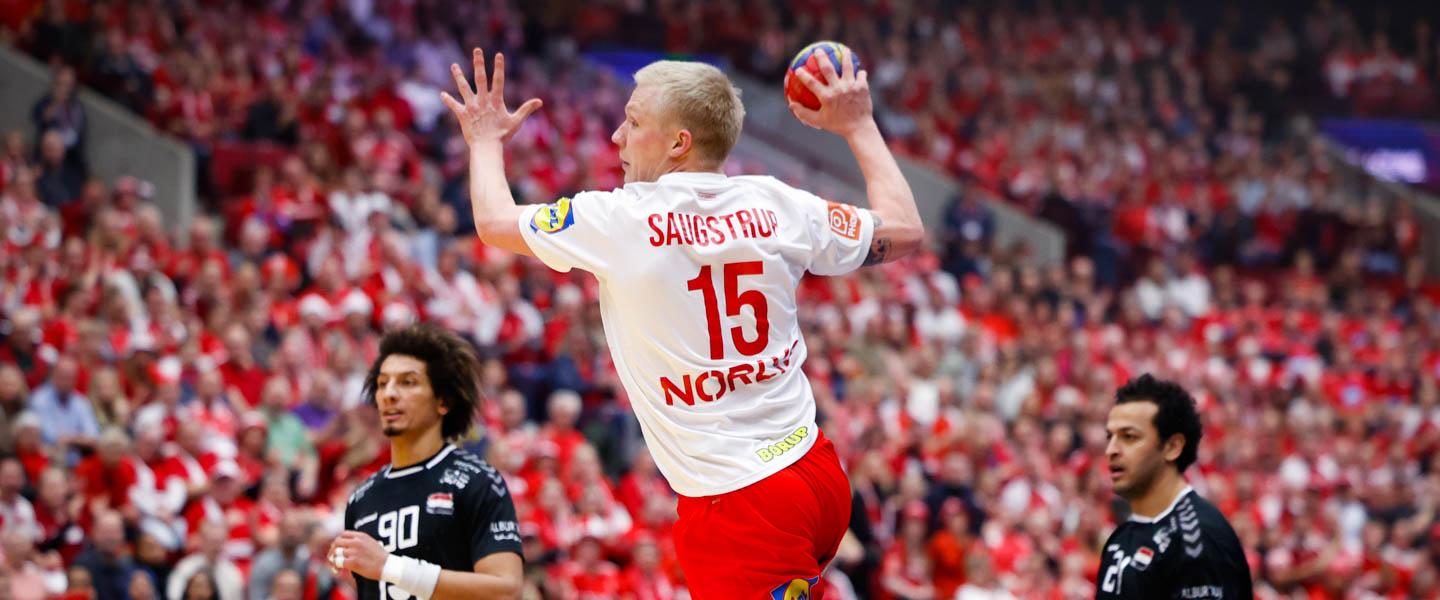 Nikolaj Jacobsen and his Denmark squad must have been sick of hearing about all the mathematics and permutations about their final main round group IV match at the 2023 IHF Men's World Championship over the past 48 hours.
'If Croatia do this', 'Denmark need to do this'. What was certain was that after Croatia beat Bahrain by 11 goals earlier today, Denmark just needed to not lose against Egypt tonight, and if they did, not by more than 10 goals. In the end, the title-holders took a five-goal lead in a match where they were never behind.
It also marked a moment in IHF Men's World Championship history – the nation have now joined France in the longest unbeaten streak in the championship. From 2015 to 2019, France were not defeated in 25 matches, and from 2019 to now, Denmark have joined them – in fact, Jacobsen has not lost a World Championship match as national coach since taking over in 2017.
Main Round Group IV
Egypt vs Denmark 25:30 (12:17)
The North African champions were already certain of their quarter-final progression ahead of their clash against the World Championship title-holders, but that did not stop them from giving the European side a real run for their money in the final match of Poland/Sweden 2023 at the Malmö Arena in Sweden.
But Denmark meant business. After receiving a wake-up call against the USA last time out, despite playing most of the match without their main starting seven and winning by nine, they took the game to Egypt and made it clear that they were only interested in another two points and winning the group overall.
Jacobsen, who brought in centre back Rasmus Lauge Schmidt and right back Niclas Vest Kirkeløkke overnight as replacements to his squad, saw them go 4:1 ahead by the fifth minute thanks to some expert stops from goalkeeper Niklas Landin and then extend it to four (6:2) before the eighth minute.
This prompted Egypt coach Roberto Parrondo to call his first time out early on (8th minute). Still, the Danish lead kept extending, moving up to eight (15:7, 21st minute) as a double-digit distance looked likely at half-time, but Egypt fought back, causing Danish mistakes, and the deficit was just five (12:17).
At the break, Landin had a 40% save rate (8 from 20), while Simon Pytlick, who had told ihf.info yesterday that he would not have believed two years ago, when he was watching the Egypt 2021 classic quarter-final clash between these two teams from his sofa at home, that he would be playing in this one.
In the end, he won his second best player of the match award at Poland/Sweden 2023, his five goals from six shots at half-time (83%) expanding to 8/10 at the end when he was presented with the award from the Egyptian Minister of Youth and Sports, Dr Ashraf Sobhy.
Following the conclusion of the post-match presentations, Landin was then given the hall microphone, addressing the 11,000 fans inside, most of whom were Danish, having made the short hop across the Øresund sea from Denmark.
Both teams now move to Stockholm for the quarter-finals. Egypt will face co-hosts Sweden, while Denmark will take on Hungary - the last team to beat them in a World Championship, back in the last 16 at France 2017.
hummel Player of the Match: Simon Pytlick (Denmark)