23 Jan. 2023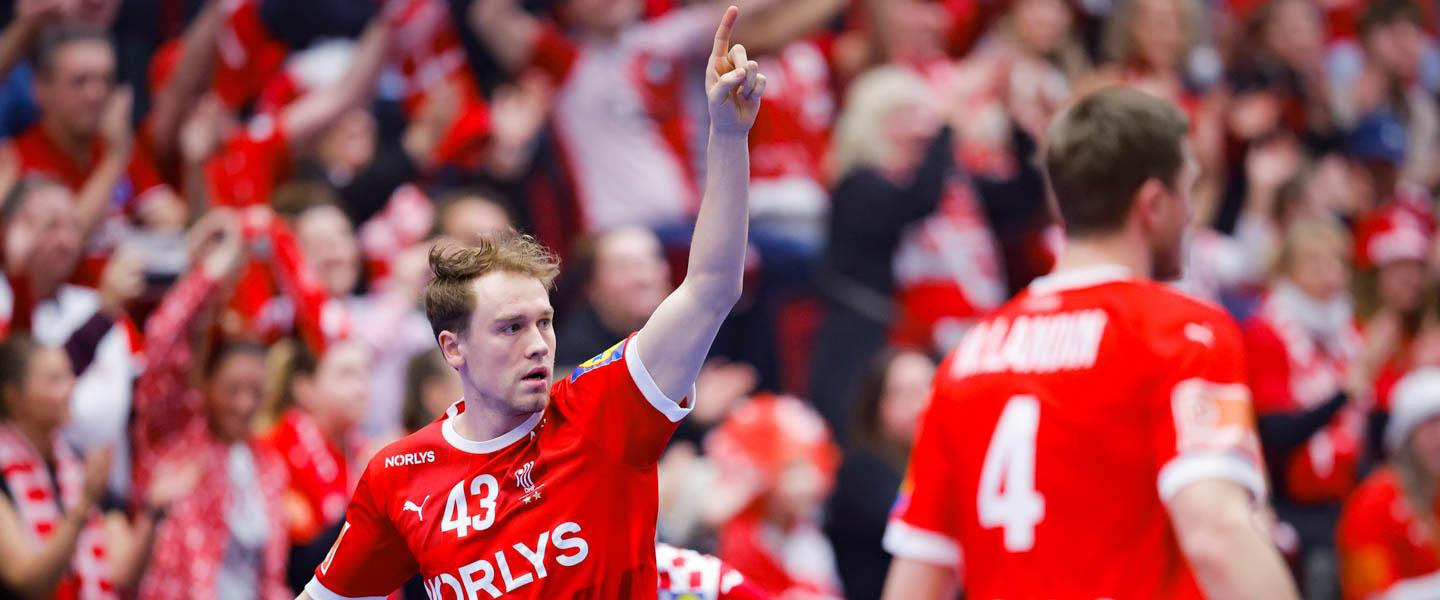 You have to go back six years and 25 matches almost to the day to find the last time Denmark lost an IHF Men's World Championship.
Hungary defeated the Danes (27:25) in the last 16 of the 2017 IHF Men's World Championship in France on Sunday 22 January.
Since then, Denmark have won 23 of their 24 matches, a solitary draw against Croatia just last week standing in front of a perfect record which has seen them win two back-to-back world titles.
Final main round day drama?
On Monday (23 January) night, they face Egypt in their final main round group match, needing to win to qualify for the quarter-finals of the 2023 IHF Men's World Championship if Croatia beat Bahrain by 22 goals or more in the preceding match.
If Croatia do not win by this score or more, then the Egypt clash is just to decide the main round group IV winners, with both progressing.
"We will know the result of the Bahrain versus Croatia match and this situation before our match starts, but we will focus on our match against Egypt," says Denmark's experienced right winger Hans Lindberg to ihf.info.
"We're going into the match to show that we're the better handball team and to win; that's our goal for the match. Egypt are a really good team, so we will have to deliver a good performance again."
A good performance did not happen last time out for the Danes, whose rotated squad played out an underwhelming nine-goal win against the United States of America.
"We expect a better performance from our team than against the United States," said the 41-year-old Lindberg.
"It doesn't matter who's actually playing on the court; we expect to play better than we did. Coach Jacobsen, of course, was not satisfied, and the players themselves weren't happy with the performance either. 
"We should have played better in this arena with so many spectators coming from Denmark to Malmö, but on the other side it's good that it was only in this match and not in a match where the stakes are higher.
"In my experience, at championships there are almost always one or two matches where you don't hit the level you have to, but it was a good warning for us for the matches that come now.
"Egypt is an important match, not only for the group victory, but also for deciding if we are going to keep on to the quarter-final. From now on, it's only going to be tough matches. If you want to win gold medals, you always have to perform and be at the top level because there are so many good teams.
"You can't play at 80% because then you're going to lose. That's maybe the experience and memories from a lot of tournaments that I have, because it is like that at this level; it's one bad performance and you can be out."
A classic from 2021 revisited in 2023
Denmark and Egypt, a tough match in a world championship and a repeat match-up from Egypt 2021. That match was a classic, a dramatic quarter-final, going to penalty shots to decide who would go through to the semi-finals. It was Denmark, and they eventually took the title.
For Lindberg, it was a rare opportunity to watch as a fan, having not made the final cut for the championship.
"I was at home. It was a crazy match because there were so many crazy things happening; red cards, Egypt had a chance to level the match, chances to score, both sides had a chance to do something," he said. "Going to penalty shoot-out, you can say it's never fair, but it was an even game."
Another player watching at home was Simon Pytlick – a player at the beginning of his senior career with just eight appearances pre-Poland/Sweden 2023, compared to 279 from Lindberg.
"I was at home with my parents on the couch," says Pytlick, son of the famed handball coach Jan, who was watching with him back in 2021. "I remember that it was a little bit of a chaotic match because there were a lot of things happening at the end of the match.
"I remember Egypt playing very well and Denmark too. I had a lot of respect for Egypt just to keep on pushing and for Denmark to come so far in the match."
So what would Pytlick have said back in 2021 to someone who said he was going to play against Egypt at the 2023 IHF Men's World Championship?
"I would say they have to shut up," said the GOG player, laughing. "I wasn't counting on that when I was sitting on the couch back then, but now I am very proud to be standing here and looking forward to playing the match. Egypt have developed and I'm just looking forward to playing because they have a lot of good players."
A special Danish blend
Denmark, of course, also have good players, with Pytlick (22 years old) and Lindberg (41) representing the youngest and oldest in the squad, a mix which works both ways.
"The experience that the older guys have is good for us young guys, and us young guys like pushing the older guys to also play very fast," says centre back Pytlick. "So the mix is very good right now and that's one of the reasons why Denmark keep on pushing at the top."
"Everybody here is part of the team and tries to include everybody," adds Lindberg. "Of course, if somebody needs to talk about something or they are insecure about something, there is always a possibility to talk to me, for example, or other experienced players.
"For the new players, it's not easy to be away for the first time; you're away for almost one month. That's a long time and it's a lot of feelings you have to try to manage, but we're lucky, we have a big staff, the coach is always there, and we try to make it the best [environment] for everybody in the team."
Improvement internally, success externally
Lindberg has been there, seen it and done it with the national team, and in his time over three decades with them has seen progression at home affect the success of the national team.
"One of the big advantages for Denmark as a handball nation is that there are so many talented players running around. There is such good quality," explains Lindberg, who once represented Denmark in beach handball.
"The Danish league is much higher now than it was at the time when I first arrived at the national team. Back then, it was a lot more different going from the Danish league to playing on the big stages all of a sudden.
"I won't say it's easy, but now you have the best teams in Denmark competing in the Champions League every year and trying to reach the final four in Cologne, going head to head against the best teams in the world.
"Nowadays the younger players are better prepared; they've played against the best players a lot of times and know which level to be at to succeed. But it's not easy to be part of this team. You have to be really good – we have the goal of being in the final and wanting to win a championship every year.
"Every time I'm a part of this team, I'm proud to be playing for Denmark. I strive every day in training to reach this level, to be able to play and compete at this level. I'm honoured. I train hard at my club in Berlin so I can be part of this, because it's an honour to be here with Denmark and I'll try to do my best."