12 Feb. 2021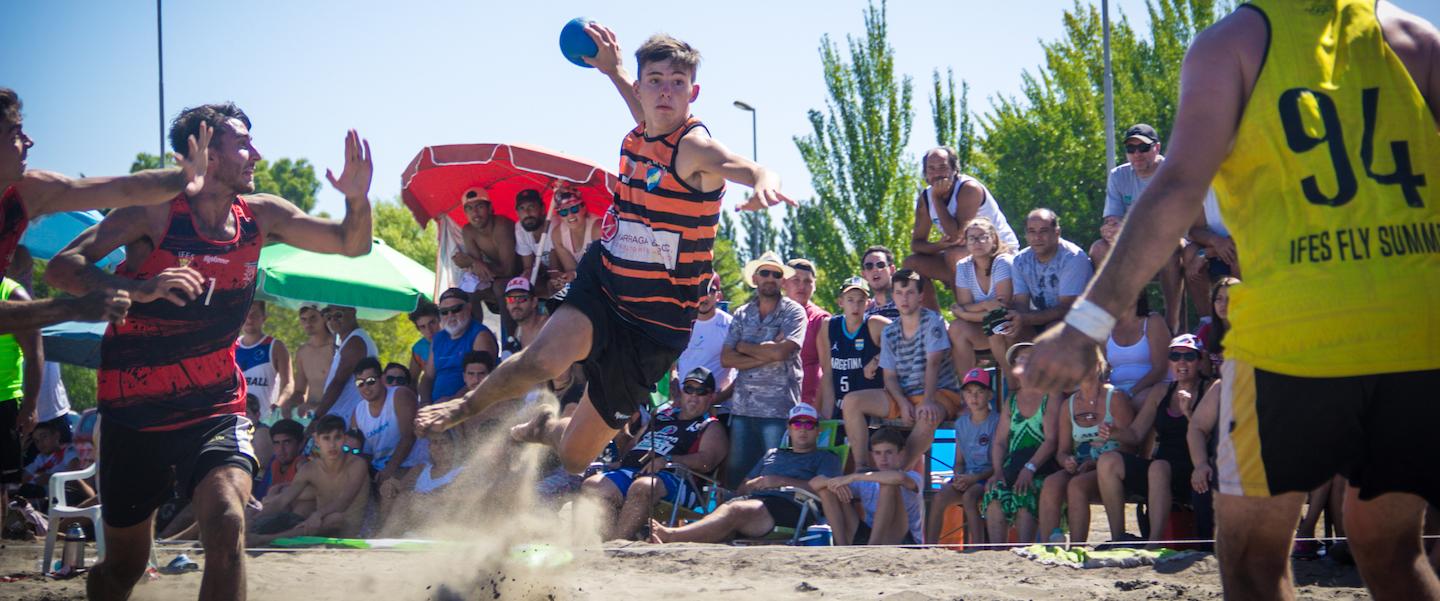 2020 saw the Argentina Handball Confederation (Confederación Argentina de Handball – CAH), launch their first-ever 'Argentina Beach Handball Circuit' ('Circuito de Argentino Beach Handball') fresh off the back of the amazing success of the sport at the 2018 Youth Olympic Games held in Buenos Aires.
The 2020 circuit saw six regional tournaments take place with winners and runners-up going through to the Argentina Cup' ('Copa Argentina') finals weekend and it was a double success for the men's and women's IFES teams from Neuquén, a province in western Argentina.
While 2021 will see the full circuit curtailed due to COVID-19, the Copa Argentina will take place over one weekend in the famous tourist town of Puerto Madryn in the southern province of Chubut in Patagonia next weekend, from 19 to 21 February.
31 teams from across eight provinces in the South American country (16 men's, 15 women's) have already confirmed their participation in the championship, with a maximum of 24 in each competition allowed. The Copa Argentina is open to all players born in 2004 or earlier with many already registered playing for the national teams.
In big news for the sport in the country, the official broadcaster of the 2021 IHF Men's World Championship in Argentina, Deportv, will broadcast two hours of the main games live each day nationally.
Confirmed teams so far include (team name, province):
Women's Copa Argentina
Panteras de Patagones (Buenos Aires), Arena Madryn (Chubut), CEF 26 de Trelew (Chubut), Cumehue de Trelew (Chubut), Municipal School Huergo (Chubut), Independiente de Trelew (Chubut), ABC - Asoc. Neuquén), IFES (Neuquén), Río Grande de Neuquén (Neuquén), UCASAL University (Neuquén), Viedmense Handball Association (Río Negro), Goliat (Río Negro), Municipality of Viedma (Río Negro), Peñaflor (San Juan), Tunkelele de Pico Truncado (Santa Cruz)
Men's Copa Argentina
Panteras de Patagones (Buenos Aires), VILO (Buenos Aires), Arena Madryn (Chubut), CEF 26 de Trelew (Chubut), Grilli de Madryn (Chubut), Muzio (Chubut), CPEF N.3 de Concepción de Uruguay (Between Ríos), ABC - Asoc. Handball Centenario (Neuquén), IFES de Neuquén (Neuquén), Independiente de Neuquén (Neuquén), Goliat (Río Negro), Sol de Mayo (Río Negro), Trapem de General Roca (Río Negro), Vial San Juan (San Juan), Handball Las Heras (Santa Cruz), Pico Truncado (Santa Cruz)
"The Copa Argentina showcases the values of this beautiful Olympic sport such as healthy recreation, respect, responsibility, fair play and teamwork," said CAH President Mario Moccia ahead of the event, which will be overseen by the Director of the Argentina Beach Handball Circuit and Head of the CAH Beach Handball Commission, Juan Manuel de Arma.
"Our goal is that the Copa Argentina will be an unforgettable experience for your team and for the players, both in the sport and in the interaction with players from the other teams and we also believe that they are important pillars for your growth and training."
For more information on handball in Argentina visit www.handballargentina.org. 
Regional beach handball continuing
In addition to the Copa Argentina, a number of towns and cities across Argentina have hosted their own beach handball circuits within a variety of different provinces.
They include Santa Fe (Santa Fe Province), Paraná (Entre Rios Province), Neuquen (Neuquén Province), Rada Tilly (Chubut Province), Ushuaia (Tierra del Fuego Province), Posadas (Misiones Province), Villa Nueva (Cordoba Province), Tunuyán (Mendoza Province), Mar del Plata (Buenos Aires Province) and FEMEBAL (Buenos Aires Province).
FEMEBAL has a special IHF link, as Argentinean IHF Beach Handball referee Lorena Mac Coll, who whistled at Buenos Aires 2018 along with her partner Mery Laura Diaz, is their Director of Beach Handball Tournaments and Competitions.
FEMEBAL, short for 'Federacion Metropolitana de Balonmano', works with handball activities in Buenos Aires province, and runs its beach handball competitions in partnership with governmental organisation Deportes BA (Government Organization).
Last week, the 'Lightning Beach Handball Tournament' at the Youth Olympic Park (Parque Olímpico de la Juventud), site of the beach handball competition at Buenos Aires 2018 and formerly known as Roca Park (Parque La Roca), got underway and is set to be completed this weekend.
For more information on FEMEBAL, visit www.femebal.com.