18 Feb. 2021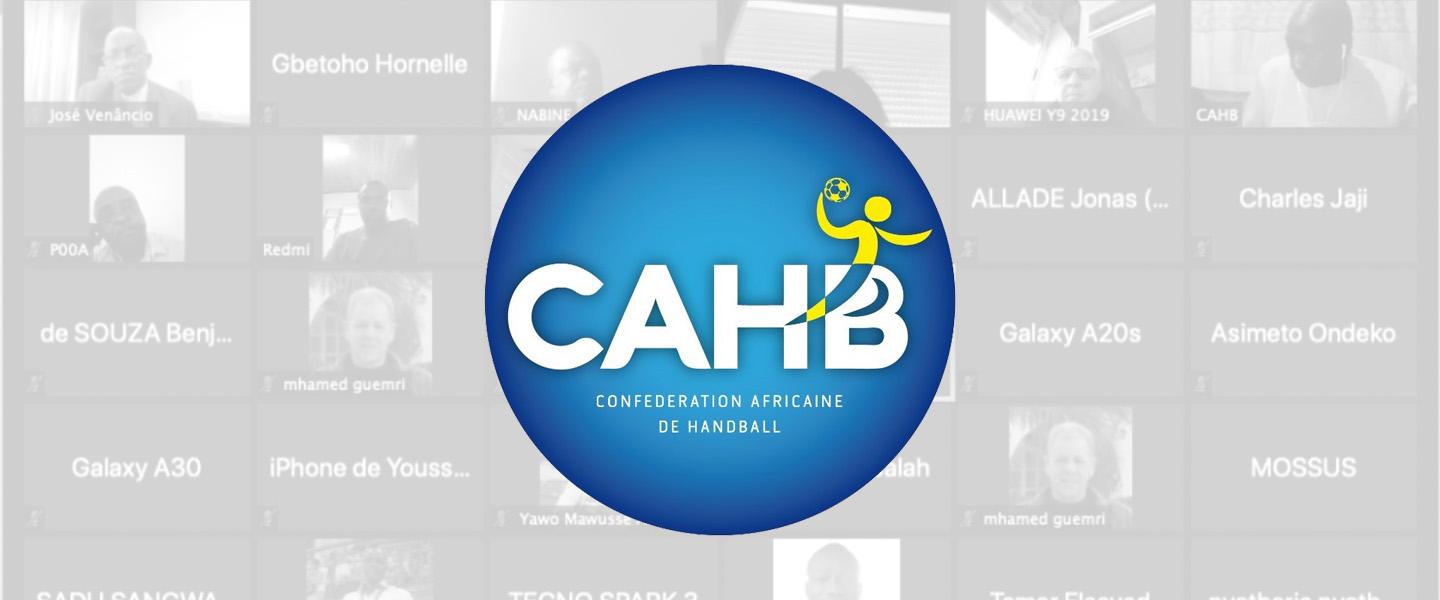 African Handball Confederation (Confédération Africaine de Handball – CAHB) referees and delegates have taken part in a number of virtual workshops across the past nine days as part of the continued learning and development of officials in the continent.
The workshops come a few weeks ahead of continental activities resuming in Africa, starting with the CAHB Men's Junior African Championship in Casablanca, Morocco from 6 to 13 March.
CAHB Delegates
Across three days, from 10 to 12 February, more than 30 CAHB Delegates attended a three-day seminar aimed at updating on the very latest trends in the role of match delegates, to refresh on the roles of scorekeepers and timekeepers and for delegates around the continent to meet up and discuss as a group together.
The first day saw the official opening and welcome from Dr Mansourou Aremou (CAHB President) before Aimé Mbengue (President of the CAHB Playing Rules and Referees Commission) introduced the programme ahead of Dr Yannick Mossus, President of the CAHB Medical Commission, going through the latest COVID-19 and health guidelines.
The sessions on Thursday (11 February) then featured Tamer Elsayed (Egypt) – an official at the recent 2021 IHF Men's World Championship – go through the new guidelines at Egypt 2021 and give feedback on the tournament before then going through the distribution of tasks and role of the match delegate.
Mbengue then concluded the day by going through the roles of the scorekeepers and timekeepers.
The final day saw former Cote d'Ivoire IHF referee couple, Yalatima Nanga Coulibaly and Mamoudou Diabate, alongside Abid Soumaya from Tunisia then go through a case study relating to scorekeepers and timekeepers before Mbengue brought the seminar to an end.
CAHB Referees
The four-day course for CAHB and IHF referees was held from 15 to 18 February, with Aremou again welcoming everyone ahead of Mbengue introducing the programme and Dr Mossus again updating on the latest COVID-19 and health guidelines.
The second day saw Algerian IHF referee couple Youcef Belkhiri and Sid Ali Hamidi, who whistled a number of matches at Egypt 2021, then go review and feedback on their experience at the world championship to the group before Cherif N´Diaye from Senegal went through Rule 7 and Aimé Mbengue discussed Rule 8:3 and Rule 8:4.
Day three featured Abid Soumaya, Yalatima Nanga Coulibaly and Mamoudou Diabate go through offensive faults, line play, wing situations, seven metres and passive play respectively while the final day ended with Tamer Elsayed going through the new guidelines and the 'Hollywood' overreaction feedback from Egypt 2021 before it was closed by Mbengue.
Later this year, selected referees will travel to Cote d'Ivoire for the CAHB Continental Grade Course.