06 May. 2020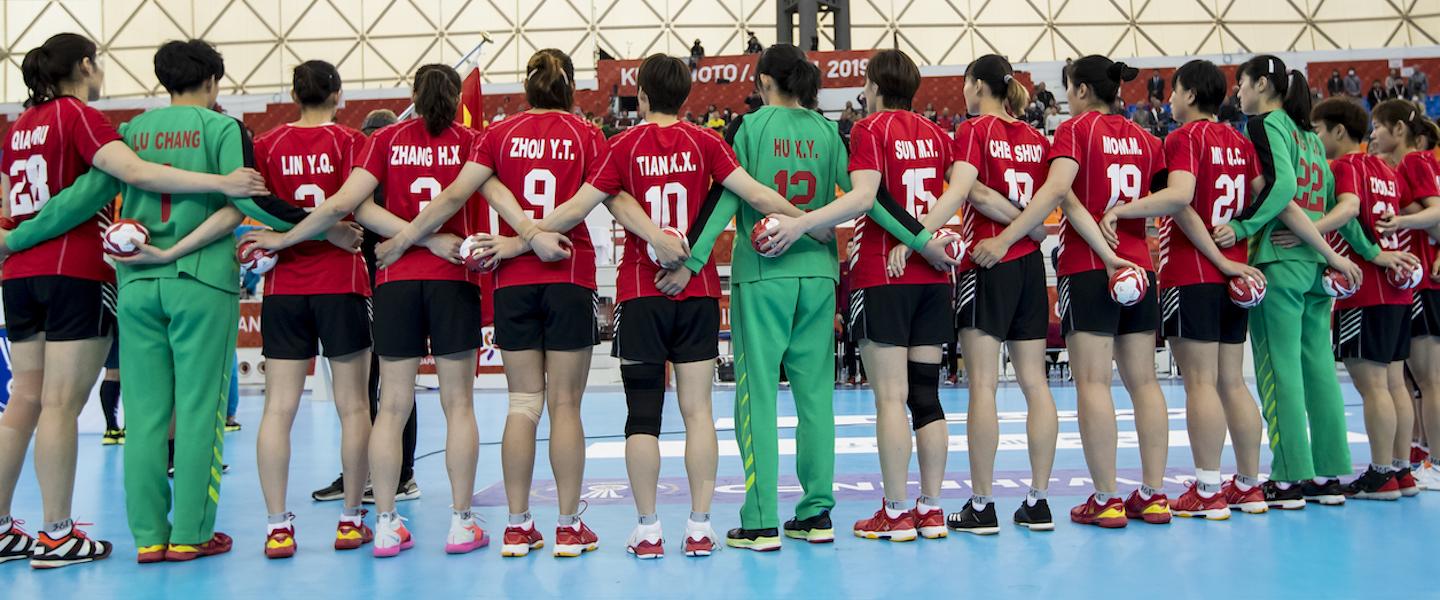 The Chinese handball community, like many others in the populous Asian nation are doing their best to help combat and fight the COVID-19 pandemic which has paused sport in many countries across the globe.
At the end of February, the Chinese Handball Association (CHA) launched an initiative, dedicating its resources to the fight and advising everybody connected to handball to help in their own way possible with players, coaches, referees, workers and handball fans donating money and providing support.
In just over a week, more than 55,000 CHF (Swiss Francs) was raised by the handball community in China, with more donations coming in since. "We have seen and felt the love and responsibility of the handball world," said the CHA in a statement. "The CHA expresses its most heartfelt thanks and highest respect to all member units, caring enterprises and caring individuals."
In addition to the fundraising, players, coaches and staff of both of the China men's and women's national teams have held sessions to understand the situation and ways of prevention and control.
"We firmly believe that we will win this war and we must win it," said women's line player Mu Qingcong to the CHA website. "Thanks to everyone who is working to help end the epidemic."
Teammate Yang Xiqi, also praised those working through COVID-19 outbreak. "We should learn from the spirit of selfless dedication to the epidemic and the perseverance," she said, before adding. "Do not go out, follow safety measures and cooperate with the work of the team, and work hard to train."
"The medical staff of our country are willing to go to the front line to do their part," said right wing Huang Haiyu, with left back Zhou Mengxue adding; "…healthcare workers carry forward the spirit of being able to endure hardship – they are mainstays in the line of fire, and always put the safety and health of other people first."
Associations, players and coaches at local levels in China have also been lending a hand with the Beijing Handball Sports Association launching a 'living room' handball practice method led by Pan Tian, former player for China's men's national team, current coach of Beijing's women's team and Deputy Director of Youth Committee of Beijing Handball Sports Association.
In other news, the break in current sporting activities has allowed the Guangdong Handball Association to reflect on a year of handball activity, with the province in south-eastern China looking back on 2019.
Guangdong, which borders Hong Kong and Macau, held 16 'Handball Popularisation' lectures with more than 3,000 people in attendance. The lectures included diverse topics such as the 'Origin and Development of Handball', 'Benefits of Handball for Children's Physical and Mental Health' and the rules of handball. In addition to the lectures, a number of handball activities were held in colleges across the region to increase the interest of the sport amongst students.
Over 500 kindergarten teachers were involved in handball experiences for children with over 700 children directly involved and more than 2,500 children indirectly involved.
Nearly 100 junior coaches obtained a 'Guangdong Handball Association Junior Coach' qualification, and 39 IHF D Coaching Licences were obtained in Dongguan as part of the IHF Handball at School programme held in July, which was held alongside a China Men's Handball Super League event which saw more than 120 children and parents from primary schools and kindergartens in Guangzhou and Dongguan take part in games and watch the games. The fourth edition of the Nanyue Small Handball Festival also took place with U6, U12 and U16 competitions. 
The Guangdong Provincial Youth Handball Championships was held in Zhaoqing and featured seven groups for both men and women, with new referees using the championships for future preparation and further training courses for more experienced referees also held during the past 12 months.