26 Jan. 2021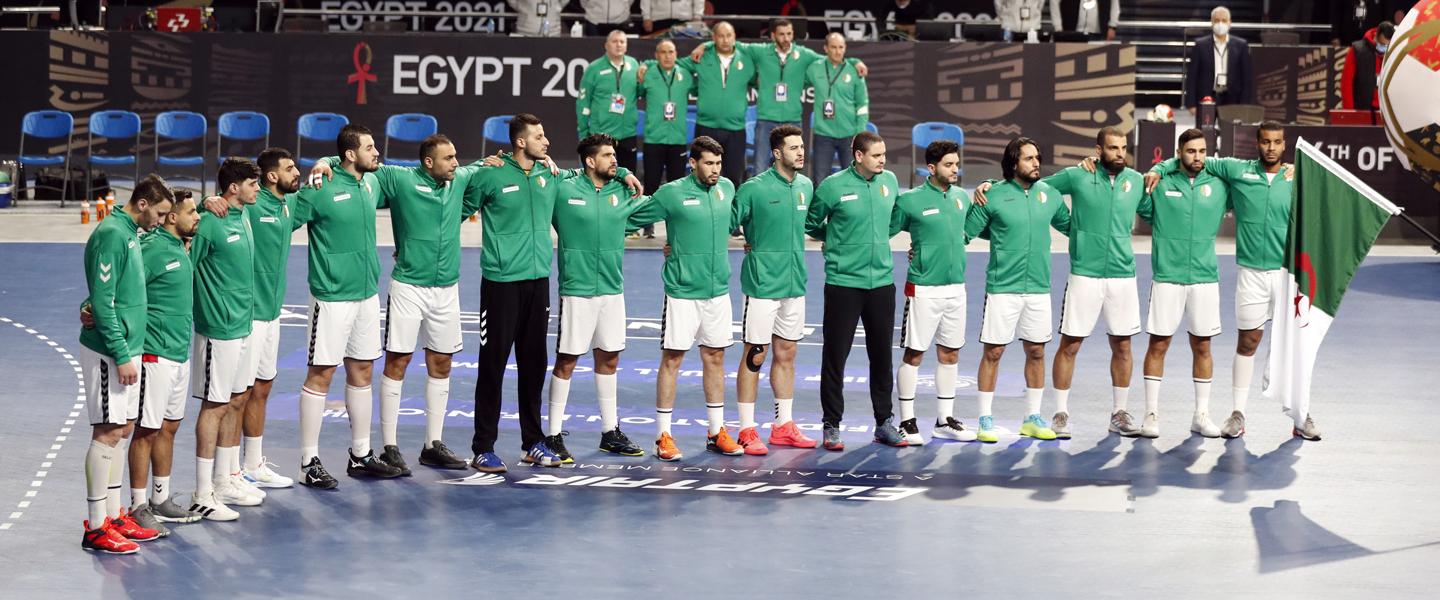 A world championship in Egypt, a venue with Tunisia, DR Congo, Algeria, Cape Verde and Morocco, plus Egyptian media student volunteers. 
It only made sense to put it all together and hear from the players themselves what their experience at the 2021 IHF Men's World Championship at the Dr Hassan Moustafa Sports Hall in Giza has been like.
Ebtessam Osman, Myada Asharf Morsy, Zeina Raafat and Abd El-Fatah Mohamed had the opportunity to get some interviews with a number of players appearing in matches at the new arena – all in addition to working hard in their daily duties.
After hearing from Tunisia, we now hear from Algeria, about their near-miss against France, Algerian handball fans, family support and e-gaming!

ALGERIA
Abdellah BENMENNI (Goalkeeper)
On his performance in the 23:36 loss against Norway:
We weren't as good as we were in our last game against France, especially in defence. Norway surprised us with being really fast in switching between defence and attack. We missed a lot of opportunities, which led to the big difference in goals.
On the level of his team and other teams from the region at Egypt 2021:
Concerning us, we didn't present our real potential because we didn't play many games during the past months. About the other teams, the Egyptian team is having a very good journey in this tournament until now, with great results. The rest of the teams are presenting an average performance, but the Arabic teams can make good results and I wish them all the best.
On the message he would give to Algerian fans who cannot be in Egypt:
I would like to thank them all for their support, they have always been behind our team. We didn't have enough preparation for this tournament, but we thank the Algerians who love handball.
Messaoud BERKOUS (Captain, Left Back)
On the narrow loss to France, 26:29, where Algeria had led: 
When the match was about to come to an end, there was a draw, and we were able to win. If we were a little bit focused, we could have done it. We are really satisfied with our performance, and I think our squad has a big future. 
We won our game against Morocco, we didn't have a very good performance against Iceland, but in this game against France, we were really good. We have honoured Algerian handball. We can say that the best is yet to come, as we have a lot of young players in this team.
On what he thinks the team needs to improve:
We did not begin the first two games against Morocco and Iceland in the preliminary group very well, which affected us psychologically. But against France I can say we're getting back on track. We are really doing our best to win the support of the Algerian fans.
On his opinion of the Egypt 2021 organisation:
I think it is not for me to say anything about Egypt organisation because Egypt is well-known for good organisation of world events, especially this championship, one which they had to organise with COVID-19 around the world and with many sporting events cancelled.
On his brother playing handball and how his family has supported them:
We come from a sporting, supportive family. I have two brothers who play handball: Abdelrehem and Mahmood. I support them and wish good luck to them.
On when he started playing handball:
I started playing handball by coincidence when I probably was six or seven years old. Today I am 31 years old and I still love it.
On the popularity of handball in Algeria:
Handball is the second most popular sport after football in Algeria as the Algerian team have already won seven African Cup of Nations.
  
Moustapha HADJ SADOK (Centre Back)
On their performance against France: 
We knew the match with France will be hard because their history in handball championships is well known. We played much better match than our last matches in our preliminary group but also France had a perfect performance to beat us. I want to thank all players in my team for the good performance. 
On his opinion of the Egypt 2021 organisation:
It is one of best championship organisation in the world. I want to thank all organisers and administrators to make this big effort and making us comfortable in and out of the hall.
On his love for e-gaming and who he beats:
I always beat (teammate) Hichem Kaabeche. No-one beats me.
Sofiane BENDJILALI (Line Player)
On his opinion of the Egypt 2021 organisation:
The organisation is perfect. As usual, Egypt can amaze the world.
On whom supports him the most:
My mother supports me. I promised her I will make her proud of me.