26 Jan. 2021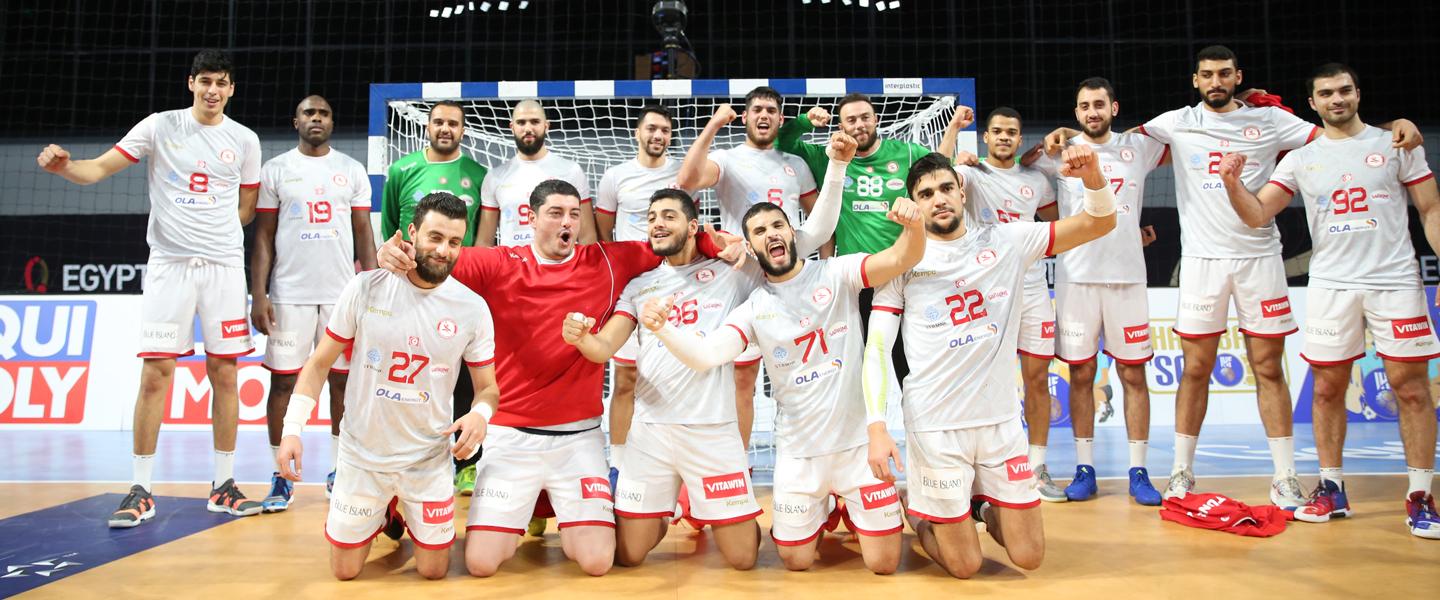 A world championship in Egypt, a venue with Tunisia, DR Congo, Algeria, Cape Verde and Morocco, plus Egyptian media student volunteers. 
It only made sense to put it all together and hear from the players themselves what their experience at the 2021 IHF Men's World Championship at the Dr Hassan Moustafa Sports Hall in Giza has been like.
Ebtessam Osman, Myada Asharf Morsy, Zeina Raafat and Abd El-Fatah Mohamed had the opportunity to get some interviews with a number of players appearing in matches at the new arena – all in addition to working hard in their daily duties.
First, we hear from Tunisia about handball, Mirza Džomba, Lionel Messia and cous cous!
TUNISIA (TUN)
Mohamed Amine DARMOUL (Centre Back)
On the victory against Angola, where he won the hummel Player of the Match award:
The match was not easy. Angola is a strong competitor. We weren't feeling comfortable at the beginning of the match. We made some mistakes, but we will try to fix them.
On Tunisia's preparation for the upcoming Tokyo 2020 Olympic Games Qualification Tournament:
We are working on ourselves to avoid these mistakes, especially when we will face strong teams. We will do our best and be very careful to make Tunisian people proud and achieve great results.
On why he chose to play handball:
When I was kid, I was famous for handball. My coach supported me to practice in the club to be a professional handball player and, also, I find myself when I play handball.
Issam RZIG (Right Wing)
On his ambition in handball:
I do my best to play in international clubs. I want to be at a good level so I can find an opportunity.
On his role model in handball:
My role model is (Croatian player) Mirza Džomba. He is a great player.
On what he will do when he returns home after Egypt 2021:
I will visit my family. I really miss them, and I also miss Tunisian food, especially cous cous.
Oussam JAZIRI (Left Back)

On his opinion of the Egypt 2021 organisation:
All groups are surprised by this great organisation and I want to thank the organisers and all Egyptian people – we are so proud of them.
On his experience of playing in Egypt before with Al Ahly:
I'm happy and proud. I was comfortable being in Egypt before. The Egyptian people are well-known by their hospitality.
Skander ZAIED (Left Back)
On his opinion of the Egypt 2021 organisation:
I am surprised. It is a great organisation, and the halls are very good. I hope good luck for the Egyptian team too.
On playing in Egypt with club Al Ahly:
It was my honour to play for Al Ahly and I'm now proud to be back in Egypt playing with my national team.
On whom in his family has supported him in handball the most:
My Mum is the one who has supported me the most. From my beginning in handball when I was just 10 years old, she always follows my matches, watching them and supporting me.
On his love for football and player Lionel Messi:
I love Messi so much. He is the most professional football player, but I like both handball and football.

Photo: Egypt 2021