13 Dec. 2019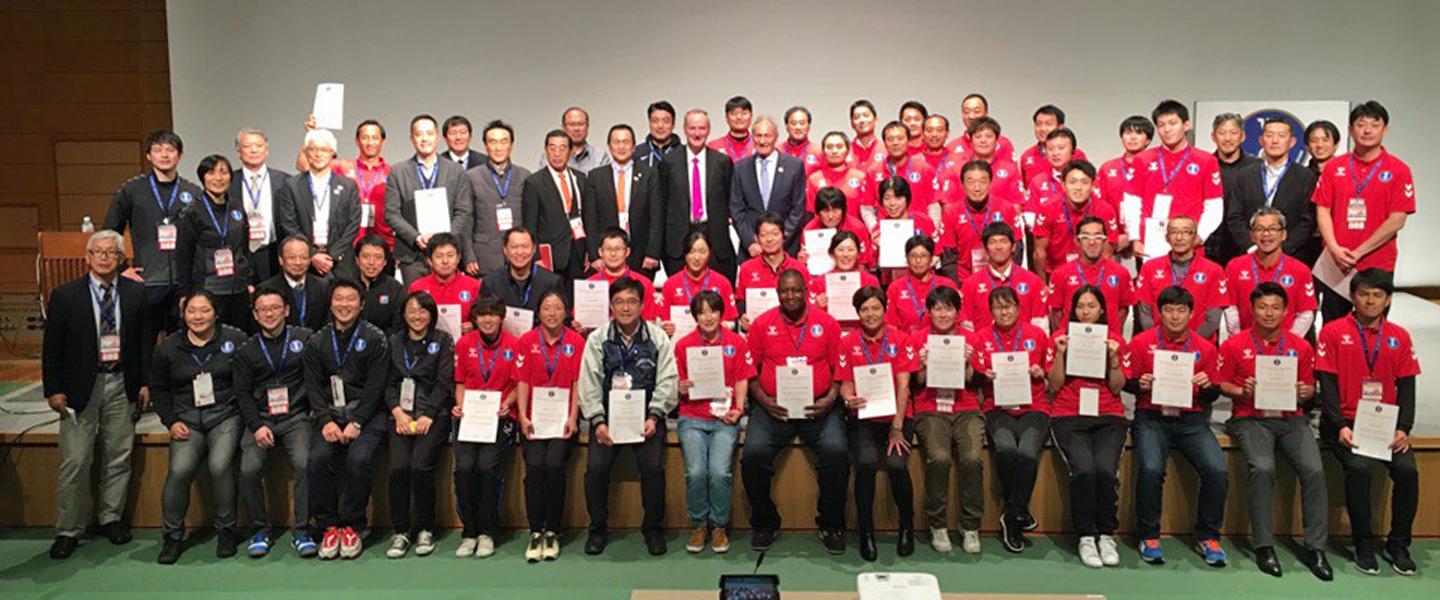 Over 100 people attended the 2019 edition of the IHF Coaches Symposium held on the fringes of the 2019 IHF Women's World Championship in Kumamoto, Japan.
A mixture of male and female coaches from Japan, Korea and DR Congo were in attendance at the event which was held in partnership between the IHF and the Japan Handball Association (JHA).
The three-day event saw participants receive practical and theoretical knowledge through some of the world's leading coaches and experts, including IHF Council Member and Chair of the IHF Commission of Coaching and Methods (CCM) Dietrich Spate, IHF CCM Member and IHF Analyst Paul Landure, Angola coach Morten Soubak and multiple Olympic Games medallist with Korea, Oh Seong Ok.
All participants had the opportunity to watch and analyse a number of games at Japan 2019 in person and upon completion of the event, received certificates from IHF President Dr Hassan Moustafa at the Uki City Matsuhashi Gymnastics Centre (Wing Matsubase) in Kumamoto, Japan. 

"It was really interesting to learn about the development in high performance from France and Netherlands as the two are such different situations and conditions," said Eiko Yamada, from the University of Tsukuba, who helped to host the event.
"All the coaches present were inspired by the different ways of coaching in the practical sessions such as the Korean way, based on technical foot workings and tactical based coaching," she added. 
"Coach Oh from Korea introduced us to all the important details about how Korean players practice from a young age and then showed us how to build up group tactics in trainings. The other lecturers introduced situational coaching related to decision-making such as provoking players to perform a variety of techniques and let players put their ideas of playing forward."
All the sessions delivered were recorded, in both Japanese and English, for future use with those present and for the IHF Education Centre.