26 Jan. 2019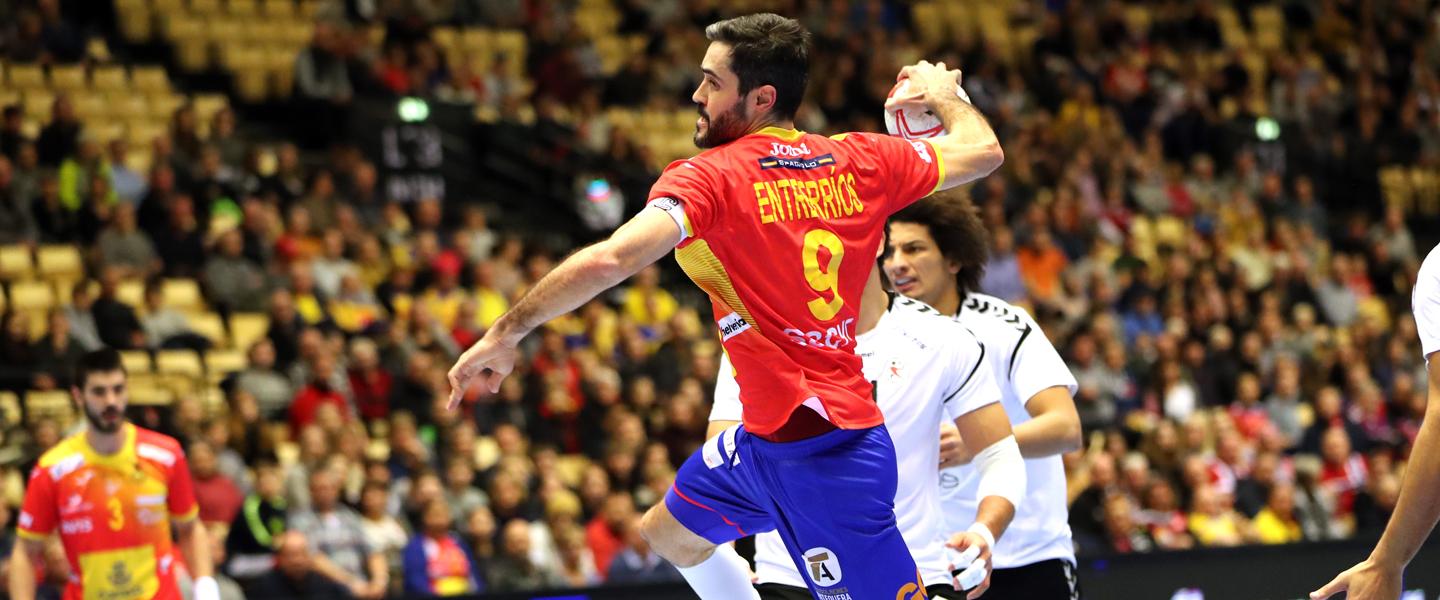 With the last direct place from Germany/Denmark 2019 to the Olympic Qualification Tournaments up for grabs today in the 7/8 placement match between Spain and Egypt, the pressure was on both teams to perform. Egypt led at the break, but Spain came back in the second half strongly to seal their seventh place.
Placement Match 7/8: Spain vs Egypt 36:31 (17:18)
The first 10 minutes of this encounter saw Spain and Egypt exchange the lead five times as the pressure of a sealing a spot at the Olympic Qualification Tournament was palpable on court.
Neither team could get in their rhythm until Jordi Ribera's Spain – down to 15 squad players after Daniel Dujshebaev was ruled out with an ACL injury – finally settled, going on a three-goal run to lead 7:5 in the 11th minute. Five minutes later, a turning point appeared to present itself to his side when Ibrahim Elmasry was shown a direct red card after the video proof system had been used to confirm a hand to the face on Gedeon Guardiola.
But despite being a player down, and then two shortly after, following an Ali Zein suspension, Egypt kept in touch (14:14 – 23rd minute) and then turned it around as goalkeeper Karim Hendawy made four saves in a row with Spain losing concentration again, unable to pick up a loose ball on the edge of their area three times in a row, leading to a superb basketball-esque spinning assist to Mohamed Shebib, who found space in behind the Spanish defence to make it 16:14 – the Egyptian's first two-goal lead (27th minute).
Just before the break, a deflected Yehia Elderaa shot made it 18:17 to the North Africans, but it should have been two and as the teams came out for the second period, fans inside the Jyske Bank Boxen were expecting a similar second half to the first, but unfortunately for the small band of fans supporting the Egyptians, Spain went on a 7:1 in the opening 10 minutes to get a clear lead they would not surrender again, going seven-clear (35:28) with five minutes left.
Despite the loss, the eighth-place finish for Egypt represents their best ranking since 2001, when they finished in fourth place.
hummel Best Player of the Match: Joan CANELLAS (ESP)
Statements after the match:
Jordi Ribera – Coach, Spain: I congratulate my team because even though they had victories and losses, they have been fighting in every game. The first half was really competitive with a few mistakes for both teams because of the importance of the game. In the second half we had one partial 7:1 scoring run and this was key to the win; this calmed us and controlled the game. We are happy to get the last place for the Olympic Games Qualification Tournament (from this championship). Now we can relax and start working and preparing our next activities for the future.
David Davis – Coach, Egypt: I am really satisfied and proud of my team. I cannot say how happy I am with them during the tournament - we did not win against the best teams, but we showed we can compete against them. For me this tournament was excellent, it was my first championship and we are building this project so, so far so good. It is a present to be here [at this stage]. Everybody enjoyed it and everybody has had minutes on court as we build for 2021.
Joan Canellas – Player, Spain: Egypt have had a really good performance at this championship, and I have to congratulate my friend David Davis, he deserved to be in a world championship, and I wish the best for him in the future. We knew how difficult it would be today because of the seventh place and maybe because of that we were nervous in the first half. Luckily, in the second half, once we were in front with the scoring, I think everything was a little bit easier, and we were not so nervous. This last game we have to be happy because of the qualification, but maybe the sensations of the team is that we want more. It was nice to play in Germany and the organisation was great, all the halls were full, just like here in Herning.
Yahia Omar – Player, Egypt: We had a great tournament and I want to thank the coach and staff. We have worked very hard to get in the top eight in the world again, our best in the last 18 years. The new (Egyptian handball) board has done a lot of great things for the team and I hope we will be ready for the 2020 Olympic Games or the next world championship, in 2021.