26 Jan. 2019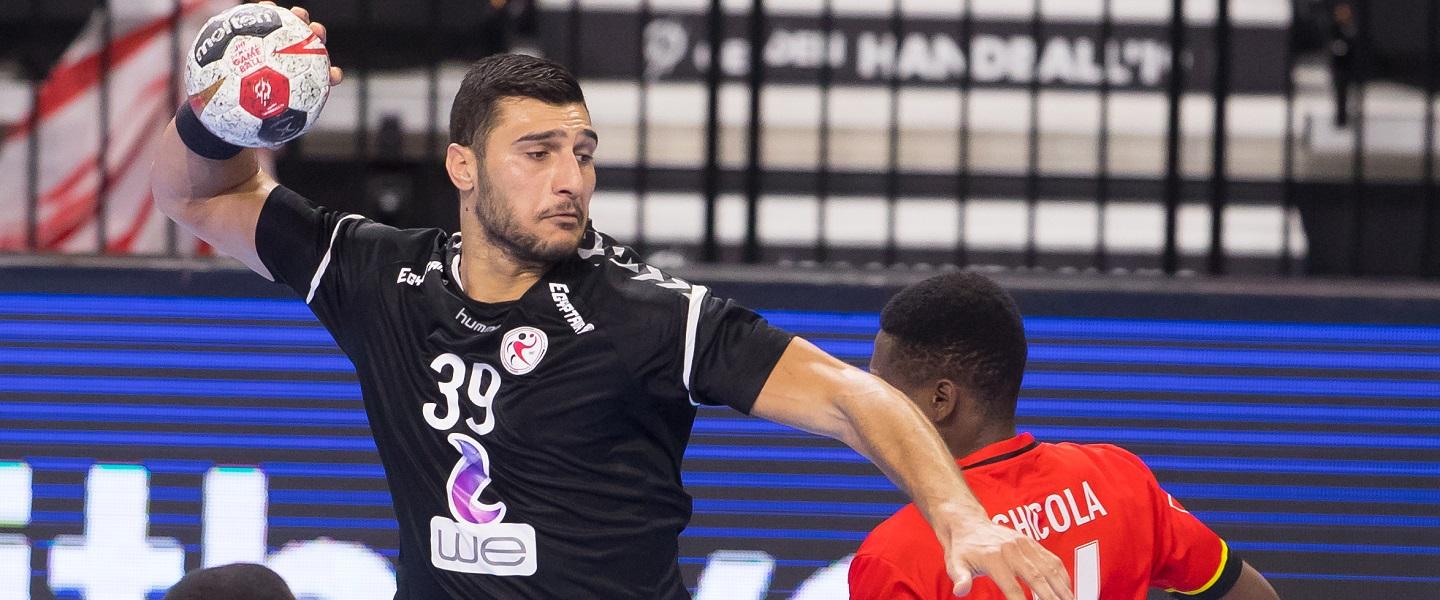 The 26th IHF Men's World Championship says 'Auf Wiedersehen' to Germany as the Jyske Bank Boxen in Herning, Denmark, welcomes the final four games, starting with the two matches in the 5-8 placement round later today (Saturday 26 January), ahead of the bronze and gold medal matches on Sunday (27 January).
The big clash on the penultimate day of Germany/Denmark 2019 sees Spain take on Egypt for 7/8 place and the final direct Olympic qualification tournament ticket from the 2019 IHF Men's World Championship. In the second match, Croatia and Sweden will battle it out for the honour of finishing fifth.
Placement Match 7-8: Spain vs Egypt (17:30hrs)
To add more spice to the match-up between the Europeans and Africans than the Olympic Qualification Tournament ticket, Egypt are coached by Spaniard David Davis, who was part of the Spain team who won the 2005 IHF Men's World Championship in Tunisia and silver at the 2006 EHF Men's EURO in Switzerland and was also a former teammate of now Spain team manager, Iker Romero.
Since joining in May last year, Davis has overseen an incredible improvement in the fortunes of the North Africans, as, whatever the result later today, it represents their best finish since fourth spot in 2001, plus the team looks to be in good shape ahead of their hosting of the next men's championship – in 2021.
For Spain, they had their first training session yesterday (Friday) at the Jyske Bank Boxen with coach Jordi Ribera putting his side through an 80-minute workout.
"Egypt has competed against all its rivals until now," said Ribera to the Royal Spanish Handball Federation. "They have gone from less to more and are certainly not going to do the simple things; they look for contact and are organised in attack. We have spoken in the last few months about the Tokyo 2020 Olympic Games and that is our goal -  to take the first steps, for Egypt being there is a real reward, for us, a responsibility."
Spain's main attacking threat, Ferran Sole Sala, has little chance of overtaking Mikkel Hansen in the top-scoring charts, with the Dane on 65 goals and still with a game to play, while Sole Sala, in second, on 51 goals, has just this final match to play.
He could drop even further down the rankings with Norway's Magnus Jondal and Sander Sagosen, along with Germany's Uwe Gensheimer less than a handful of goals behind him. But, according to the RFEBM, Sole Sala is now the all-time highest average goals per game scorer for Spain, with 155 goals in 33 games, an average of 4.69 goals internationally, surpassing Rafa Guijosa's record of 4.52 (538/119).
Ahmed Elahmar is the top-scorer for Egypt at Germany/Denmark 2019 with 33 goals, but the influential Ali Zein, just like EHF Men's Champions League winner Mohamed Shebib, has scored 27 times, with Zein winning the hummel Best Player of the Match award twice.
Injury news ahead of the game focusses around centre back Daniel Dujshebaev, recently brought back into the squad, who picked up an injury in the loss to Germany. He has ruptured his right ACL and is set to be replaced by Ribera.
Placement Match 5-6: Croatia vs Sweden (20:30hrs)
Croatia and Sweden have pride, and a position, to play for with both having already booked their ticket through to the Olympic Qualification Tournaments.
With 14 wins each in their history of playing each other, these two European nations have nothing between them in the past, with the teams meeting three times last year. At the 2018 Men's EHF EURO in Split, Sweden won 30:25, while a few months later, in April, Sweden won 32:25 in Eskilstuna and then lost 29:28 in Norrkoping.
If Sweden were to finish fifth, it would represent their second highest finish since 2003 (4th – 2011) – the same position Croatia finished last time around, in 2017.
Sweden lost their two final main round matches, against Norway and Denmark, to miss out on the last four, while Croatia beat the world champions France in their final match, but their previous loss to Germany saw them unable to make the semi-finals.
With his 18 goals so far in the tournament, Sweden's Kim Andersson has now moved up to eighth-spot in the Swedish men's all-time top-scoring charts (818 goals).
"We have already achieved our goal, but we aim to end this tough tournament as winners," said Croatia coach Lino Cervar to local media ahead of the game. "We know the Swedes very well because we played two friendly matches against them (recently).
"They play a fast centre and have a great transition, as well as several top players and we have motivation to win as they beat us last year in Split."