25 Jan. 2019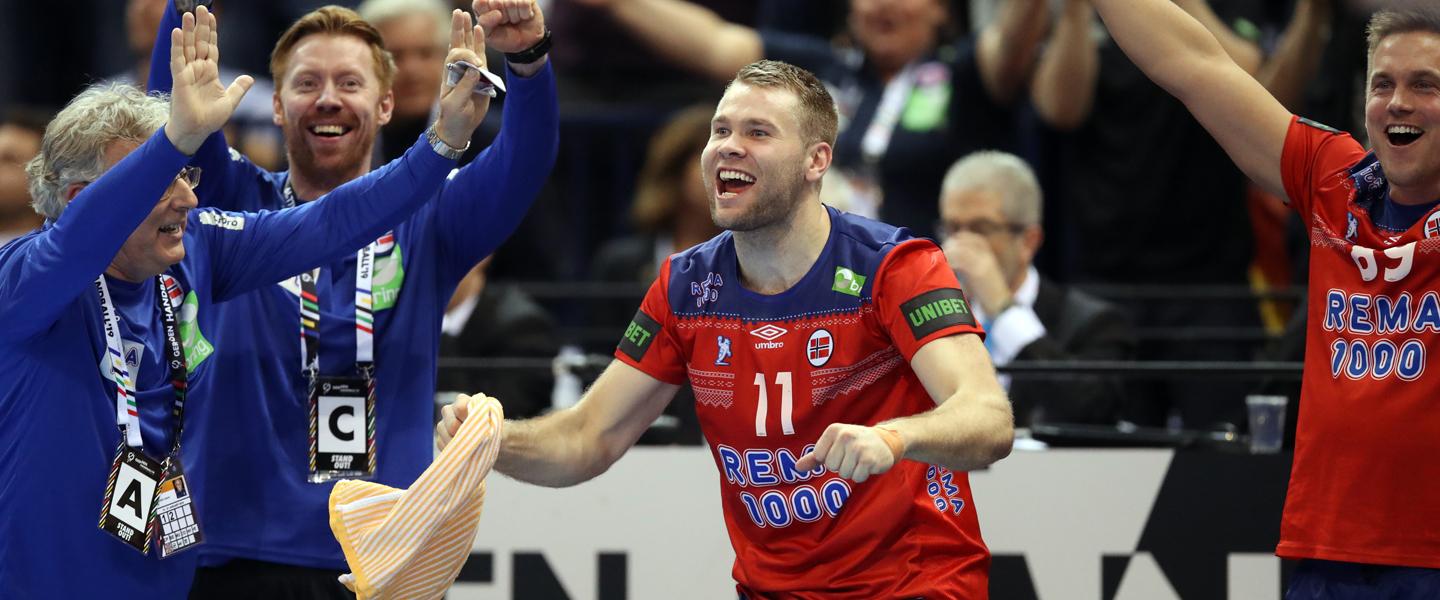 "Celebrate good times, come on!" is one of the lines from the classic 1980 Kool and the Gang song 'Celebration' and the familiar refrain was heard blasting from the victorious Norwegian changing room after their six-goal (31:25) defeat of co-host nation Germany in the second semi-final of the 26th IHF Men's World Championship earlier tonight.

Unfortunately for the sold-out crowd of 12,500 inside the Barclaycard Arena in Hamburg, it was the small group of Norwegian fans who were having a good time at the final buzzer as they saw 10 German-based club players in their national side, coached by former Bundesliga player Christian Berge, beat the home side and put them through to the final on Sunday where they will face Denmark, for the second time in this championship.
"Yes, but we can only celebrate for half an hour and then we're in the bus, having to prepare for the next game," said a smiling line player Petter Overby to IHF.info in response to if he would act out the song lyrics emanating from the changing room.
"We are going on the bus straight away to Herning, but it doesn't make a difference coming here for one match, it's about doing the things correctly when you regenerate: eating correctly and getting enough sleep. 
"From here (Hamburg) to there (Herning) it's nothing, it makes a little difference [being able to wake up in the same place as the match], but we have done this for many years, all of us, we know how it is - we know when we can be on and when we can be off."
Norway are the only team at the world championship who have now played both co-hosts – losing to Denmark in the preliminary round (30:26) and beating Germany this evening, but for HC Erlangen's Overby, playing in front of a host nation crowd is nothing new – and something to even use for an advantage.
"The first time we played a game like this was in the European championship in Poland, against Poland," said the 26-year-old about Norway's 30:28 win in the main round of EHF EURO 2016.
"We have had two games like this now where you know it is going to be a full arena and the fans will always cheer for the opposite team, but we use this energy for our advantage and we also think it is fun when they are booing at us."
After missing Norway's opening victory against Tunisia, Overby played just under 30 minutes in the Saudi Arabia win and then was replaced on 14 January ahead of the Austria victory, missing further wins against Chile and Egypt and that loss to Denmark.
Even though he returned to the squad against Sweden for their second main round match, he did not get court time, but featured in Norway's final main round match, against Hungary, resulting in a 35:26 win to set up the semi-final against Germany where he played for just under eight minutes.
This all had echoes of the 2017 IHF Men's World Championship in France when Norway won silver with Overby in the squad – but he did not play even a minute after joining the squad for their final preliminary round game all the way through to losing the final against France.
"For me personally, I feel like this tournament is above the France medal we won," said Overby. "Of course, that medal was the first medal for Norway's men, so it was a big moment for the country, but for me personally, this is a little bigger.

"I was in at the beginning here, but then I was sick for 10 days and I wasn't really sure that I was going to be fit to play, so it was fortunate for me that I could re-join the group and be part of this. I think I've done my part to make sure we got to this final and I am really happy about the way the team and me, personally, have played during the last three or four games. 
"I think we have raised our bar about how we are supposed to play when we meet greater opponents, but we are still hungry," he added. "We knew that when this tournament started that we could eventually come to the final and maybe take the gold medal, but it would be hard. 
"We are now here and still have that hunger to search for the next opportunity and to take it, and I think it will be a great opportunity on Sunday to take a medal that everyone wants."
After losing 30:26 to co-hosts Denmark over a week ago (17 January) in their preliminary group match in Herning, Overby believes that his side can get a positive result and finally get that gold medal to continue the history of Norwegian handball and winning championships.
"We know the Danish players inside out and we also know them personally," said Overby. "It hurts when you lose against someone you know as they may send you a message or a wink here and there, so I hope on Sunday that it will be us and I can do that. 
"But it will be super fun just to play and now we will have some fans. There were maybe 100 from 12,000 or so here in Hamburg and when we were four goals up with just four minutes left, the German fans were becoming a little bit uncertain about the result, and we heard them a lot.
"The interest in handball in Norway - and not only women's handball - has been increasing year-by-year and we are doing our part now."