25 Jan. 2019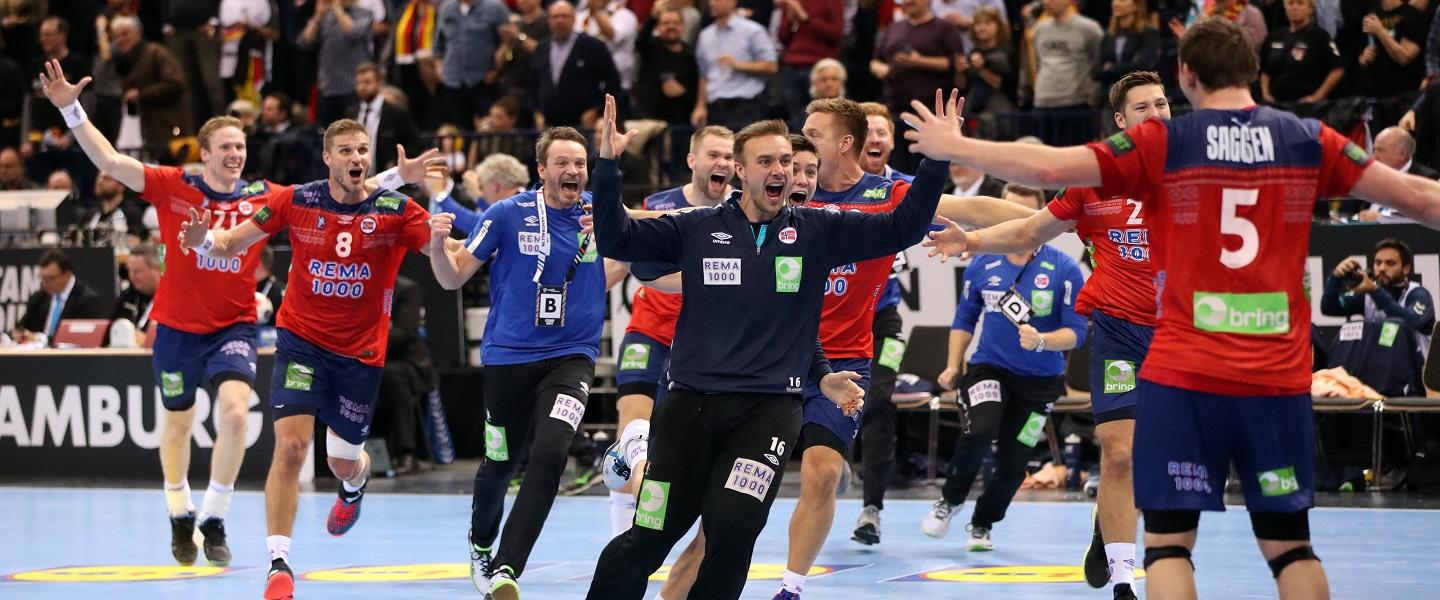 Norway became the second semi-finalist at the 26th IHF Men's World Championship following a tight match versus Germany, which saw the Scandinavian side take a narrow edge before half-time and hold on to the advantage against the fighting co-hosts until the final whistle. After reaching the final for the first time ever in 2017, Norway will have another chance to claim their maiden international title on Sunday when they meet Denmark in the trophy match. 
The result means that Norway have already secured what is only their second medal at a major international event, following the silver two years ago.
Germany vs Norway 25:31 (12:14)
Germany had the stronger start while Norway struggled to find their rhythm early on in a Barclaycard Arena full of 12,500 spectators mostly supporting the World Championship co-hosts. But after a great start from Germany, Norway came into the game and never looked back once they held the lead.
After Norway right back Magnus Rod scored his fourth goal to level at 6:6 in the 17th minute, Germany did not hold the upper hand again. Just like in the previous semi-final, the goalkeepers did not have their strongest performances. By the 20th minute (8:9), Andreas Wolff came out to be replaced by Silvio Heinevetter, who immediately saved a fast-break attempt – but ultimately could not help his team keep Norway at bay.
Norway pulled ahead in the closing minutes of the first half, threatening to take a three-goal lead into the break when they were in front 10:13 in the 27th minute. Both teams were without two players in the final minutes of the opening period, creating a four-on-four situation and forcing each side to take out their goalkeeper when in attack.
It was Norway left wing Magnus Jondal, consistently one of his side's top scorers, who created the two-goal gap at half-time off a penalty shot – and the game was still open for the second 30 minutes.
Wolff returned to Germany's goal to start the second period, but again left the court early for Heinevetter to replace him by the 40th minute. Norway temporarily changed to Espen Christensen, before Torbjorn Bergerud came back and proved a decisive factor as he made a save that kept his side in front by three, 25:28, within the final two minutes.
The situation already began to look ominous for Germany by the 44th minute, when Norway remained in front by three, 22:19. At that point, Hendrik Pekeler received his third two-minute suspension and with it a red card. Germany tried changing defensive systems and fought hard till the buzzer, but Norway were in control throughout the second half. The only blemish on Norway's victory was an injury to key back Rod, who left the court after contributing seven goals to the win. 
When Sander Sagosen scored his fifth goal with just over two minutes left, and Bergerud saved Germany's next attempt on goal, the victory was secured and Norway were on their way to their second consecutive World Championship final. Norway captain Bjarte Myrhol received the hummel player of the match award following his six-goal game.
Statements after the match:
Christian Berge, coach Norway: First of all, I want to thank Germany for the hard-fought game. It was a good game; a physical game. We wanted to fight for 60 minutes and we really tried, but my team was also tired. So, I am very satisfied.
Christian Prokop, coach Germany: Congratulations to Norway for their, for sure deserved, victory. They showed a good and clever performance tonight. We did not play at the optimum as we had planned for a such a big match like this, a big-point match at the end of this World Championship at home. But right now, the disappointment is very huge. Nevertheless, we have still one goal to reach and we will give everything for it.
Espen Lie Hansen, player Norway: Thanks to Germany for this match. I think we played smartly today with good defence and two goalkeepers who made important saves at the end. We played also smartly in attack and I am very satisfied with how we played today.
Patrick Groetzki, player Germany: First of all, congratulations to Norway. I think it was a deserved win by them. We did not manage to play, especially the defence, but also the offence, as we have done the last two weeks. It hurts a lot right now because I think the people outside in the arena, they deserved the final. I feel empty now, the team feels empty now, but we have another match in two days and we want to win the bronze medal