25 Jan. 2019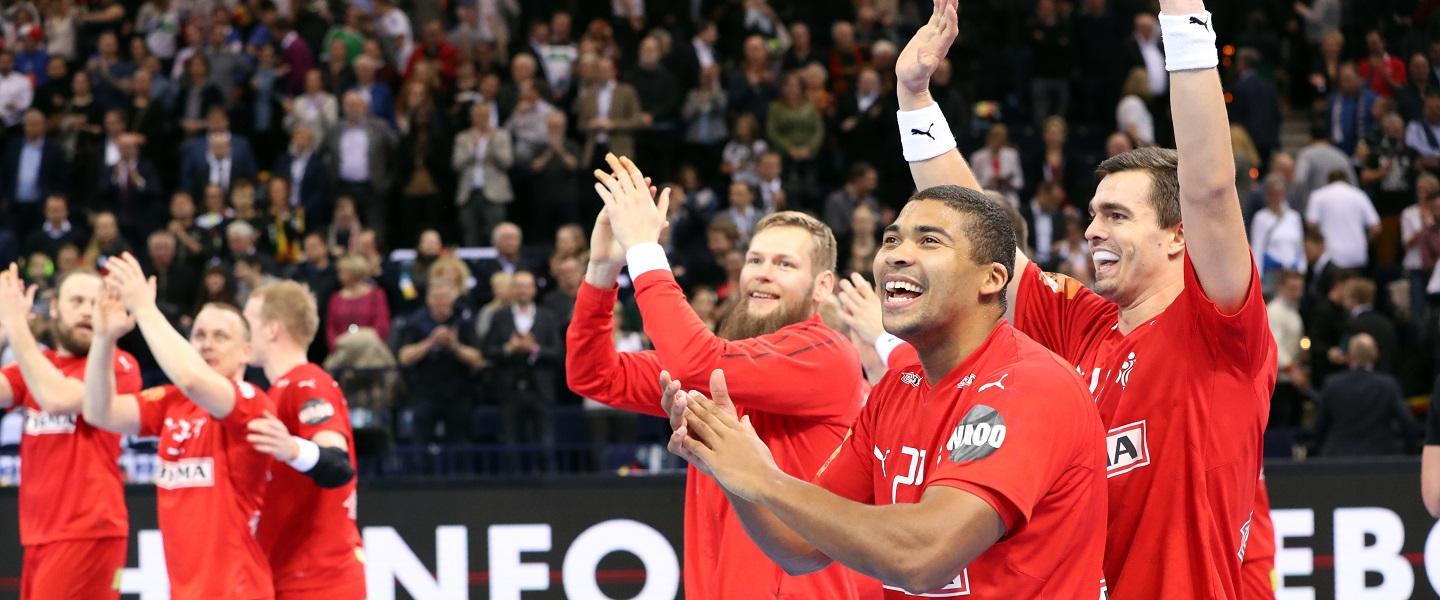 Denmark will have the chance to fight for their first ever IHF Men's World Championship trophy on Sunday at home in Herning, after a commanding victory over France in the opening semi-final on Friday night. The Olympic title holders repeated their feat from the Rio 2016 final, beating the defending champions France and ending their chance to claim a third gold medal in a row – just as they did two and a half years ago in Brazil.
It is the first World Championship semi-final France have lost since 2007 – coincidentally, an event which also took place in Germany.
Denmark vs France 38:30 (21:15)
It was expected to be a close match in the battle for the first ticket to the final, but Denmark took control early and essentially sealed the win by half-time, when they led by six goals. Star left back Mikkel Hansen was once again in scorching form, tallying a total of 12 goals and receiving the hummel player of the match award.
It was not a day for the goalkeepers, all four of whom have shown themselves to be decisive in their ability to help either their national or club teams win big matches in the past. France started with Vincent Gerard between the posts, but after recording zero saves, he was replaced by Cyril Dumoulin in the closing minutes of the first half. The change did little to help, as Denmark were simply unstoppable.
While France are traditionally known for having the best defence in the world, Denmark have made a name for themselves in that department at the World Championship they are co-hosting with Germany. However, they were not able to rely on the strongest game from captain Niklas Landin, who also left for the bench in favour of second keeper Jannick Green in the last minutes of the opening half. 
At the other end of the court, France had no answer for Denmark's attack. Hansen ran riot against the 6-0 defence and was certainly the stand-out attacker for his side with his incredible number of goals – but he was not alone. Rasmus Lauge once again had a world-class performance, tallying six goals, while others such as left wing Magnus Landin (three goals), right wing Lasse Svan (four) and line player Anders Zachariasson (five) had perfect games at 100% accuracy.
Even with two-minute suspensions Denmark maintained their lead or increased it. During those periods, the Scandinavian side took out their keeper but did not concede any long-range goals. France, on the other hand, did allow some successful shots into their empty goal, including two from Niklas Landin. These details showed the difference in form and preparation between the sides, confirming that Denmark are in exceptional shape – and could very well be poised to take what would be their first men's world title in history when they take the court in Jyske Bank Boxen on Sunday.
From 21:15 at half-time, Denmark hit a 10-goal advantage, 32:22, off a shot from Morten Olsen just inside the last quarter – and the ticket to the final was clearly decided at that point.
Statements after the match
Nikolaj Jacobsen, Coach DEN: First of all, thank you Didier, Michaël and France for this match. We were very excited for today to play against probably the best team in the world. So, we knew, we have to play on the highest level, if we want to win. My players played on an extremely high level over 60 minutes. We played an amazing attack, we found good solutions, our shots were impressive from Morten, Mikkel and Lauge, the two wings did not miss anything and did an incredible game, and mostly the goalkeeper Jannick who came into the match in the second half and made a lot of important saves, so we could stay in lead with seven or eight goals. I did not think that I have to say, we are very happy, very pleased and very proud to play the final next Sunday in Denmark. It will be a very, very big match for us.
Didier Dinart, Coach FRA: First of all, I congratulate the Danish team. They played very great tonight, so congrats again. It is not easy for us to lose, of course, because we have to create good results event by event. Everybody expects a good result by French team. But tonight, we have to accept that the Danish team was better on the field of play. I just want to say, that we have to keep the best from today for the bronze-medal match on Sunday. I know that it will not be easy to do it. It is going to be a psychologic and physiologic fight for us to recover and play again on Sunday.
Morten Olsen, Player DEN: For me, it was really an exciting match. We have played an amazing game from the first minute. Everybody took part of the game and played his best and close to the limit. It is a really great feeling that we won today and come back on Sunday to play at home in Herning in front of 15,000 spectators who will be for us. It is really a great experience and I hope on Sunday we can take the gold medal, too.
Michaël Guigou, Player FRA: Congratulations to Denmark. As Didier has said already, the Danish team played well. They knew to get the benefits out of our mistakes on the field of play. During the match, the gap was going up, especially during the first half. It is not easy to play against Danish team with big confidence. I hope, as Didier said, that we can play a good match as we did last year in Croatia and to get the bronze medal. As you know, it is very important to leave the competition with a medal and with a good result.