24 Jan. 2019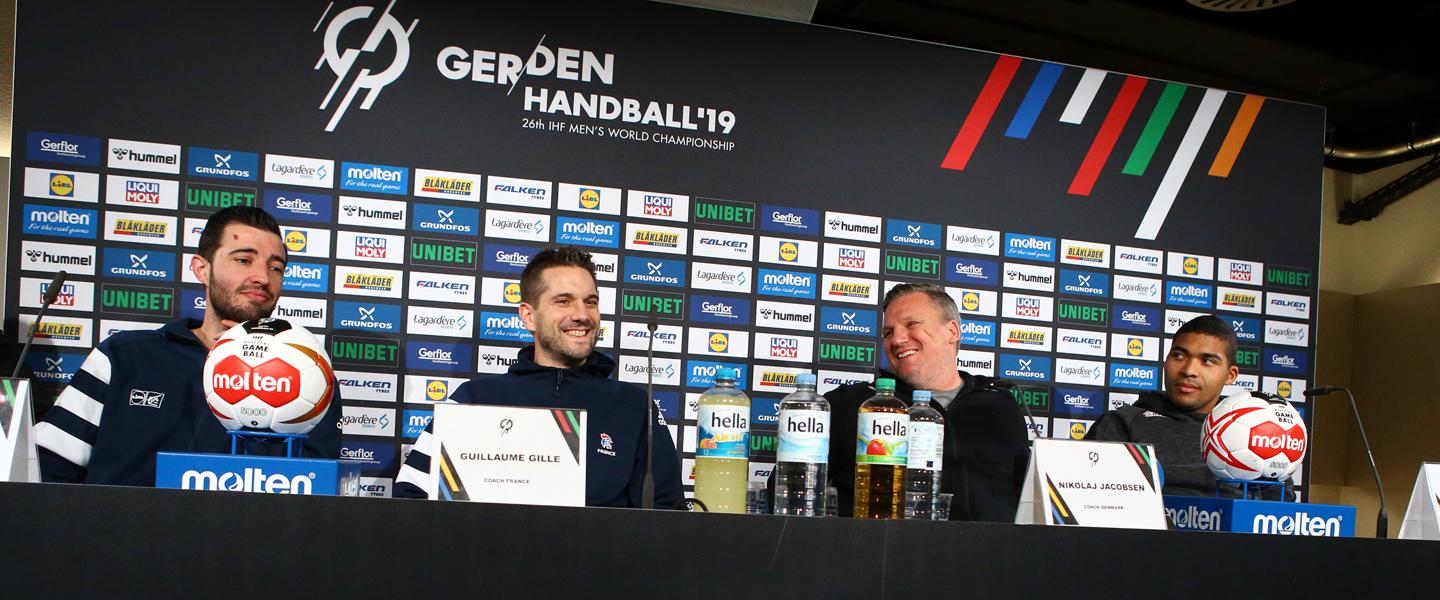 Ahead of the semi-finals of the 26th IHF Men's World Championship tomorrow in Hamburg, all four teams have been speaking to the media.
In front of a packed media conference of over 100 of the world's media in the Barclaycard Arena, first up was Denmark Coach Nikolaj Jacobsen and centre back Mads Mensah, alongside French assistant coach Guillaume Gille and goalkeeper Cyril Dumoulin with all four present happy to be in Germany.
Jacobsen hoping for home support

"Overall we have played a very good tournament until now and if you don't do that then you don't arrive in the semi-finals," said Jacobsen, who is also coach of Bundesliga team Rhein-Neckar Lowen and used to play for THW Kiel. "All four teams in the semi-finals have played a great tournament up until now.
"We are very happy that we are amongst the last four team and we are looking forward to playing, maybe, the best team in the world and the best handball nation at the moment. The French are not just doing a great job with their senior teams but their youth teams too, and it is very impressive with the work in France that they have done.
"I have a lot of respect for what Didier and Guillaume have done with their teams, they play very good and physically, they play fast with very good tactics and it will be a very difficult game for us tomorrow," he continued. "But, if we play a good game and our key players can have a good game, then we have a chance - we always have a chance. When you come to these kind of games the little things can decide and I hope tomorrow we have the little things on our side."
For Denmark, it will be their first – and only – game outside of their home country after playing eight straight at the Jyske Bank Boxen in Herning, but Jacobsen admitted that it will not be an issue playing in front of a crowd that is not near-100% Danish.
"I don't think it will be a problem for us," he said. "Of course, it has been a great pleasure for us to play in Denmark in front of the crowd, but we hope the Germans will cheer for us. We have a lot of players playing not so far away from Hamburg so hopefully that will help a little bit.
"I don't think it makes a difference if you play against France or Germany because both teams are very strong. Even when we found out it was Germany or France (who we could face in the semi-finals) we just wanted to secure (our place) in the semi-finals."
Gille returns to second home

French assistant coach Guillaume Gille was returning to familiar ground having played in Hamburg, for HSV, for 10 years and the city being the birthplace of his children.
"It is crazy for me to speak English in Hamburg, instead of German, as Hamburg is my second home," said the 42-year-old. "But we are very happy to be here and be part of this final round along with all the good teams with us.
"Tomorrow will be very tough for us as we both know each other very well and have played each other in the last tournaments a few times (EHF EURO 2018 bronze match, Olympic Games 2016 final, group match).
"We know all the spectators are waiting for a Germany vs Denmark final and we will try to be the little element to write this story in the 'wrong' way. It will be difficult, but we have some qualities we can use, but see tomorrow what sort of game it will be, but it will be very exciting for us to be there and to try and reach the final."
Rhein-Neckar Lowen's Mensah looking forward to clash against the 'best'

One Danish player who played in both the EHF EURO bronze match and Olympic final is Mads Mensah, and revealed that, despite his side winning eight-straight games, they are not the favourites ahead of their clash against the defending world champions.
"I expect it to be a very difficult match and if we are going to take a win our best players have to be at the top level," said Mensah, who joined Rhein-Neckar Lowen in 2014. "On paper, France have the best 16 players in the world, so some of our guys have to deliver some of their best and then I am sure that we can make it an even game, and anything can happen
"We will need to be at our very best if we want to go the final."
Dumoulin looking to repeat French success in Hamburg

The last handball media conference to take place in the room was after the final of the 2017 IHF Women's World Championship, won by France, who defeated Norway in the gold medal match, and for goalkeeper Cyril Dumoulin it could be a good omen.
"This is a good place for us as France have a lot of good memories here," said the HBC Nantes player. "We will see what happens tomorrow, and it will be a very hard game, we really want to play it because we worked very, very hard and now we just want to enjoy it. 
"Like our coach says, we want to make our story and not the story that everyone expects."

In the second semi-final press conference of the day, Norway coach Christian Berge and player Kristian Bjornsen spoke with the media ahead of German coach Christian Prokop and player Fabian Bohm (click here for a feature).
Berge plays down insider German knowledge, revenge

Having played for SG Flensburg-Handewitt for a number of years in the late 90s and early 2000s, Norway's head coach Christian Berge was asked about his in-depth knowledge of German handball and the fact that 10 of his squad of 16 play their club handball in Germany, as well as facing a host nation again in the tournament. 

He also talked about possible revenge for his sides' 34:33 defeat at the Men's EHF EURO 2016 semi-final in Krakow, Poland, with Dagur Sigurdsson's Germany winning after additional time as they went on to lift the trophy.

"I think tomorrow it won't be a special semi-final (because it is in Germany) - a semi-final is a semi-final," he said. "It's another game, we are looking forward to playing the game and we will try and enjoy ourselves.
"We played in Denmark already (hosts) with a bad result so we will try and do better tomorrow. Germany play very physically in defence; they have a good goalkeeper and we will try to keep them moving in defence because it one-on-one happens it will be a very difficult game for us.

"No, I don't think it makes a big difference about our players in the Bundesliga and we're not thinking about that (getting revenge for Krakow). Tomorrow is a new game in new times, it was hard to lose that, but we have learned something since then."

Home crowd will make it hard says HSG Wetzlar's Bjornsen

Norway's right wing Kristian Bjornsen has played in all eight Norwegian matches so far which have included seven wins and one loss, against Denmark in the preliminary round.

"For us it has been a good way," said Bjornsen about Norway's journey at the championship so far. "At the start we played some easy games, but then we met Denmark and lost. We wanted revenge directly and we got that in the main round, so now we are here in Hamburg before going back to Denmark tomorrow night.

"It will not be an easy game (against Germany), with all the spectators on the home side, so it will be a difficult game for us, but we are looking forward to it."

German coach in familiar surroundings, keeping things normal

"We are proud to be here in Hamburg playing in the semi-finals," said 40-year-old German coach Christian Prokop. "We are looking forward to the game against Norway. We had a later departure from Cologne this morning which meant we could sleep a little bit longer.
"We know this place because we came here three weeks ago for preparation. We hoped to be here, but there were a lot of hurdles to overcome, opponents with big names, to reach the semi-finals but we could still live our dream.
He also addressed potential injury concerns for players Steffen Weinhold and Hendrik Pekeler before answering questions about Norway's key player, Sander Sagosen and the threat he posed.
"Both of them are fit," said Prokop about Weinhold and Pekeler. "Tomorrow we will have the full squad of 16 available and that's what you need when you are one of the last four teams.

"Sagosen is, for sure, one of the biggest names for Norway. He's an exceptional player, especially in moments when Norway needs his help, he is there and because of that he is playing for one of the biggest clubs in the world (Paris Saint-Germain).

"But you can't reduce Norway to just Sagosen, you have to look at the essential components of the game and there are more than just Sagosen. If you have a look at the matches they have played already, you can see a lot of parallels to the game we play. They are a team who make a lot of goals through fast-breaks and try to score easy goals. They have two wings who score precisely but they are known to us and our goalkeepers. Alongside Sagosen, (Goran) Johannessen and (Christian) O'Sullivan are two dynamic players who can open up our defence.

"They have a fighting spirit and a good tactical concept from Christian Berge, I like him very much -  he's a tactical fox, a wonderful person that has coached for years.

"Norway have continually improved on their way up to the top, but for us, we did not have a preference for who we played in the semi-finals – we just take each opponent as they come."

The 2019 IHF Men's World Championship semi-finals will both be played on Friday 25 January. Denmark and France will be played at 17:30hrs and Germany vs Norway will take place at 20:30hrs (local time). For information on where you can watch CLICK HERE.