23 Jan. 2019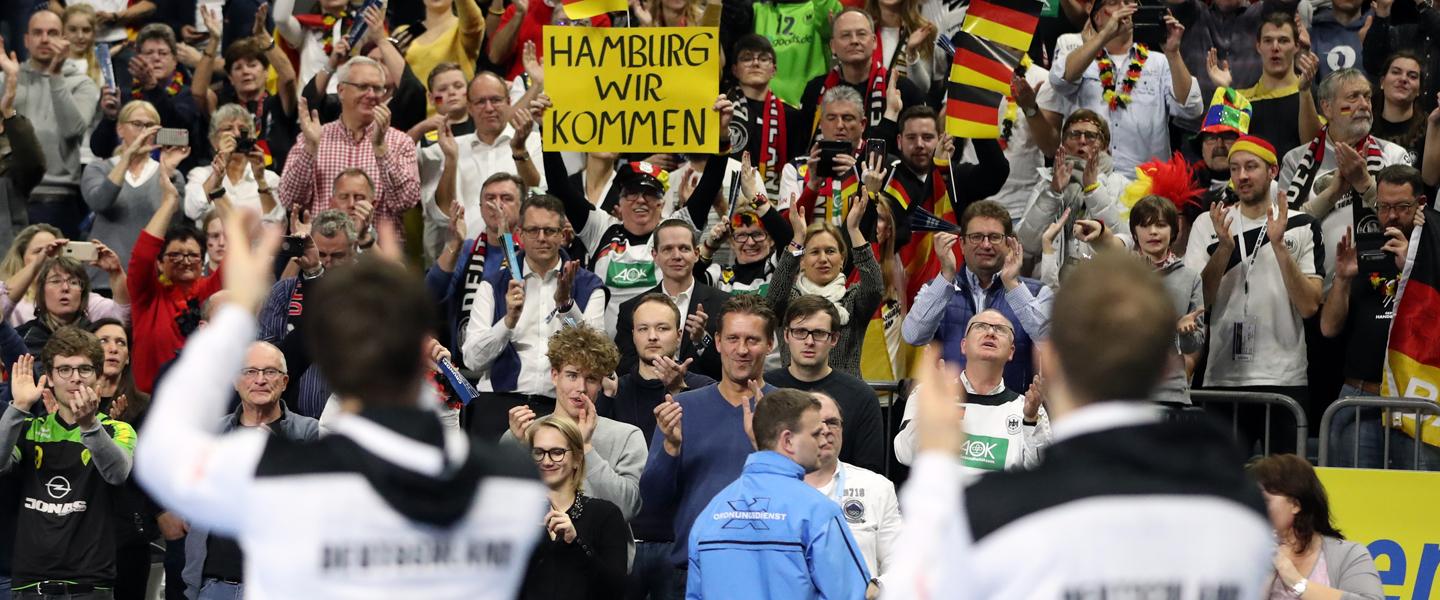 Christian Prokop's Germany side made it three main round wins out of three – and kept their unbeaten competition record intact – after defeating 2018 EHF EURO champions Spain in the final game of Germany/Denmark 2019 at the LANXESS arena in Cologne, the home of Germany's 2007 IHF Men's World Championship final victory.
Germany vs Spain 31:30 (17:16)
Another sold-out 19,250 crowd witnessed the sixth win of Germany at their co-hosted tournament to confirm their top spot in Main Round – Group I and finish ahead of world champions France. 
The result means that Norway now await the Germans in the semi-finals in Hamburg on Friday night (20:30hrs) and that on Saturday in Herning, Croatia will play in the 5/6 Placement Match against Sweden and Spain will face Egypt for seventh place - the last direct Olympic Qualification Tournament spot from Germany/Denmark 2019.
The first half was extremely tight with the score difference rising to two just once (3:1), to Germany in the fifth minute, while the second half saw the home nation go three in front, thanks to Kai Hafner (20:17 – 36th minute), and then four ahead through overnight player replacement Tim Suton (23:19 – 41st minute) as they attempted to break free of Jordi Ribera's side, which they did until the end of the game, but Spain are not champions of their continent without good reason and came back within one again.
A time-out from Ribera in the 56th minute attempted to calm his troops and cause even more nervousness amongst the majority German-supporting crowd inside and when Alex Dujshebaev scored again to make it just a one-goal difference (30:29 – 59th minute), Germany knew they had to take the next scoring opportunity, but Paul Drux turned it over, stolen by Aleix Gomez, who subsequently passed to Alex Dujshebaev. He set up Viran Morros in front of goal to bring it back level, but he saw his shot saved by Silvio Heinevetter and the match was almost over.
Germany subsequently went on the attack, but Prokop took a time-out and following the pause Jannik Kohlbacher found a gap in the Spanish defensive line to sink home his third goal in a row for the Germans and put his side two up again with just 18 seconds remaining and confirm the points.
Despite Dujshebaev striking in the last few seconds to make the difference just one, there was not enough time left on the clock and Germany took their second consecutive one-goal victory.
hummel Best Player of the Match: Fabian BOHM (GER)
Statements after the match
Christian PROKOP – Coach, Germany: Thank-you Cologne for the main round days, the atmosphere in the arena carried us to the victory against Croatia, and in contrast to that match the pressure was not so high today so we could be a little bit more relaxed. This is a good base for the rest day, and we look forward to going to the semi-finals with good emotions.
Jordi RIBERA – Coach, Spain: After what happened in the Iceland vs Brazil and then France vs Croatia matches today we did not go up in the positions from the main round, but I am really proud of my team – they were fighting to get this win and the two points. Almost all 16 of our players played in this game and we were making lots of rotations in our defence. We deserved at least one point in this game but in the end, we didn't have the luck to get this point and made some mistakes in our attack. We will take a rest now and think about getting seventh place and the Olympic Qualification Tournament place – we will fight for that.
Fabian WIEDE – Player, Germany: Thank-you to Cologne. It was an incredible support from the fans here – in every match. Even though the relevance (today) was not so high, the fans and us as players gave all they can. We wanted to say goodbye in a victorious way. We are looking forward to Hamburg.
Viran MORROS – Player, Spain: We made a great effort today and maybe we lacked some luck, but the team was fighting and trying to play two different defences which both worked OK, in the end Germany deserved the win. We have to focus on our next game which is really important for us – the Olympic Qualification Tournament.