23 Jan. 2019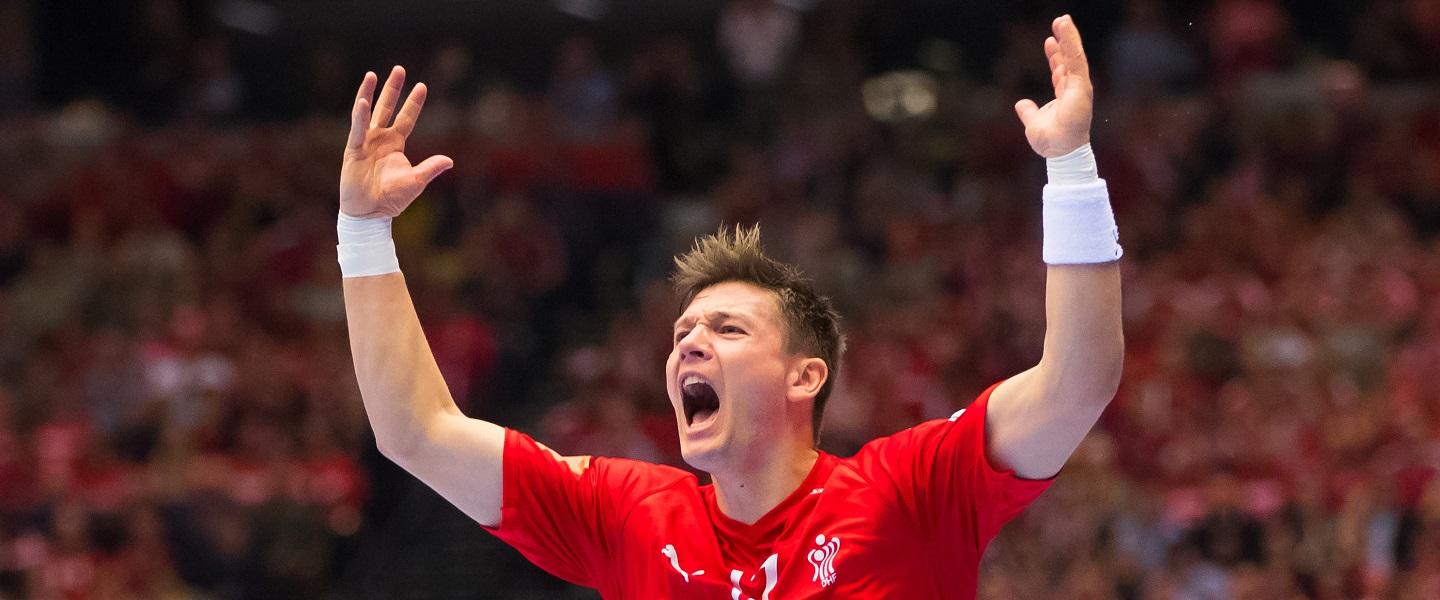 It all came down to the final main round buzzer in Jyske Bank Boxen, Herning, when Denmark recorded a victory over Sweden that decided the two remaining places in the 26th IHF Men's World Championship semi-finals. With the result, Denmark maintained their perfect record and moved up to 10 points, while Sweden remained on six.
Norway had taken their own tally to eight points earlier in the evening, when they defeated Hungary, and therefore celebrated the co-hosts' win as it also booked their semi-final ticket.
Sweden will contest the placement round for rankings five to eight alongside Egypt, who secured fourth in the group with their victory earlier on Wednesday night.
Denmark vs Sweden 30:26 (13:13)
It was the match that would decide everything, and the 60 minutes delivered a thrilling contest featuring all the ingredients for a top-quality match: strong defence, a great goalkeeper duel between Niklas Landin and Andreas Palicka, fast counter attacks and solid all-round attacking performances.
It was a level game through to the last quarter, when the outcome was decided largely thanks to the increasingly superb game from Denmark captain Niklas Landin, who was named the hummel player of the match. The goalkeeper stopped shot after shot, and Sweden could not close the deficit against them.
In the first half, EHF EURO 2018 runners-up Sweden clearly outscored Denmark on fast breaks, and capitalised on a numerical advantage around the 20-minute mark to open a two-goal distance at 9:7. But by half-time, Denmark had made their way back to an equal score and both recorded almost the same attacking efficiency, leaving all to be decided in the second 30 minutes.
Denmark balanced Sweden's fast breaks with their positional attack, led by top scorer Mikkel Hansen (six goals). Nikolaj Oris was once again key in the opening minutes, scoring the first three goals for Denmark before Sweden's defence tightened up on the right back and kept him off the board for the rest of the game.
Denmark changed from 6-0 defence to 5-1 to start the second period, with Magnus Landin – who has become increasingly important for his side in both attack and defence throughout their campaign – in front. After 15 minutes, they had claimed the upper hand, and Rasmus Lauge took them to a three-goal advantage, 23:20 just before the final quarter began.
As Denmark held a steady lead and the clock ticked into the last 10 minutes, Sweden also changed to 5-1 defence and swapped Palicka for Mikael Appelgren, but it was the hosts' dream that was meant to continue. Although Sweden fought hard to come back, Landin made save after save, and the vital two points that would take Denmark – and carry Norway with them – to the semi-finals were secured when Morten Olsen took Denmark to a 29:24 advantage with just over two minutes left.   
Statements after the match:
Nikolaj Jakobsen, coach Denmark: Firstly, I would like to say thank you to Sweden for a tough match. Both teams knew what was at stake for this game. Everyone was nervous. There were a lot of mistakes. We were behind and had lots of misses on their great goalkeeper, but we kept coming back. Niklas [Landin] made great saves in the goal. Ended first half equal.
We were still nervous to begin with in the second half. I think Niklas in goal and the 5-1 defence were the reasons we won. Maybe we won by too much. Sweden is a good team. I like to play against them.
Kristjan Andresson, coach Sweden: Firstly, congratulations to Denmark with the semi-final. We lost to a better team today. We fought, but Denmark was better. We had a lot of speed and many chances. We just couldn't keep up. I wish Denmark the best of luck in the semifinals.