23 Jan. 2019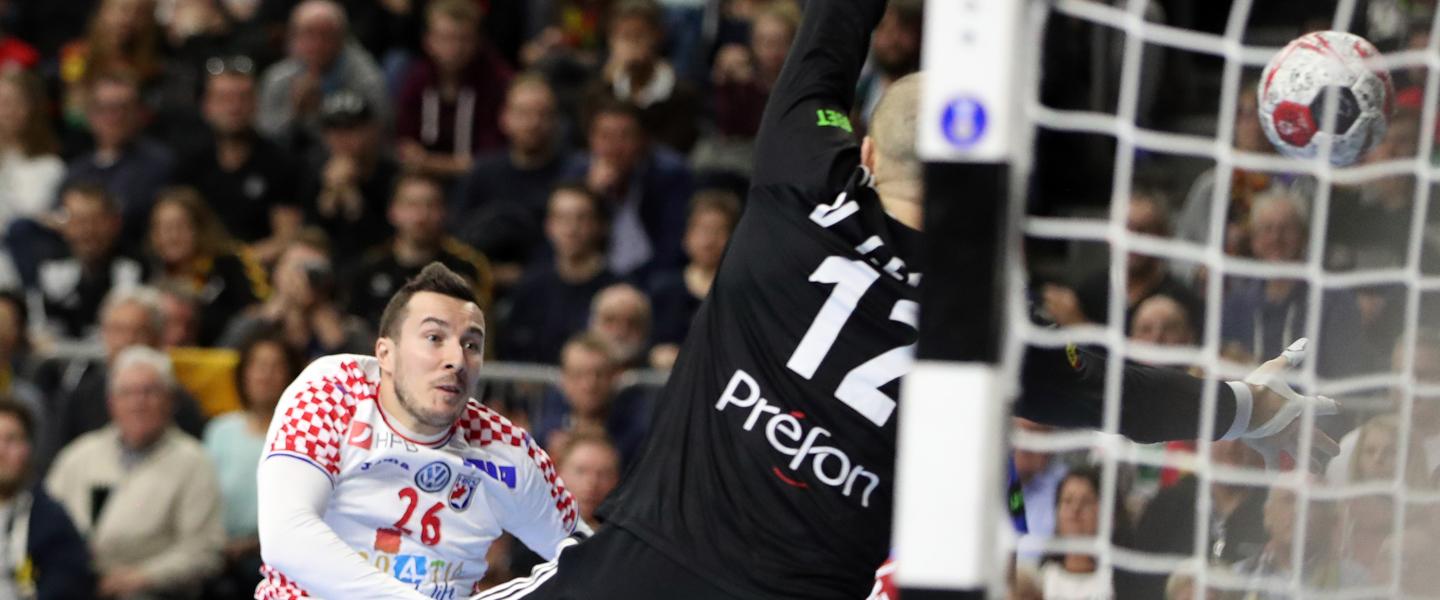 The penultimate match of Main Round – Group I saw Croatia confirm their 5-8 placement round spot and stay in with a chance of booking a ticket for the Olympic Qualification tournaments, set for April 2020.
France suffered their first defeat of Germany/Denmark 2019, but gave court time to all but one of their players ahead of their semi-final clash on Friday in Hamburg.
France vs Croatia 20:23 (11:11)
The first goal in this encounter of the two big European handball nations came after three minutes when Nikola Karabatic set up Nedim Remili for the opening strike and then assisted with the next two goals for Didier Dinart's side, who had already confirmed their place in the final four before the match. 
Their opponents Croatia had all to play for though, hoping to avoid a loss to keep their dreams of booking a direct Olympic Games Qualification Tournament spot alive through a place in the 5-8 round.
The first half saw the lead change a number of times with both sides having 3:0 and 2:0 runs, but by half-time the teams were deadlocked, as both goalkeepers - Marin Sego for Croatia and Vincent Gerard for France - had made 13 saves between them, emphasising the defensive nature of the contest. As ever, Zlatko Horvat was a key player for the Croatians, scoring five times in the opening 30 minutes as his fifth brought the scores level before the break (11:11).
With 17,191 fans inside witnessing a tough battle, it took two Croatian strikes from David Mandic at the end of a 3:0 run inside the first 10 minutes of the second half to put another two-goal gap between them and France, and this time, it would not be caught (15:13 – 39th minute). Following another 3:0 run just before the 50th minute mark, the game was over as Horvat made it 20:16 (50th minute).
For his 10 saves in the match (36%), Sego was awarded the best player of the match, Horvat ended with seven strikes from seven attempts, while Melvyn Richardson ended with five strikes from five attempts for France.
Both teams now await the final match of Main Round – Group II between Sweden and Denmark to find out their opponents, for France, in the semi-finals, for Croatia in the 5-8 Placement Round.
hummel Best Player of the Match: Marin SEGO (CRO)
Statements after the match

Lino CERVAR – Coach, Croatia: We deserved to win because we played with great enthusiasm, persistence and character. Our defence was strong with density and in attack we had many solutions. I am today very happy.
Didier DINART – Coach, France: Croatia fought for one hour, it is true that they were at 100% as it was very important for them to reach the tournament for Olympic qualification and from our side, maybe as we have qualified for the semi-finals already, we didn't give our best tonight.
Jakov VRANKOVIC – Player, Croatia: The defence was good, and we only let in just 20 goals and this is the way we need to play, we showed that if we (concede) 20 goals, we can beat anyone, it doesn't matter if it is Spain or France, we will find it hard to lose against anybody. It is strange that we have beaten the world and European champions and we are not fighting for the semi-finals because of one bad half against Brazil, but this is sport, and this is life. I hope we will take some lessons for the future competition.
Nedim REMILI – Player, France: It was a tough, hard match, because the Croatia defence was very strong. Croatia made a gap and we were not able to improve and come back at the same level and at the end the gap is not so strong, we are a little upset, but we don't need to think too much about this defeat, and we can look forward to the semi-finals.