23 Jan. 2019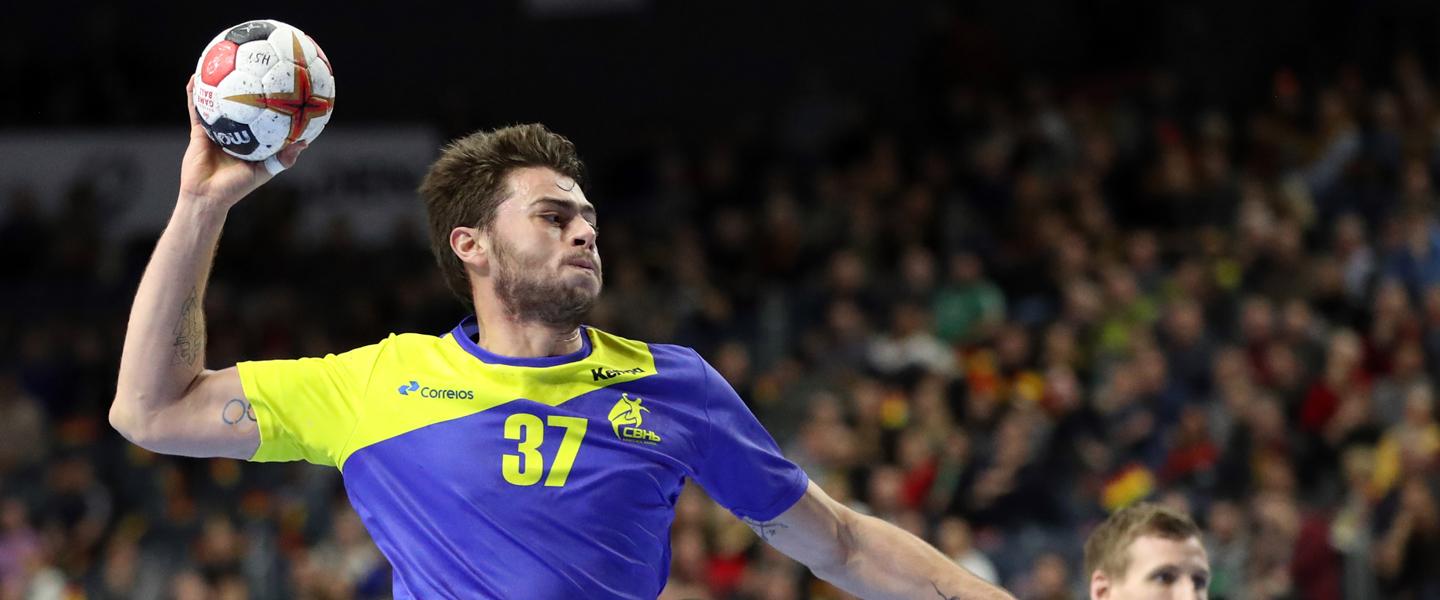 The South Americans, in unchartered territory in an IHF Men's World Championship, did all they could to give themselves the best chance of qualifying through to the 5-8 placement round, and a place at the Olympic Qualification Tournaments, by beating Iceland 32:29 in the opening match of the final day of Germany/Denmark 2019 at the LANXESS arena in Cologne.
Brazil vs Iceland 32:29 (15:15)
Now they wait. After their win against Croatia earlier on in the main round, Brazil were hoping to not only get a victory against Iceland in this match but hoping for other results to go their way later in the day. 
While they cannot control what happens later, they certainly controlled this one as they left Iceland with their third defeat in three main round games.
Brazil already had a 5:0 lead after seven minutes, as Gudmundur Gudmundsson's Iceland failed to start in a concentrated and quick way and Gudmundsson addressed the malaise by taking his first time-out soon after. Slowly they came back, but it took them the whole rest of the half with Sigvaldi Gudjonsson equalising (15:15) with just over 20 seconds left.
Up until the last quarter the game was even, but when Haniel Langaro gave his South American side a two-goal lead (26:24) in the 49th minute, they were not caught again.
Poignantly for Iceland, their last goal of this world championship was scored by Elvar Orn Jonsson, his seventh of the match.
This goal reduced the Icelandic deficit to just three (32:29), but in what Gudmundsson has repeatedly described throughout the championship, his side is a young team in the early stages of a three-year project.
Jonsson epitomises that project with the 21-year-old – who scored 23 goals at the 2017 IHF Men's Junior World Championship in Algeria in the summer of 2017 – playing in all eight Iceland games at Germany/Denmark 2019 and one of six players in the 16 today who are 21 years old or under – Haukur Thrastarson again came onto the court, with the 17-year-old making another brief appearance.
While the future looks bright for Iceland, for Brazil, they could make even more history later today – if results go their way. If not, this championship has already been a success.
hummel Best Player of the Match: Jose TOLEDO (BRA)
Statements after the match:
Washington NUNES DA SILVA – Coach, Brazil: I have a lot of respect for the Icelandic coach and the Olympic title they won in Rio, but I am very happy with the result today. Even though they had injured players, Iceland are still a very hard team to beat and I am very happy with the result and the players. Our defence worked well today, and we had a lot of problems with the counter-attacks of the Icelandic team. This last game of the main round leaves us happy and very, very proud, we just did our best performance at the world championship and it looks good for the future.
Gudmundur GUDMUNDSSON – Coach, Iceland: We started very bad, making it a 5:0 game to Brazil, but we were fighting well towards the end of the first half. We started the second half the same way we started the first and even though we came back it was too much in the end. They played very well in attack and defence and they deserved to win the game. 
Henrique TEIXEIRA – Player, Brazil: Their fast-breaks were hard to defend as they are fast, but we had a good game in attack.