21 Jan. 2019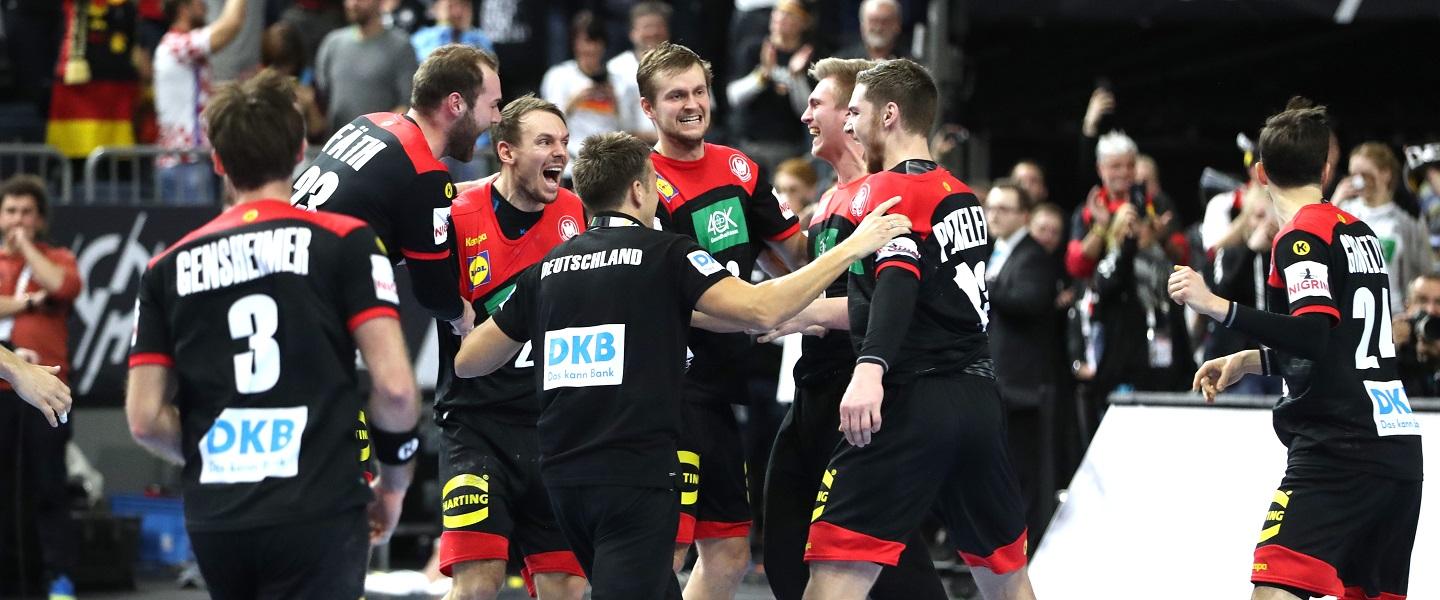 A physically-tough and emotionally-draining match between Croatia and Germany entertained right until the end for the 19,250 spectators inside the long sold-out LANXESS arena and many more millions watching on TV and online around the world.
The result means that the two teams which will progress from Group I are already confirmed – France and Germany, while Spain and Croatia now cannot qualify through to Hamburg.

Croatia vs Germany 21:22 (11:11)
The pressure on both teams ahead of this match-up between two of the world's biggest handball nations was evident even before the opening whistle with players on both sides contemplating what lay ahead over the next 60 minutes during their national anthems through a mixture of nervous movements and quiet contemplation.
But Croatia got off to the better start with Igor Karacic opening the scoring, helping to keep the co-hosts out of their net for nearly four minutes, before Uwe Gensheimer, supplied by the eventual best player of the match Fabian Wiede, buried Germany's first strike into the bottom of Marin Sego's goal.
With Andreas Wolff doing his usual business in goal for the home side, Germany seemed to settle, but the flow of the game stopped dead when centre back Martin Strobel, attacking the Croatian goal, pivoted onto his left side, only to see his leg crumple under him. Tests later revealed an anterior cruciate ligament injury to his knee.
While the game stopped for nearly three minutes so the player could receive treatment and then be carried off, Germany set about drawing level, but they found it hard to get past the Croatian defence, led from the back by Sego.
With an opportunity to draw level in the 12th minute with a penalty, Gensheimer could only strike the post and when Croatia went in front by two (6:4), Germany coach Christian Prokop took his first time-out (13th minute).
The pause helped the home side as they came level in the 17th minute (7:7) and then went ahead soon after (21st minute). Now it was time for Croatia to take a time out and the teams battled it out evenly until the break (11:11).
The second half saw Germany go ahead 30 seconds in (12:11) through Fabian Bohm and they did not go behind until the 55th minute when Karacic's industry on the German line saw him take three defenders out, setting up Jakov Vrankovic to power a 114km shot from distance into the net, putting Croatia ahead (19:18) and forcing a third German time out.
As the minutes counted down to the end Karacic again kept his side in front managing to break open a hole in the active 5-1 German defence, and almost from a lying down spot Marin Sipic made it 20:19 with less than four minutes remaining.
But with a mixture of Silvio Heinevetter and then Andreas Wolff in goal, and three unanswered strikes,  Prokop's side went 22:20 up and within touching distance of a final four spot. Zlatko Horvat did break through to make the final seconds a nervy affair (22:21), and, as his Croatian side opened up their defence all over court, fighting to get the ball back and for their lives to keep their Hamburg hopes alive, it was not to be.

hummel Best Player of the Match: Fabian WIEDE (GER)

Statements after the match:

Christian PROKOP – Coach, Germany: We saw an intensive game, both teams played very hard and aggressive defence – a very good defence. I am very happy. Thank-you to this atmosphere and this experience.

Steffen WEINHOLD – Player, Germany: We are happy that we have reached the semi-finals. It was a tough match for us, and we didn't have the best start today, we had to suffer a lot of two-minute suspensions and then we tried to fight in to the match, during the match it was very equal with good defence on both sides, it was very had to score for both teams and at the end we were the lucky ones to win. It was a really hard match and tough to fight against Croatia.

Zlatko HORVAT – Player, Croatia: I am very sad because we played very good, excellent and were fighting and Germany were too of course, I am very sad. I don't know what to say now because I am too sad, sorry.