21 Jan. 2019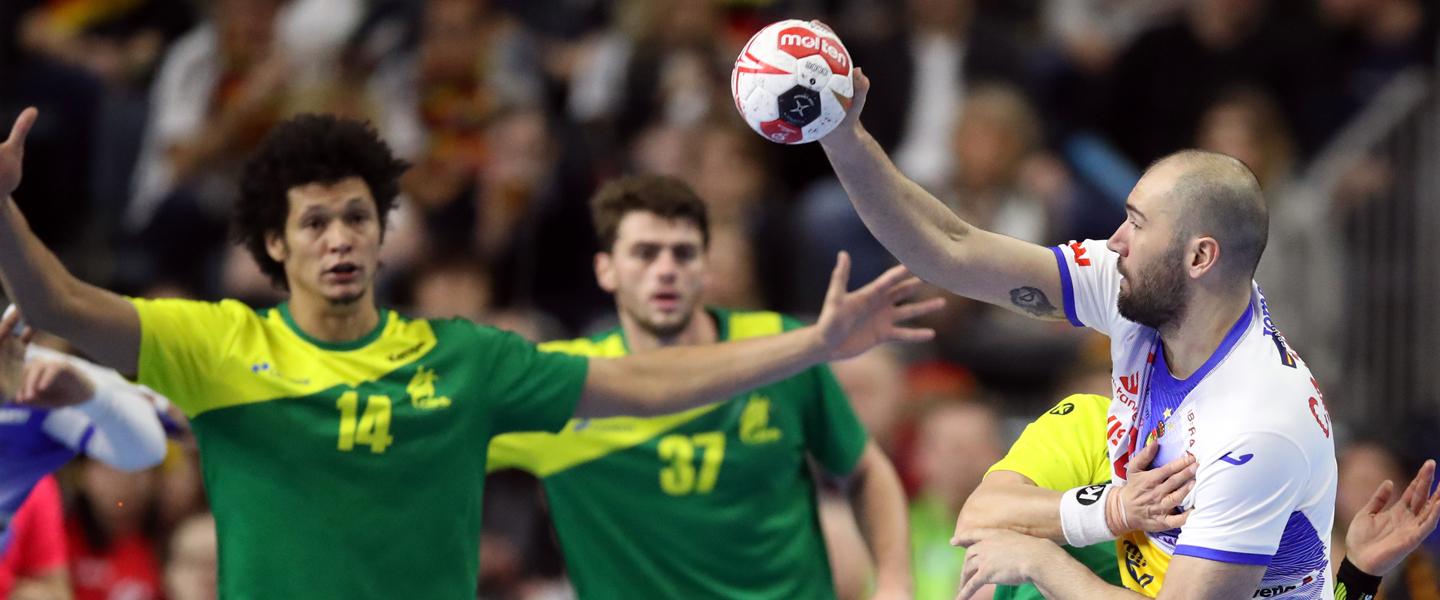 A reversal of fortunes from their last matchdays took place for Spain and Brazil this evening at the LANXESS arena in Cologne.
Both teams knew they had to win to keep their small chances of making the semi-finals alive, but in the end, the exertions of the South Americans in beating Croatia yesterday caught up with them as their former coach Jordi Ribera guided his Spain side, who lost to France on Saturday, to a 12-goal victory.
Spain vs Brazil 36:24 (19:13)
Ahead of this repeat of their 2017 world championship eighth-final clash, won by Spain (28:27), both teams were determined to give themselves the best chance of continuing to the semi-finals in Hamburg later this week but after the first quarter, and up by seven goals up already (10:3) thanks to five strikes from Ferran Sole Sala, the Europeans had worked hard enough to ensure the crucial points were in the bag early on.
Now they wait, and hope that Germany do not beat Croatia in the second main round match of the day in Cologne, but until then, they can reflect on a dominant performance against a visibly-tired Brazilian team.
A three-goal run from Washington Nunes Da Silva's team in the 16th minute to reduce the deficit to four (10:6) inspired the packed crowd of 17,209 – waiting for the co-host nation to take the court later – to choose a side but even with the majority of fans inside supporting them, Brazil could not reach the levels of yesterday in that historic victory against Croatia.
Joan Canellas used the match to add to his collection of viral handball skills videos, most notably when looking along the tightly-packed and aggressive Brazilian defensive line for an opening but instead opting to shoot above them and from distance (12:6 – 20th minute) and less than 90 seconds later, his impressive fake shot and then hand-off to Raul Entrerrios to smash home (13:7 – 22nd minute).
During the half-time break, with Spain 19:13 up, IHF President Dr Hassan Moustafa presented the Mayor of Cologne Henriette Reker with a special diploma in recognition of the crowd inside the LANXESS arena and the numbers of fans attending the matches with fair play shown by their support of all teams.
Canellas was also presented with something on court later - the best player award - following his performance, which saw him score a total of five goals. 
And with goalkeeper Rodrigo Corrales Rodal returning to the court in the second half, albeit for just 15 seconds, Spain cannot be in better shape whether it is with a chance of continuing at Germany/Denmark 2019, or fighting for an Olympic 2020 qualification spot.
hummel Best Player of the Match: Joan CANELLAS (ESP)
Statements after the match: 
Jordi RIBERA – Coach, Spain: Brazil have had a really good tournament and knew that it would be a difficult game. We were making a really good game in defence and also with our goalkeeper. I am sure that the physical effect had an effect on this game. Sometimes rest days are for us and sometimes against us but we are really happy now and have to think about the game against Germany.
Washington NUNES DA SILVA – Coach, Brazil: It is always nice to meet Jordi and always a big pleasure to play against him. It was a very difficult game for us and tough to play, we lost, but nevertheless, it doesn't take away from the world championship the guys are playing now.
The physical aspect of it was decisive today, we had a very good difficult game against Croatia yesterday and the players were tired which led to that result today. Our defence didn't work today as well as it did in the last game, and we had difficulties to strike against the Spanish defensive system, This led to the Spanish counter attacks and you could see this in the high score difference in the end.
Defensively we played quite well but unfortunately it is hard to say as we lost by nine goals, but we did play defensively well.
Ferran SOLE SALA – Player, Spain: After two defeats it has been difficult for us, but we really enjoyed this match. We were very motivated as we knew these two points are important for the Olympic Games, and for the rest of the competition, and we knew that the goal difference was important.