21 Jan. 2019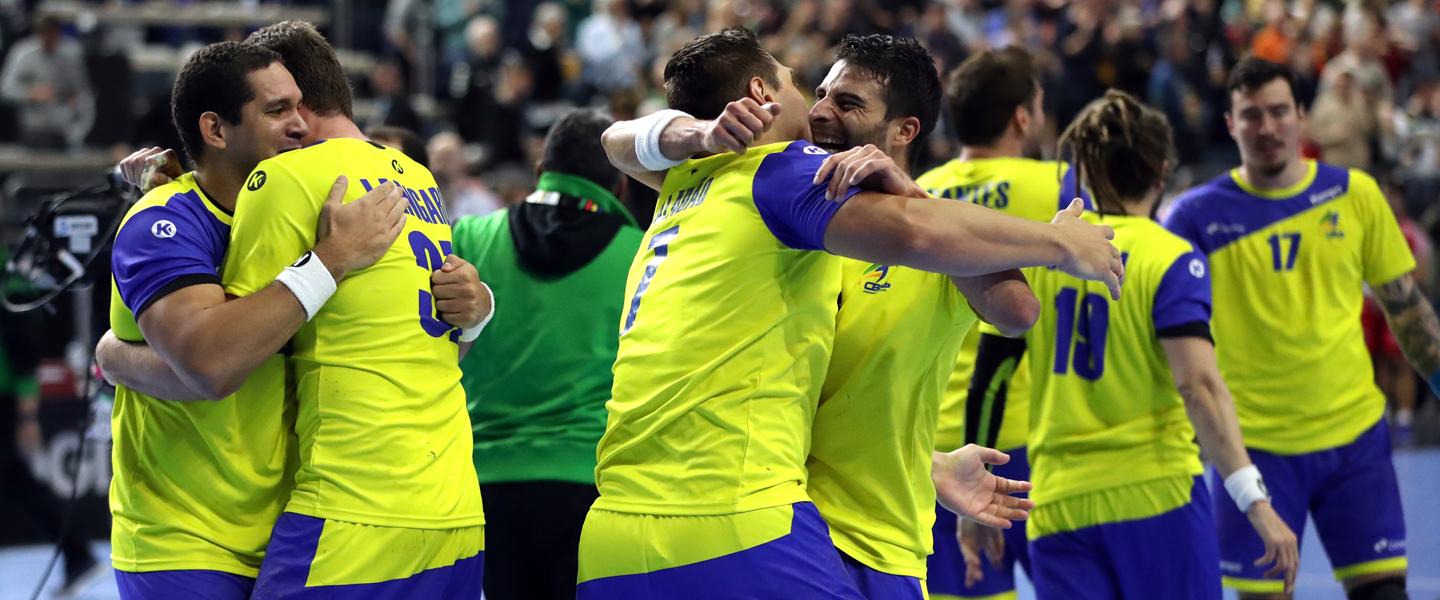 After playing 40 minutes in Brazil's historic first-ever IHF Men's World Championship main round win, against Croatia last night, CSM Bucuresti's centre back Henrique Teixeira spoke with IHF.info about his emotions following the result, what has changed for Brazilian handball and their hopes for the rest of Germany/Denmark 2019.
IHF.info: There was a lot of emotion on show at the end of the match – players crying, celebrating, jumping for joy, and you are close to tears now, why was there such an outpouring of feeling?
Henrique Teixeira: We got emotional because we are Brazilian. I am very happy as we played against one of the best teams in the world, Croatia, and beat them. Last time we played them we lost by one at Qatar 2015 and went out (of the competition).
We have trained a lot to be able compete with them and we know our limits, but against Croatia we managed to get a separation. I think we deserved this victory, and all the people of Brazil are proud of us.
IHF.info: Tell us about the training you have been doing…
Henrique Teixeira: We are human and want to get better and better. In Brazil there is not a [deep-rooted] culture of handball, but we are proud and have good teams, good national teams and, as a nation, have won world championships and matches at the Olympic Games
We celebrated passing into the new year by training – day one were in the hall at 0830 training to compete. We are not so good but want to compete with the best, and we are trying to do that and against Croatia we proved something.
I think we have to continue in this way, step-by-step. We know how big Croatia are and we want to get closer and closer to them, so (all of this work) is why we get a little bit sentimental and emotional. 
IHF.info: You led the European side for nearly all 60 minutes, but a 4:0 run from them at the start of the last 10 minutes saw them come within one. However, you managed to close the game off – is this mental side of the game something you have been working on too?
Henrique Teixeira: The problem in the history of Brazilian handball was more mental than physical, but now many of our players are playing in Europe, so we have got better in this respect and this mean we can now play mentally against the top players in the world.
Of course, physically, they are a little bit stronger than us, but we are doing our best – we were leading all game and attacked very well. We trained well the day before and fixed some things so we could attack well, and we saw that result against Croatia as we had a good attacking game against them.
IHF.info: You still have a chance to make the final four of Germany/Denmark 2019, but it will be tough. What are your hopes for the rest of the tournament?
Henrique Teixeira: We are playing game by game – we are here to do our maximum, independent of the results, so against Spain it will be very hard. We do not believe that we are as good as them because that is not the reality. They are favourites and I think we have to respect that – all we can do is give our maximum and we can win or lose. The only guarantee is that we will just give our maximum.