20 Jan. 2019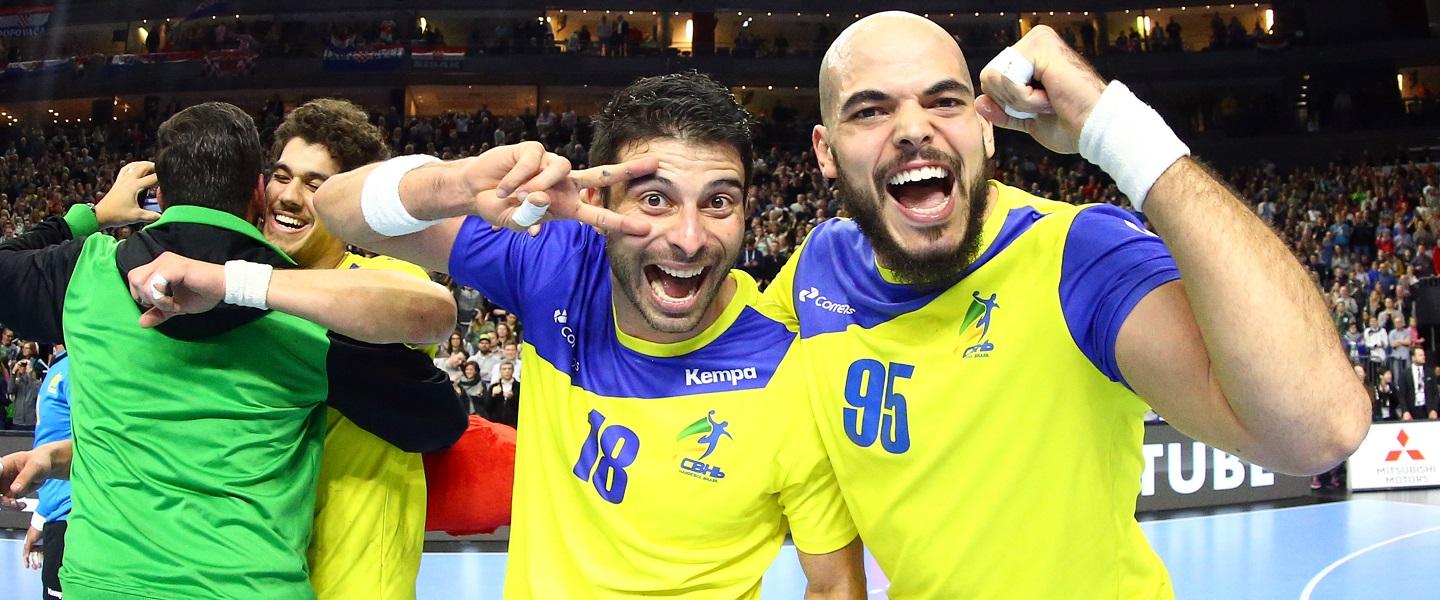 Already playing for their best-ever finish at an IHF Men's World Championship, Washington Nunes da Silva's Brazil's men put in one of their most memorable performances on a handball court, defeating Croatia at the LANXESS arena, Cologne in their opening main round match of Germany/Denmark 2019.
Brazil vs Croatia 29:26 (17:13)
After just nine minutes, Lino Cervar took his first time-out as he looked as his Croatia side 6:3 down and wondered what he needed to change. This had come immediately after Brazilian goalkeeper Cesar Algusto Almeida had scored full-length into an open net after Cervar's tactic of removing goalkeeper Marin Sego for Marin Sipic failed in what would become an eventual seven empty net goals in this historic win for the South American nation.
While the women of Brazil won the world championship back in 2013, the men have continued to develop their game for a place at the top table and after wins against Serbia and Russia in their preliminary group, the defeat of Croatia highlights the real progress made.
By the 17th minute the Croats were six goals down (11:5) as they could not cope with the power and effectiveness of the Brazilians and they could only take it down to four at the break (17:13) after Luka Stepancic missed the opportunity to reduce the deficit further just before the pause.
In front of 15,227 spectators, many of whom were supporting the pre-match underdogs, the second half was more even with Brazil maintaining a three-six goal lead, but they suffered a setback as a two-minute suspension for Felipe Borges helped Croatia get back to within one (26:25 – 53rd minute).
But with further proof of their ongoing progression they kept just enough of a lead and when Leonardo Tercariol saved a Domagoj Duvnjak shot with 59:05 on the clock, the players knew they had done enough to see out the victory and keep their hopes alive of a final four place – and a licence to shed some tears on court.
hummel Best Player of the Match: Haniel LANGARO (BRA)
Statements after the match:
Washington NUNES DA SILVA – Coach, Brazil: Croatia are always a good reference for handball and with a high style of play we never could imagine we could beat them, and it was a very good sensation today to do this. I just want to break the protocol and want to kiss my mum and wish her a happy birthday because she turns 80 today. Brazil played a very, very intense defence like the previous games and offense-wise it was also a very intense game because Croatia changed a lot of formations in defence and we had to get around it. I am very, very proud that our team did well against the defensive structure of the Croatian team.

Haniel LANGARO – Player, Brazil: Very few people today believed we could get this win today, but we showed Brazilian handball is getting better and better. We are going to stick to this way and we still believe that we can qualify for the semi-finals. Tomorrow we will play Spain the same way we did Croatia today and hopefully we can win again.
Lino CERVAR – Coach, Croatia: Today they were simply the better team, our start of the game wasn't so good, and they scored really easy on their side. In our 5-1 defence we made technical mistakes which made it easy for them to score. Two Brazilian players were really tough to our team, especially (Haniel) Langaro but we didn't have any solutions for them.
Their defence was very tough and ours was weak and that was the main reason why Brazil won today. In the second half from the 15th minute on our defence was a bit better and the score was going a bit to our side, but in the end, the Brazilians got the victory and they deserved to win.
Luka Cindric was injured, and this was really tough for us so we had to play the main part of the game without him, and it would have been a bit different if he had played.  At the end we had some strength to move on and to try and win, but it just wasn't enough. In the good and the bad times, I am always with my players, but we have to move on and look to the next game.
We know that we will play against the favourites in the next games, but we will have to figure out a way to win them and move forward.
Manuel STRLEK, Player – Croatia: They were a really good opponent today, they played  better than us, and they have showed really good handball in this tournament. We have to look at our mistakes today, and when you start to lose five or six goals it is very hard to get back. You lose too much power to keep the rhythm of the game, but we made 10 technical fouls and missed six or seven free shots. It was hard to play like this, but we still have everything in our hands, and we must keep looking forward, we have really hard opponents coming, first Germany, then France but this is sport, and everything is possible.
We have really good quality in the team and really good players and if we play like we did against Spain in the preliminary round then we can do a lot of good things.