20 Jan. 2019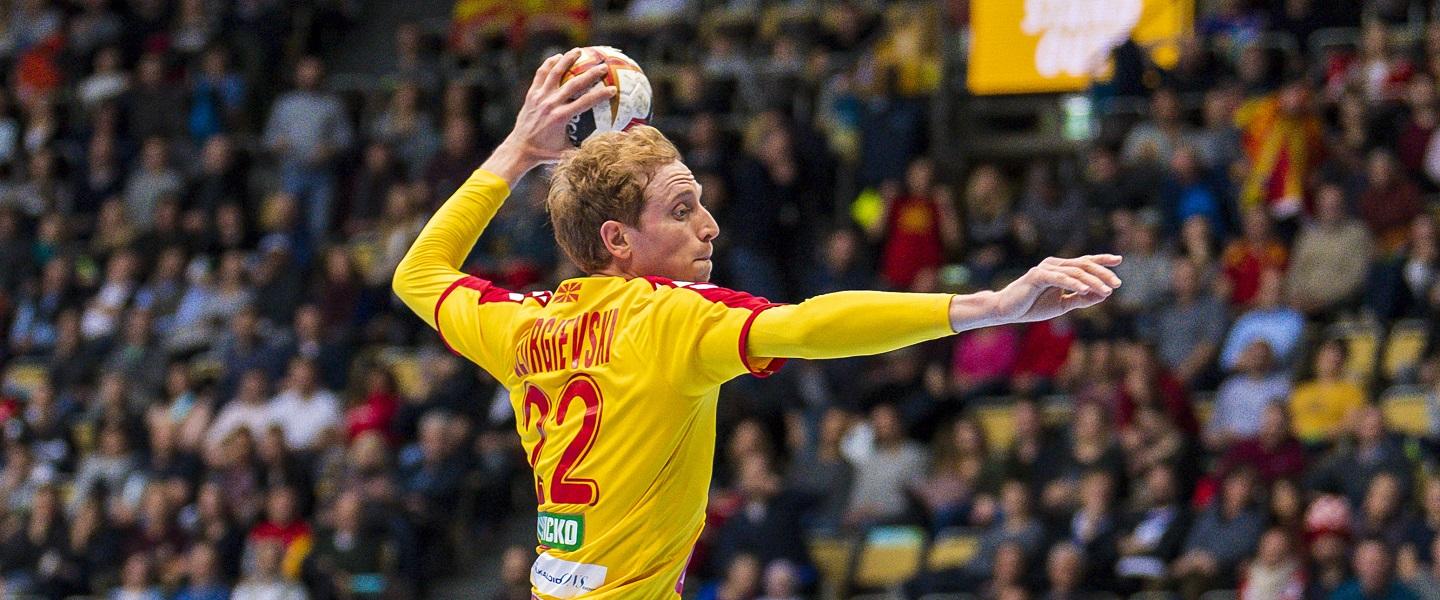 FYR Macedonia vs Chile 32:30 (16:16)
FYR Macedonia ensured they finished exactly in the same world championship spot as last time around, beating Chile 32:30 in the 15/16 placement match to repeat their 15th-place rank from France 2017.
While it is always good to end on a win, Macedonia's coach Raul Gonzalez has repeatedly rued the missed chances his team had in the preliminary round to qualify through to the main round, but having lost their previous four matches, the result today represented a job seen through to the end.
However, for Chile, their 16th place finish is their best-ever at a senior men's world championship in five attempts, having previously finished 22nd, 23rd, 23rd and 21st.
With a two-goal lead (16:14) just before the break, thanks to best player of the match Erwin Feuchtmann scoring the majority of his match total of nine goals, Chile looked to be going into a strong position at half-time, but Macedonia's Dejan Manaskov had other ideas, scoring a quick double to bring it even (16:16)
Unfortunately for the South Americans, the Europeans came out quick in the second half, going 21:18 up inside the first 10 minutes, prompting a Chilean time-out – and a massive resurgence as the next 10 minutes saw an 8:3 run to again put them two ahead (26:24 – 50th minute) – with a highlight full length strike from goalkeeper Felipe Garcia prompting wild celebrations from the Chilean bench.
But the celebrations were premature and a team with Kiril Lazarov in should never be written off. So it proved as he struck with a deadly trio of goals to put his side in front again (27:26 – 52nd minute) as the 9,473 fans inside the LANXESS arena – split between both teams – sensed an exciting finale.
With a two goal difference soon after (28:26), Chile nearly came back level one more time, but a rebounded shot at 28:27 saw Sebastian Pavez desperately stretch to grab the loose ball, only to see it go out and back into the possession of the Macedonians with Manaskov gleefully slotting home to make it 29:27. When Feuchtmann saw his seven-metre shot saved (31:29) with just over one minute remaining, him, and his team – dejected on the bench – knew their fight was lost.
And like the dual hosts of the 26th IHF Men's World Championship, the game saw dual nations with the whistle too – as Arthur Brunner from Switzerland and Montenegrin Milos Raznatovic joined forces to referee.
hummel Best Player of the Match: Erwin FEUCHTMANN (CHI)
Statements after the match:
Raul GONZALEZ – Coach, FYR Macedonia: We are not happy because we wanted to pass through to the main round here. In the second half they were better than us, but we won, and our defence was very strong as usual. They were prepared very well for this match, played very fast and we had a lot of problems.
Mateo GARRALDA – Coach, Chile: We had a little opportunity to win today but we made a lot of mistakes from six metres and the Macedonian goalkeeper saved a lot. In offence we played very well, smart, fast, taking risks. We have to fight, be more concentrated, and be better to become a better team.
Milan LAZAREVSKI – Player, FYR Macedonia: It was a very intense match today. It was very hard. Both sides were trying very hard, both sides were successful in terms of goalscoring and we saw a lot of goals. We won in the end and we deserved it. In our attack we were really good with diversity, from the line, the right back, the left wing. We were helped by our goalkeeper which is also good thing and we won our last game. We hoped to pass the group stage, but we have to go on and to be happy with today's game.
Erwin FEUCHTMANN – Player, Chile: I think we played a beautiful game with a good show. It is a good feeling which we have now because we created history, we made the best position in the Chilean championship history, but we could have won today. Personally, I am very sad because I missed an important seven-metre, and this is a weird feeling. Thanks to everybody, thanks to Cologne. They cheered us like we were in Chile. And this is something what we did not expect. So, thank you to everybody.